2 Palestinians Killed, Scores Hospitalized in Israeli Occupation Forces Assault on Pro-Gaza Demonstrations in the West Bank
August 2, 2014
[ 02/08/2014 - 08:14 AM ]
WEST BANK, (PIC)--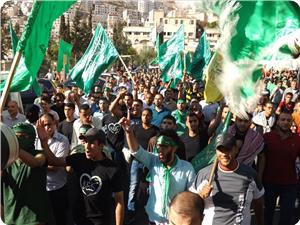 Two Palestinian youngsters were killed while hundreds have been left wounded on Friday following a round of violent clashes that burst out between the Israeli occupation forces (IOF) and Palestinian youths across different areas of the West Bank in the wake of massive pro-Gaza rallies.
Udai Nafeth Jabr, 19, was killed by the IOF during the clashes that burst out in Safa, west of Ramallah.
Thameur Faraj Samour, 22, breathed his last as he sustained a chest injury in the confrontations that broke out in Tulkarem following a protest rally staged in solidarity with the bleeding Gaza Strip, Palestinian medics told a PIC correspondent.
The IOF attacked the peaceful protestors, unleashing live ammunition all the way through. Dozens of Palestinian youngsters have been rushed to Dr. Thabet hospital for urgent treatment after they sustained severe injuries in the process.
The IOF assaults targeted the mass-demos staged by Hamas following Friday prayers in protest at the ongoing Israeli offensive on besieged Gaza, which took away the lives of 1600 civilians so far and left some 8,000 others severely wounded.
More than 100 citizens sustained live ammunition and rubber bullet wounds while several others suffered breathing difficulties as they inhaled tear gas released by the occupation troops on thousands of non-violent demonstrators who joined the rallies.
More than 40,000 Palestinians partook in the march initiated from al-Hussein Ben Ali mosque in al-Khalil down to Bab al-Zaouia and the Israeli military checkpoints.
"My children and I took to the streets knowing beforehand the risks lying ahead of us. Yet, the horror endured by our Gazan brothers and sisters is far more alarming than the fact of shooting us dead at the Israeli checkpoints. The rise of the death toll is a conclusive proof that our resistance is active and that nobody can dampen the spirits of our people," Um Jihad declared to a PIC correspondent.
A PIC correspondent reported quoting Eid Abu Menchar, member of the ambulance crew: "We carried dozens of civilians who were injured by live ammunition, rubber bullets, and tear gas."
The IOF had been deploying heavily at Bab al-Zaouia. Israeli sniper units stationed over houses' rooftops to step up their attacks on the marchers, an eye-witness said.
Palestinian medics said 50 injuries arrived in al-Khalil hospitals after they were shot by live ammunition and rubber bullets fired by the IOF throughout Bab al-Zaouia clashes.
In a related development, violent clashes erupted in Beit Ummar, the nearby Al-Aroub refugee camp, Halhoul, and Bani Naim, in al-Khalil, between the heavily-armed occupation patrols and a group of Palestinian youths.
Tight security measures were summoned by the IOF at the main entrances to al-Khalil, where heavy firing of tear gas canisters by the IOF was documented. Scores of gas injuries were detected among women and children.
The clashes escalated as a horde of Israeli extremist settlers stormed Palestinians' homes in al-Hawwar neighborhood and hurled stones at Palestinians' vehicles
Eye-witnesses said at least 10 Palestinians sustained ammunition and bullet injuries while dozens were treated for breathing problems after they inhaled tear gas unleashed by the occupation troops.
Meanwhile, a round of brutal confrontations burst out across different villages in Salfit leading to severe injuries and breathing problems among scores of Palestinian youngsters.
The situation in Dura was no less tense as a state of panic overwhelmed the peaceful marchers who took to the streets following Friday prayers so as to voice their disapproval over the Israeli offensive on Gaza.
In a related event, a wave of clashes broke out in Ramallah following the mass-demo held in solidarity with the blood-spattered Gaza.
Scores of severe injuries have been documented during the clashes that burst out near Ofer prison southwest of Ramallah.
The IOF attacked the non-violent protestors using heavy shootings of live ammunition, rubber bullets and tear gas grenades.
Israeli tight restrictions in OJ, protests erupt throughout WB
[ 01/08/2014 - 12:13 PM ]
OCCUPIED JERUSALEM, (PIC)--
Israeli Occupation Forces (IOF) imposed a set of tight restrictions on Jerusalemites' access to al-Aqsa Mosque, where men under the age of 50 years were prevented from performing Friday prayers.
Similar restrictions were also imposed on women's access to the Mosque, while Israeli forces were deployed around occupied Jerusalem's Old City.
Israeli restrictions came in anticipation of the outbreak of fresh clashes after Friday prayers. Thousands are expected to rally in occupied Jerusalem, West Bank, and occupied territories in 1948 in protest against Israeli aggression on Gaza.
Along the same line, Hamas Movement called for mass participation in marches and demonstrations after Friday prayers throughout the West Bank in solidarity with Gaza.
The marches are expected to be organized in al-Khalil, Bethlehem, Qalqilia and Tulkarem in support of Palestinian resistance in Gaza Strip and in solidarity with Palestinians in the besieged enclave.
Large rallies are daily organized in the West Bank in protest against Israeli massacres and crimes in Gaza.
On Thursday, thousands participated in a march organized by Hamas in Nablus in support of Palestinian resistance.
The march coincided with the anniversary of the leaders Jamal Mansour and Jamal Salim's assassination. The participants held flags and banners in support of Gaza and resistance.
During the march, the leader in Hamas movement Alaa Humeidan hailed Palestinian resistance factions in Gaza Strip especially the Qassam Brigade and called for mass confrontations throughout the West Bank.
"Today, Palestinian people are all united behind resistance option as the sole and effective option to face occupation and liberate our lands," he added.
The Palestinian people's sacrifices would only strengthen their steadfastness and their resistance, he continued.
As Israeli aggression enters its 26th day, Israeli shelling and airstrikes are continuing despite declaring a ceasefire for 72 hours. 1452 people were killed and more than 8,000 others were injured so far.
This site contains copyrighted material the use of which has not always been specifically authorized by the copyright owner. We are making such material available in our efforts to advance understanding of environmental, political, human rights, economic, democracy, scientific, and social justice issues, etc. We believe this constitutes a 'fair use' of any such copyrighted material as provided for in section 107 of the US Copyright Law. In accordance with Title 17 U.S.C. Section 107, the material on this site is distributed without profit to those who have expressed a prior interest in receiving the included information for research and educational purposes. For more information go to: http://www.law.cornell.edu/uscode/17/107.shtml. If you wish to use copyrighted material from this site for purposes of your own that go beyond 'fair use', you must obtain permission from the copyright owner.