Fighting Intensifies in Syria Between Regime and Rebel Forces in the South, ISIS and Tribesmen in the Northeast, August 11, 2014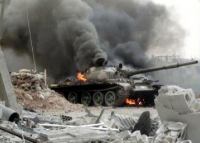 Syrian Regime Forces Intensify Shelling on Rural Hama
Syrian Coalition, August 11, 2014
Rebels shelled regime positions on the town of Salhab west of Hama with Grad rockets, while four pro-Assad militants were killed in clashes on Hama-Mhardeh road. Rebels also shelled Al Taouna checkpoint near Aqrab with mortar rounds, while regime forces carried out barrel bomb attacks on the outskirts of Halfaya, the towns of Al Masasnah, Kafrnbouda and Morek.
Rebels clashes with regime forces on the outskirts of Um Sharshouh north of Homs, while the Waer district came under shelling by heavy machine guns. Barrel bombs hit the outskirts of Um Foul in rural Homs, while the town of Hula came under artillery shelling.
Rebels Tighten the Noose on Regime Forces in Wadi al-Daif Base
Rebels destroyed a BMP armored vehicle in Wadi al-Daif army base, while regime forces conducted air strikes on Deir Sinbul and Sheikh Mustafa in rural Idlib. Regime forces carried out barrel bomb attacks on the perimeter of Wadi al-Daif and Jisr al-Shughour.
Civilians Killed in Air Raids on Azaz, Aleppo
Regime forces carried out air raids on the town of Azaz north of Aleppo, with reports of civilian casualties. A civilian was killed in barrel bomb attacks on the districts of Al Bayada, Al Inzarat and Bab al-Hadid in the Old City of Aleppo.
Regime forces also shelled Baiyanoun with artillery, while rebels targeted Al Nairab air base with rockets, achieving direct hits.
Rebels Intensify Attacks on Regime Positions around Nawa
Rebels announced the start a new offensive aimed at capturing regime positions around the town of Raqqa, while regime forces carried out barrel bomb attacks on Dara'a Camp and the residential neighborhoods in the city.
Regime forces also shelled Dael and Jassem in rural Dara'a with heavy artillery, with reports of civilian casualties.
Rebels Advance on Damascus Airport
Rebels captured regime positions near Al Ghazlanyah in its attempts to encircle Damascus International Airport, alongside artillery shelling on regime positions in Al Zamaniya. Rebels clashed with regime forces near Khan al-Shih. Activists said that ISIS executed a defected soldier in Abu Kama in east of Deir Ezzor.
Three civilians were killed in a landmine explosion planted by regime forces near Rahibh in Rural Damascus. Two civilians were killed by regime's snipers east of Al Zabadani, while regime forces arrested a man and three children near Zebdin in rural Damascus.
(Source: Syrian Coalition + Smart News, LCC, Sham News).
======================
Islamic militants crush attempt by tribe to push them out of their villages in eastern Syria
By BASSEM MROUE, Associated Press
BEIRUT (AP) —
Islamic militants have crushed a tribal uprising against their rule in eastern Syria after three days of clashes in a string of villages near the border with Iraq, killing and beheading opponents along the way, activists said Monday.
The fighters from the al-Qaida breakaway Islamic State group control huge swaths of territory in eastern and northern Syria and are fighting rival rebels, Kurdish militias and the Syrian army for more territory.
Meanwhile, at least 10 people including four children and two women were killed Monday when Syrian forces dropped explosives-filled barrels from a helicopter over the Bab Nayrab district of Aleppo in northern Syria, activists said. Many others were buried under the rubble of buildings, they said.
The Syrian army regularly dropped the so-called barrel bombs over populated areas in rebel-held territory. Aleppo, once Syria's commercial capital, has seen heavy fighting since rebels seized part of the city in 2012.
The civil war in Syria, now in its fourth year, has continued to bleed while attention has shifted to conflicts in Gaza and Iraq. The Islamic State group, which consists mainly of foreign fighters, has taken over much of northern and eastern Syria as well as western and northern Iraq.
The group has declared a self-styled caliphate in territory it controls along the Iraqi-Syrian border, imposing a harsh interpretation of Islamic law.
The armed revolt by the Shueitat tribe in the eastern province of Dair el-Zoar was the first sign of local resistance by tribesmen to the Islamic State group since its fighters swept into the province.
The Britain-based Syrian Observatory for Human Rights and Turkey-based activist Thaer al-Deiri said Monday that Islamic State group fighters regained control of three villages from the Shueitat tribe after being expelled earlier this month.
The Observatory said Islamic State fighters beheaded two tribesmen after they fled to the nearby village of Shaafa. It had no immediate word on other casualties in the area.
Clashes over the past two weeks left more than a dozen people dead and both sides.
The clashes in eastern Syria came as Islamic State fighters tightened their siege of a major military air base in the town of Tabqa in the northern province of Raqqa. The air base is the last army position in the Raqqa province that is an Islamic State stronghold.
The Observatory's chief Rami Abdurrahman said the group was bombarding the base with artillery and appears to be preparing to storm it.
Last week, Islamic State fighters seized the nearby Brigade 93 base after days of heavy fighting. Late last month they captured another base in which they took dozens of prisoners, some of whom were later beheaded and their bodies paraded in one of Raqqa's main squares.
Syria's conflict began in March 2011 as a popular uprising against President Bashar Assad's rule, but turned into an insurgency after government forces violently cracked down on demonstrators. It has since deteriorated into a civil war with sectarian overtones.
Over 170,000 people have been killed in Syria in over three years of fighting, activists say.
Copyright 2014 The Associated Press. All rights reserved. This material may not be published, broadcast, rewritten or redistributed.
More Syrians join fight against IS militants
DAMASCUS, Aug. 10, 2014 (Xinhua) --
Large numbers of people in Syria' s eastern province of Deir al-Zour on Sunday volunteered to join the tribes of that oil-rich region in their fight against the Islamic State (IS) militants, according to Syria's official TV.
The TV said the people in Deir al-Zour were volunteering to fight the IS, which has controlled almost all of Deir al-Zour, bordering Iraq.
The tribes of Deir al-Zour, mainly the al-Sheitan and Shwait, have been on the offensive against the IS fighters since a week ago as more tribes are expected to join the battles against the al- Qaida breakaway group.
The tribes' fighters killed many of the IS militants during the week-long battles, which have been ignited by claims about crimes the IS had committed against the civilians and tribesmen of Dair al-Zoar.
Local media said Sunday that the tribesmen have hoisted the Syrian official flag on some areas they recaptured from the IS in the countryside of Dair al-Zoar, calling for the help of the Syrian army.
The tribes of Dair al-Zoar are an influential force and instrumental in regaining control over that oil-rich province that has for long spiraled out of the government control.
Editor: Mu Xuequan
Kurds retake two towns from IS in northern Iraq
ARBIL, Iraq, Aug. 10, 2014 (Xinhua) --
Kurdish forces retook two towns from the Islamic State (IS) militants in northern Iraq on Sunday as the U.S. military continued to launch airstrikes against targets of the group, local media reported.
"The (Kurdish) Peshmerga forces and counter-terrorism team in cooperation with the Kurdistan Workers' Party seized full control of Makhmour district," local Kurdish media news website quoted a Kurdish anti-terrorism commander as saying.
The Peshmerga troops also seized control of Gwer, some 40 km southwest of Arbil, capital of Iraq's Kurdish region, after they defeated the IS insurgents earlier on Sunday, the report said.
Gwer and Makhmour had been taken by the IS militants days earlier this week, posing an imminent threat to the Kurdish capital.
The U.S. military on Saturday continued to launch four airstrikes against the Sunni militants, who were previously known as Islamic State in Iraq and the Levant (ISIL), in northern Iraq, U.S. Department of Defense said via its official Twitter account.
The first strike, carried out by a mix of U.S. fighters and remotely piloted aircraft, destroyed an armored personnel carrier (APC) of IS that was firing on Yazidi civilians trapped on Mount Sinjar.
U.S. aircraft launched two more strikes that destroyed two IS APCs and an armed truck nearby, the U.S. central command said, adding that U.S. aircraft destroyed another APC in the area of Sinjar in a fourth strike.
U.S. President Barack Obama said earlier Saturday that the targeted airstrikes in Iraq could continue for some time, but refused to give a particular timetable, saying "I don't think we are going to solve this problem in weeks."
He warned that the new campaign to bring security in Iraq requires military and political changes and "is going to be a long- term project." But he made clear that his administration would not send ground troops back to Iraq.
Iraq has been plagued with violence for years since the U.S.- led occupation of the country, but the situation has deteriorated dramatically with the spillover of violence from the raging conflict in neighboring Syria.
The IS, a regional armed Islamist militia fighting in Syria, has gained significant ground in Iraq, especially in the Sunni areas. Over recent days, the IS militants stormed towns in the northern part of Iraq in its advances to other parts of the country.
This site contains copyrighted material the use of which has not always been specifically authorized by the copyright owner. We are making such material available in our efforts to advance understanding of environmental, political, human rights, economic, democracy, scientific, and social justice issues, etc. We believe this constitutes a 'fair use' of any such copyrighted material as provided for in section 107 of the US Copyright Law. In accordance with Title 17 U.S.C. Section 107, the material on this site is distributed without profit to those who have expressed a prior interest in receiving the included information for research and educational purposes. For more information go to: http://www.law.cornell.edu/uscode/17/107.shtml. If you wish to use copyrighted material from this site for purposes of your own that go beyond 'fair use', you must obtain permission from the copyright owner.