China Rebuffs US Freeze Proposal on South China Sea, Raising Dual-Track Approach
August 10, 2014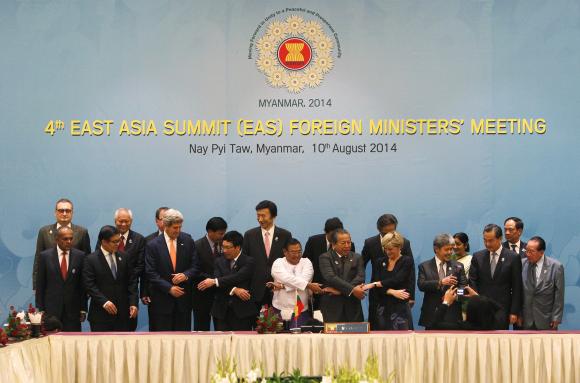 China rebuffs U.S. "freeze" proposal on South China Sea, raising "dual-track" approach

NAY PYI TAW, Aug.10, 2014 (Xinhua) --
Chinese Foreign Minister Wang Yi said here on Saturday that China will resolutely safeguard its sovereignty and maritime rights in the South China Sea, dismissing any ill-intentioned proposals that would interfere with the efforts to resolve the disputes and further complicate regional situation.

Wang made the remarks at the China-ASEAN (10+1)Foreign Minister's Meeting in the capital of Myanmar, which is part of a series of multilateral meetings that bring together foreign ministers and other top diplomats from across the world.

UNSHAKABLE POSITION

In a meeting with U.S. Secretary of State John Kerry on Saturday on the sidelines, Wang stressed that the overall situation in the South China Sea is stable, and there is no problem with the freedom of navigation.

China hopes all parties cherish the hard-won stability of the region and play a constructive role, he said.

For his part, Kerry pledged that the United States takes no sides on the South China Sea issue and hopes for peace and stability in the region.

However, what the U.S. top diplomat has promised seemed not in line with a recent U.S. proposal, which calls for a freeze of all the so-called "provocative acts" in the South China Sea -- a move that analysts say is partly intended to disrupt China's legitimate and normal drilling operation in the waters.

At a press conference after the meeting, Wang clarified China' s "unshakable" positions over the South China Sea issue, saying that his country will resolutely safeguard its sovereignty as well as maritime rights and interests and is committed to resolving disputes through friendly consultations and negotiations.

While China is willing to listen to well-intentioned suggestions from all parties on the South China Sea issue, said Wang, such suggestions must be objective, impartial and constructive.
Suggestions designed to avoid further complication and escalation of the situation are somewhat unnecessary, as the Declaration on the Code of Conduct of Parties in the South China Sea (DOC) has already contained clear provisions in this regard, he said.

Meanwhile, suggestions aimed at "setting up a separate kitchen" and going a different way, or those leading to double standards will inevitably interfere with implementation of the DOC and consultations on a Code of Conduct (COC) and are also unacceptable, he added.

DURAL TRACK APPROACH

In the meantime, Wang underlined a "dual-track" approach in resolving the South China Sea issue, which indicates that relevant disputes should be addressed by countries directly concerned through friendly consultations and negotiation.

Such approach conforms to international law and common practices and constitutes one of the most important provisions in the DOC, said Wang, adding that it is also the most effective and viable way to resolve the South China Sea issue.

China and ASEAN countries are well capable of effectively managing and properly handling specific disputes and maintaining overall peace, stability and cooperation in the region, said Wang, adding that the two sides have already found the path for resolving the South China Sea issue.

Within such a context, China does not approve of exaggerating or even playing up the so-called tensions in the South China Sea, and calls for vigilance against any hidden motives, he said.

NEW STAGE OF CHINA-ASEAN RELATIONS

Speaking highly of the time-tested relations between China and ASEAN , the Chinese minister said his country is committed to further advancing its strategic partnership with the regional bloc.

China and ASEAN share common interests as well as a common destiny, said Wang, adding that China will continue to take ASEAN as a priority in its neighborhood diplomacy amid constantly changing international situation.

China firmly supports a more prosperous and stronger ASEAN and ASEAN's centrality in regional cooperation, as well as the conclusion of ASEAN community building in 2015, he added.

On the South China Sea issue, Wang said full and effective implementation of the DOC is the truly effective approach to maintain peace and stability in the South China Sea.
Thanks to joint efforts of China and ASEAN, he said, positive progress has been made in implementing the DOC. China is ready to strengthen dialogue and cooperation with ASEAN to deepen practical cooperation within the framework of the DOC and push for the early conclusion of a code of conduct of the parties in the South China Sea (COC) through consensus.

For their part, ASEAN foreign ministers said their countries attach great importance to relations with China and stand ready to build a new diamond decade of ASEAN-China relations.

ASEAN countries is ready to work together with China to fully implement the DOC and move forward COC consultations to jointly uphold peace and stability in the South China Sea, they said.

Editor: Yang Yi
China rebuffs U.S. efforts on South China Sea tensions
By Lesley Wroughton and Paul Mooney
NAYPYITAW Sun Aug 10, 2014 9:59am EDT
(Reuters) -
China appeared to rebuff pressure from the United States to rein in its assertive actions in the South China Sea on Sunday as Southeast Asian nations declined to overtly back Washington's proposal for a freeze on provocative acts.

The lack of progress in resolving the maritime tensions at Asia's highest-profile diplomatic meeting so far this year shows the tough task Washington faces in persuading smaller Asian nations to risk antagonizing the region's rising power.

Foreign ministers from the 10-member Association of Southeast Asian Nations (ASEAN) released a statement expressing concern over "increased tensions" and called for stepped-up talks with China, in what U.S. officials said was a setback for Beijing's efforts to play down the disputes.

But there was no specific mention of China, and ASEAN only "noted" a formal three-point plan submitted by U.S. ally the Philippines for a moratorium on destabilizing actions.

The rancour over the disputed sea has split ASEAN, with several states including some of the claimant nations reluctant to jeopardize rising trade and investment ties with China. Beijing has been able to use its influence to block regional action on the maritime issue, most notably in 2012 when an ASEAN meeting chaired by Chinese ally Cambodia broke down in acrimony.
"We urged all parties concerned to exercise self-restraint and avoid actions which would complicate the situation and undermine peace, stability, and security in the South China Sea," ASEAN said in a communique following its meeting this weekend in the Myanmar capital Naypyitaw.

Their meeting was part of the ASEAN Regional Forum, which brings together 27 countries including China, Russia, Japan, India and Australia.

Sea tensions spiked in May when China parked a giant oil rig in waters claimed by Vietnam. The U.S. and Philippine proposals aimed to prevent such actions, as well as building and land reclamation work on disputed islands being carried out by China and other claimants.

A senior U.S. official said ASEAN countries' concern over China's maritime actions was at an "all-time high" based on private conversations, although their public statements were more guarded to avoid antagonizing China.

U.S. Secretary of State John Kerry said he was satisfied with the communique.
"I think the language goes far enough," Kerry told reporters. "I think we made the points that we came to make. We were not seeking to pass something, we were trying to put something on the table that people could embrace."

CODE OF CONDUCT

The communique did call for ASEAN and China to finalize a proposed Code of Conduct to ease maritime tensions, including "concrete elements" to promote trust and confidence. They have begun talks on the code but made little substantive progress.

"This language represents a significant setback for China's efforts to play for time and change the subject," said one senior U.S. administration official.

Chinese officials were not immediately available for comment. China rejects U.S. involvement in the dispute and has already dismissed the proposal for a freeze. China accuses the United States of emboldening claimants such as the Philippines and Vietnam with its military "pivot" back to Asia.

ASEAN and China signed a trust-building agreement in 2002 called the Declaration of Conduct (DOC), committing to exercise "self-restraint" in activities that would escalate disputes, such as occupying islands and reefs or building on them. Most claimants have flouted those guidelines, leading to rising tension between four ASEAN claimant nations and China, which claims 90 percent of the waters.

The ASEAN secretary-general, Le Luong Minh, said it was wrong to assume that the group did not support the U.S. proposal, noting that China and ASEAN had committed to implement the 2002 agreement.

"This clearly shows that the essence of the proposal of the U.S. is already reflected in the DOC," Minh said.

The Philippines accused China in May of reclaiming land on the disputed Johnson South Reef and said it appeared to be building an airstrip. Taiwan is building a $100 million port next to an airstrip on the lone island it occupies in the disputed region.

As well as Johnson South Reef, a Philippine navy official told Reuters China was continuing land reclamation work on Gaven, Cuarteron and Eldad Reefs in the disputed Spratlys chain.
(Writing by Stuart Grudgings; Editing by Alison Williams)
This site contains copyrighted material the use of which has not always been specifically authorized by the copyright owner. We are making such material available in our efforts to advance understanding of environmental, political, human rights, economic, democracy, scientific, and social justice issues, etc. We believe this constitutes a 'fair use' of any such copyrighted material as provided for in section 107 of the US Copyright Law. In accordance with Title 17 U.S.C. Section 107, the material on this site is distributed without profit to those who have expressed a prior interest in receiving the included information for research and educational purposes. For more information go to: http://www.law.cornell.edu/uscode/17/107.shtml. If you wish to use copyrighted material from this site for purposes of your own that go beyond 'fair use', you must obtain permission from the copyright owner.