2 Palestinian Civilians Killed Dozens Injured in More Israeli Attacks on Gaza, Humanitarian Crisis Intensifies for Lack of Electricity and Running Water, August 10, 2014
Overnight aerial attacks on Gaza kill two civilians, injure many others
[ 10/08/2014 - 09:51 AM ]
GAZA, (PIC)--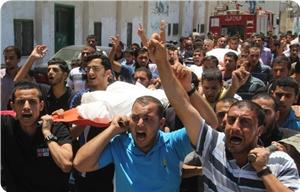 Two Palestinian civilians were killed and about 20 others suffered injuries during a renewed wave of deadly air raids at dawn Sunday on different areas of the Gaza Strip.
According to local sources, an Israeli warplane bombed a house belonging to Okasha family in Jabaliya refugee camp to the north of Gaza, killing one of the residents and injuring 10 others, most of them suffered serious wounds.
Another house in Al-Sikka neighborhood in the same camp was leveled to the ground during an Israeli air raid, with no reported casualties.
To the east of Khan Younis, a 35-year-old woman was killed and her husband was moderately wounded when an Israeli airstrike destroyed their house entirely in Bani Suhayla town.
In Al-Nusayrat refugee camp, an Israeli airstrike targeted Al-Shuhada Mosque for the second time and reduced it to rubble. Two civilians suffered injuries and were rushed to Al-Aqsa Martyrs hospital in Dair El-Balah area.
Other Israeli air raids bombed two houses in Rafah area and Gaza City, while the navy bombarded Beit Lahiya town and the beaches of Gaza City. Still no information about casualties in these attacks.
Meanwhile, 20 air raids on agricultural lands were also reported in different populated areas in Gaza. The aerial attacks, according to local sources, rendered several civilians wounded.
Earlier, a 13-year-old girl named Aya Al-Sha'er was killed and seven others of her relatives suffered injuries when an Israeli air raid on Saturday evening destroyed the house of her family in Rafah over their heads without no prior notice.
Israeli rocket attack causes 9-year-old Dina an ankyloblepharon

[ 10/08/2014 - 11:48 AM ]

GAZA, (PIC)--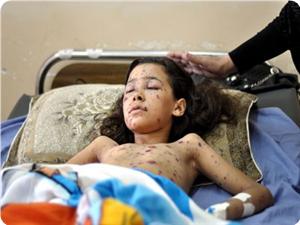 9-year-old Palestinian girl Dina Khalifa is no longer able to open her eyes after she was injured during an Israeli bombing on the area surrounding her house.

To escape the horrors of the Israeli war on Gaza, Dina used to close her eyes imagining herself playing in the garden with her comrades in a peaceful atmosphere.

As the Israeli forces targeted the neighborhood where she lives with four artillery shells, the girl closed her eyes but was not able to open them again.

Dina was wounded by rocket shrapnel all over her body, while the flames and the toxic gases that resulted from the shelling caused her an ankyloblepharon.

Her aunt, who is accompanying her at Shifa Hospital in Gaza, said: "Dina is no longer able to open and close her eyes whenever she wants."
She told Anatolia news agency's correspondent: "The rocket shrapnel left many scars on Dina's face."

Dina's younger sister, who is 5 years old, was also wounded by shrapnel in the head that caused her fracture in her skull. "The doctors said she might not be able to survive it, as she is in serious condition," her aunt stated.

Her 19-year-old brother was also moderately wounded and has lost part of his ear.
Since July 7, Israel has killed more than 1,900 Palestinian citizens, and wounded about 9,900 others, mostly children, women and elderly people, during its attacks on Gaza.

Zahhar: Any int'l ceasefire initiative must cope with Palestinians' sacrifices
[ 10/08/2014 - 09:39 AM ]
GAZA, (PIC)--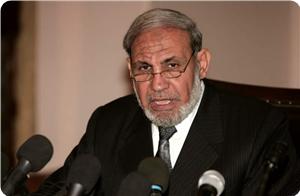 Any international ceasefire bids must be up to the sacrifices of Gaza martyrs, Dr. Mahmoud al-Zahhar, member of Hamas political bureau, said Saturday.
Zahhar said in a written statement Saturday evening: "Any international initiative regarding the Gaza offensive has to reflect the sacrifices of the Palestinian people and the potentials of our resistance."
Zahhar statement comes after the Gaza Strip has been targeted with a massive Israeli offensive since July 7, leading to the mass-murder of 1,920 Palestinians and the wounding of thousands of others.
"No backward moves shall be made. Resistance will keep going," Hamas spokesman Fawzi Barhoum said Saturday
"The reluctance maintained by the Israeli occupation is simply in vain," he added.
Barhoum said there is no way the Palestinian truce delegation in Cairo can give up its draft of demands.
The Egyptian-brokered ceasefire negotiations have been fruitless so far while tension has been heated up on the battleground.
Al-Ahmed: Our delegation will leave Cairo if the Israelis do not come
[ 10/08/2014 - 07:45 AM ]
CAIRO, (PIC)--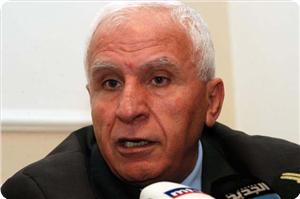 Palestinian chief truce negotiator Azzam Al-Ahmed warned that the Palestinian delegation would leave Cairo if the Israelis did not attend the Egyptian-sponsored truce talks on Sunday.
"If it became certain to us that the Israeli delegation would make preconditions for its return to Cairo for negotiation, we would not accept any such conditions," Al-Ahmed stated in press remarks today morning.
"If their absence was confirmed on Sunday today, we would have to leave Cairo for consultations with president Mahmoud Abbas and the Palestinian leadership on this matter," he added.
In this regard, member of Hamas's political bureau Mousa Abu Marzouk, who is a member of the Palestinian delegation to Cairo ceasefire talks, accused the Israeli side of being not serious about ending its aggression against the Gaza Strip.
"The Israeli side is not serious about the [ceasefire] negotiations and is still stalling in its response to the Palestinian rights and demands," Abu Marzouk stated on Saturday in Cairo.
"We cannot stay long if there were no serious talks. The next 24 hours will decide the fate of the whole negotiations," he said.
For his part, Hamas spokesman Sami Abu Zuhri stated on his facebook page yesterday that the chances of success for the Cairo ceasefire talks are very little because of Israel's reluctance to accept the Palestinian "just" demands.
He expressed his belief that Israel would commit a big folly if it persisted in its intransigence.
Sharp decline in Gaza water production due to the Israeli aggression
PIC, [ 09/08/2014 - 12:09 PM ]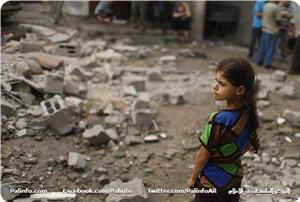 Israel's offensive on the besieged Gaza Strip has exacerbated a crippling water crisis in the Palestinian enclave. Water production has sharply declined while sewage is overflowing in the streets and the sea.
Gaza Water Authority reported recently that the crisis caused by the Israeli aggression has also deteriorated as the IOF announced 36% of Gaza area a security zone, which caused the people of the Strip to lose half of their water wells that are established in that area.
The report dealt with the initial damages caused by the Israeli hostilities on Gaza's water services and mentioned the displacement of over 600 thousand citizens. The damage in the targeted areas and the regions that have faced massive destruction has not been assessed yet.
The Water Authority also explained that due to the destruction of power lines and power plant, water pumps and sewage plants stopped functioning. About 1.8 million people in Gaza are now without safe drinking water.
Water is becoming contaminated and sewage is overflowing, bringing a serious risk of diseases, Gaza Water Authority warned.
It appealed to the international community to intervene to enable the entry of chlorine to the Strip in order to sterilize the untreated water, and allow entry of fuel in light of the power outages, pointing out that Gaza needs 250 thousand liters a month to run water installations in case of power cuts.
Since the beginning of the aggression, the desalination plant of underground water and the line that supplies the main sea water desalination plant in Dair El-Balah were completely destroyed, in addition to the destruction of four groundwater wells.
The bombing also destroyed five main water tanks in Mantar, Beit Lahiya, Beit Hanoon Jabaliya, and Khuza'a, in addition to generators of five wells, and main water lines in different regions.
The sewerage system was also a target, with Israeli warplanes targeting sewage treatment stations to the west of Gaza City. The most affected areas are Shati refugee camp, Tal al-Hawa, Sheikh Ejleen and most western districts.
The Water Authority appealed to the international community to put pressure on the Israeli occupation to allow entry of humanitarian aid into Gaza; including water bottles, generators and spare parts for the desalination plants, wastewater pumps, and pipes needed to repair the damage.
Israel bombs three mosques, several homes in Gaza today

[ 09/08/2014 - 01:20 PM ]

GAZA, (PIC)--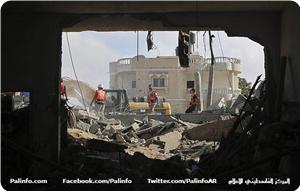 Israeli warplanes bombed on Saturday morning three mosques and a number of civilian homes throughout the Gaza Strip.

Quds Press confirmed that Israeli F16 fighter jets have targeted in the early morning hours three mosques in the Gaza Strip, causing considerable damage to the surrounding areas.

Saturday's airstrikes raised the number of mosques destroyed since the start of Israeli aggression to 64, while 150 others were partially destroyed.

Israeli warplanes and tanks also targeted Al-Nada residential towers to the north of the Strip, while violent artillery attacks took place on al-Bureij refugee camp and Deir al-Balah district.

Moreover, around 25 airstrikes targeted this morning Palestinian resistance sites in Rafah and Khan Younis.

In other aerial attacks, three homes were bombed in Gaza City and in the north of the Strip.
Israeli warships also bombed the northern shores of Gaza. No casualties were reported during the attack.
How the US helped the Egyptian army in destroying 1,659 border tunnels to tighten the Israeli siege of Gaza Strip

[ 09/08/2014 - 01:48 PM ]

CAIRO, (PIC)--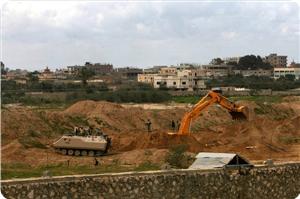 The Egyptian army destroyed 20 new border tunnels, rising the overall number of destroyed tunnels along the Egyptian-Palestinian Gaza borders to 1,659, Egyptian military sources said.

According to a statement released by the Egyptian army spokesman Mohamed Samir, three Palestinians were arrested while trying to infiltrate into the Egyptian territories.

An American Intelligence website earlier revealed that the mutual efforts between Egypt and the US to destroy Gaza tunnels in Rafah resumed after the 2013 military coup that overthrew president Mohamed Morsi and brought general Fattah el-Sisi to power.

The sources said the US army had given a contract of 10 million dollars to Raytheon Technologies Company on August 28th 2013 to help detect underground tunnels between Sinai and the Gaza Strip, which are used by Hamas for smuggling weapons and goods, according to the online Intelligence report.

Since 2008, the US has supplied the Egyptian army with tunnel detection equipment worth 23 million dollars, including sensors, remote control cars, drilling machines and infrared cameras.

Underground tunnels are considered the economic lifeline for the 1.7 million people living under siege in the Gaza Strip for eight consecutive years. The tunnels were used along the past years for the transfer of variety of goods and basic human needs, including construction materials, food, medicines, clothes, fuel, computers and cattle.
16 Palestinian citizens rounded up by IOF in West Bank
[ 10/08/2014 - 10:31 AM ]
RAMALLAH, (PIC)--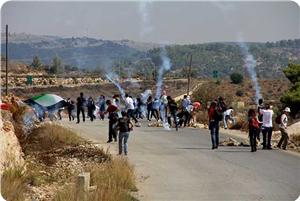 At least 16 Palestinian civilians were rounded up by the Israeli occupation forces (IOF) at dawn Sunday following a round of raids into different areas in the West Bank under the security pretext.
17 other citizens sustained gas and bullet wounds in a flurry of clashes that burst out between the heavily-armed occupation troops and Palestinian civilians on Saturday evening in al-Arroub refugee camp, Halhoul, Bab al-Zaouia, and al-Khalil.
The Israeli TV Channel 7 claimed that 11 captives, mostly Hamas affiliates, are expected to be interrogated by the Israeli intelligence.
Local sources said the Israeli occupation army stormed at dawn al-Arroub refugee camp, north of al-Khalil, and rounded up three Palestinian young men.
The IOF rummaged through the camp under pretext that the adjacent military watchtower was targeted with gunfire by Palestinian resistance elements.
The invading patrols cut off power around the camp and ransacked civilian homes in the area.
The IOF rounded up Abdul Jabar Muhammad al-Haded, 22, near the Ibrahimi Mosque and beat him up before setting him free.
A number of Palestinian citizens were treated for breathing problems as they inhaled tear gas discharged by the IOF in another spate of violent clashes that broke out Sunday morning at al-Jalama checkpoint, north of Jenin.
The IOF have come down heavily on Palestinian workers and set up random military barriers in the area, local sources further reported.
In a related event, clashes erupted in Salfit overnight Saturday and early Sunday morning as the IOF broke into Dair Istiya village, to the northwest of the city.
Eye-witnesses documented heavy firing of gas canisters on the Palestinian civilian youngsters.
The invading patrols closed the western entrance to the village with sand barriers and rocket piles, for the third time during this month.
The IOF arrested three Palestinian youths following an incursion into Ni'lin, west of Ramallah.
The Israeli soldiers fired live ammunition, tear gas, and stun grenades on Palestinian homes and civilians, leading to a remarkable state of panic among women and children.
The clashes spread out to west of Ramallah after the IOF captured former head of the village council, Muhammad Marar, along with a member of the Preventive Security Services and dragged them to the Separation Wall area for an on-the-spot investigation that lasted for two hours.
The IOF attacked Palestinian youngsters with barrages of tear gas and rubber bullets as they voiced their protest over such arbitrary arrests.
IOF storm Abu Khdeir's mourning tent in Occupied Jerusalem

[ 10/08/2014 - 07:42 AM ]

OCCUPIED JERUSALEM, (PIC)--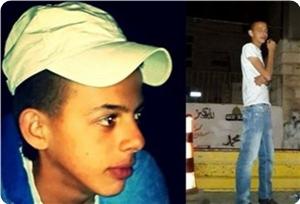 The Israeli occupation forces (IOF) attacked on Saturday evening the mourning tent of Palestinian teenager Muhammad Abu Khdair, who was burned to death by Israeli settlers, triggering a round of clashes in Shufa'at neighborhood, in Occupied Jerusalem.

Local sources said the Israeli occupation police dispersed a group of Palestinian protestors using stun grenades and tear gas canisters shortly after the end of the mourning ceremony.
Sheikh Muhammad Hussein, Grand Mufti of Jerusalem and the occupied Palestinian territories, dubbed the murder of Palestinian child Abu Khdair a climactic moment that has struck a chord in the heart of every Muslim, every Christian, and every Arab, calling Abu Khdeir "the martyr of childhood".

"The murder has stimulated everybody's anger and condemnation for it took away the life of an innocent child. All international, humanitarian and legal institutions took it for a crime against humanity and childhood," he added.

Minister of Jerusalem Affairs, Adnan al-Hussaini, said the burning alive of Abu Khdeir manifests of Israel's sadistic intents and makes any potential coexistence with the Israeli settler hordes and occupation authorities quite impossible.

For his part, Bishop Atallah Hanna, the Archbishop of Sevastia, delivered a solidarity message sent by all Jerusalemite Christians and acclaimed the fraternal bonds connecting Muslims and Christians in Palestine and in the region.

Abdul Latif Ghayth hailed, on behalf of all national and Islamic forces in Occupied Jerusalem, Jerusalemites for having immediately reacted against the crime, revealing their awareness of the true nature of the conflict and the depth of the wound inflicted by the sadism of the Israeli occupation.

He described the murder as an emblematic death that triggered a mass, sweeping uprising across Jerusalem streets.

MP in the Palestinian Legislative Council, Jihad Abu Zunaid acclaimed the role played by the Palestinian women throughout the fight and her efforts to bring up Jerusalem's "saviors." She also hailed the patience of Abu Khdair's mother.

MK Ahmed al-Tibi spoke against the crime and called for the immediate prosecution of its perpetrators and instigators, particularly Jewish lawmakers who called for the burning of Palestinians.

"Today the conspiracies weaved against Palestinians are embodied in the frequent assaults launched on holy al-Aqsa Mosque", al-Tibi said.

This site contains copyrighted material the use of which has not always been specifically authorized by the copyright owner. We are making such material available in our efforts to advance understanding of environmental, political, human rights, economic, democracy, scientific, and social justice issues, etc. We believe this constitutes a 'fair use' of any such copyrighted material as provided for in section 107 of the US Copyright Law. In accordance with Title 17 U.S.C. Section 107, the material on this site is distributed without profit to those who have expressed a prior interest in receiving the included information for research and educational purposes. For more information go to: http://www.law.cornell.edu/uscode/17/107.shtml. If you wish to use copyrighted material from this site for purposes of your own that go beyond 'fair use', you must obtain permission from the copyright owner.