1500 Palestinians Killed, More than 9000 Injured, Mostly Children, Women, Elderly by Israei Terrorist Attacks on Gaza, as of August 1, 2014
Israel bombs Gaza ambulance as Friday death toll surpasses 60
01/08/2014 19:50 (MaanImages)
GAZA CITY (Ma'an) --
An Israeli terrorist airstrike hit an ambulance and killed a paramedic Friday as Israel stepped up its bombardment of the besieged Gaza Strip following the collapse of a ceasefire earlier in the day.

Palestinian medical sources said that paramedic Atef Zamili was killed in an airstrike on his vehicle and that seven passengers were wounded.

Zamili's death brings to 16 the number of health workers who have been killed in Israeli strikes since the beginning of the assault 25 days ago. This is third 13th ambulance to be targeted in an Israeli attack, according to the ministry of health.

Meanwhile, Israeli occupation terrorist forces widened their assault across the Gaza Strip on Friday afternoon, launching further ground movements in Shujaiyya in eastern Gaza City, Beit Hanoun in the northern Gaza Strip, and Khan Younis in the southern Gaza Strip.

The expansion of the Israeli invasion comes after Israel said one of its soldiers was captured during an attack on its military position east of Rafah inside the Gaza Strip.

Hamas said that it attacked the position an hour before a ceasefire was due to start at 8 p.m., saying that it was a response to Israeli troop movements in the area as well as the deaths of 16 Palestinians in continued Israeli shelling and airstrikes overnight.

It did not, however, take responsibility for the capture of the soldier, saying that Israel had fabricated the claim.

Israeli forces pounded the Gaza Strip all Friday afternoon following the attack, as Israeli authorities vowed a "crushing" response to what they called a ceasefire violation.

At least 40 were killed in intense shelling of Rafah during the Hamas attack on the military post, and at least a dozen more have been killed in air strikes and shelling since then.

The deaths bring the total in Israel's assault to more than 1,500 as well as nearly 9,000 injured, in one of the deadliest sustained campaigns against Palestinians in recent history.

Many more are believed to be dead but stuck under the rubble of destroyed buildings, and thus as of yet unaccounted for by Gaza medical officials.

A Palestinian was killed in an Israeli attack on al-Maghazi refugee camp in the central Gaza Strip late on Friday, health ministry spokesman Ashraf al-Qidra said.

The dead man was identified as Atef Suheil Qandil, 24.

Another Palestinian was killed in al-Nusairat refugee camp, also in central Gaza.

He was identified as Ab al-Malek Abu Ma'ala, 37.

Additionally, three Palestinians were killed when an Israeli airstrike hit a three-wheeled "tuk-tuk" vehicle in the al-Zaytoun neighborhood of Gaza City.

The three were identified as Fayiz Tariq Yasin, 16, Muhammad Nihad Yasin, 24, and Hassan Ismail Yasin, 32.

Earlier, a Palestinian woman and a young girl were killed as Israeli artillery shells hit a house in Beit Lahiya in the northern Gaza Strip.

Two people were also killed and six wounded when an Israeli shelling hit a car near the University in Tel al-Hawa in southern Gaza earlier Friday.

Of the more than 60 Palestinians killed in the Gaza Strip since the collapse of the ceasefire, 19 others were identified by medical officials as of 5:00 p.m.

They were identified as Ibrahim Suleiman al-Madri, 50, Nadiyah Youssef al-Masri, 45, Ibrahim al-Masri, 6, Muhammad Anas Arafat, 4 months, Anas Ibrahim Hamad, 5, Sabri Sheikh al-Eid, 35, Muhammad Khalid al-Alul, 30, Ibrahim Mustafa Ghneim, Amina al-Zamli, Yahiya Abd al-Karim Lafi, Moussa Muhammad Abu Imran, Hilal Eid Abu Imran, Salama Muhammad al-Zamli, Nuha Jamal Abu Ziyada, Taysir Ali Muammar, Hussein Salim al-Jaafari, Yusra Muhammad Abu Jazar, Itaf Hammad al-Mahmoum, Moussa Ibrahim Abu Jazar, Muhammad Rizq Hasanein, 20.
No halt to Israeli airstrikes despite ceasefire
[ 01/08/2014 - 12:28 PM ]
GAZA, (PIC)--
Israeli occupation forces (IOF) resumed indiscriminate airstrikes and shelling of Gaza despite the ceasefire declaration for 72 hours on Friday morning. Dozens of casualties were reported.
More than 40 people were killed and around 200 others were injured in the Israeli barbaric shelling of displaced civilians who tried to return to their homes on the border of Gaza after the ceasefire was declared on Friday morning.
Palestinian Health Ministry said that a new bloody massacre has been carried out this morning in Rafah, south of the Strip.
Israeli warplanes have also bombed a group of people who managed to have access to Khuzaa town in Khan Younis where dozens of bodies are still under the rubble. Dozens of casualties were reported during the raids.
Along the same line, four civilians were killed and dozens were injured when Israeli artillery opened fire at civilian homes east of Rafah in violation to the declared ceasefire.
Medical sources reported that four bodies and dozens of injuries reached Abu Yousuf Al-Najar hospital.
U.S. secretary of state John Kerry had earlier declared that an unconditional humanitarian truce in Gaza has been agreed by all parties for 72 hours starting 8 AM Friday.
As Israeli aggression enters its 26th day, Israeli shelling and airstrikes are continuing despite declaring a ceasefire for 72 hours. 1,452 Palestinians were killed and more than 8,000 others were injured so far, mostly children, women, and elderly.
Hamas: "Israel Violated Ceasefire, Fighters Retaliated"
Friday August 01, 2014 15:26 by Saed Bannoura - IMEMC News
The Media Office of the Islamic Resistance Movement, Hamas, issued a press release accusing Israel of repeatedly violating the 72-hour ceasefire, shortly after it started, an issue that pushed armed resistance groups to retaliate, and clash with invading soldiers.

It said Hamas holds Israel fully responsible for these violations, and all events that took place afterwards, adding that the Israeli military committed the following violations that "required retaliation from the resistance in Gaza":

1. The army, several tanks and armored vehicles, invaded Rafah earlier on Friday morning, advancing more than 2400 meters; the resistance exchanged fire with the invading vehicles and soldiers. The clashes continued until after the temporary ceasefire started.

2. Israeli military tanks and armored vehicles invaded various areas, east of the Gaza Strip, mainly in Beit Hanoun, Sheja'eyya and Rafah, and demolished several Palestinian homes under the guise of searching for tunnels. Army sharpshooters were also deployed on rooftops of Palestinian homes and opened fire at the Palestinians who were trying to reach their homes.

3. The Israeli military committed an ugly massacre in Rafah by shelling and bombarding it is from various directions, including aerial strikes.

It added that it holds Israel fully responsible for violating this temporary humanitarian truce, and for continuing to commit massacres against the Palestinian people.

At the end of its statement, Hamas said it would be committed to the truce, as long as Israel respects it, and ceases to violate its own commitments.

Israeli terrorist forces announce they will bomb al-Shifa hospital in Gaza
IMEMC, Friday August 01, 2014 19:07 by International Solidarity Movement
International solidarity activists who have been helping in Shifa Hospital, Gaza's largest, have announced that the hospital has received a phone call telling them a building of the hospital will be bombed.

The group's press release reads as follows:

At 16:30, the hospital received a call from an unlisted number, stating a building needed to be evacuated immediately.

The building is being used for overflow patients, and is directly across the road from the main hospital building. It is part of the hospital site, but building work has yet to be completed.

The hospital is now in the process of evacuating all staff and patients inside.

"I'd like to say that Israel's threats to bomb Gaza's largest hospital have reached a new low, but in light of it's relentless atrocities and civilian massacres over the last 25 days, it's hardly unexpected." Stated Joe Catron, U.S. International Solidarity Movement (ISM) activist now in al-Shifa hospital.

Since July 25th, international volunteers from countries including Spain, Sweden, the United States, the United Kingdom, France, New Zealand, Australia, and Venezuela have begun a constant protective presence in various locations at the al-Shifa Hospital.

According to the Gaza Ministry of Health, as of July 29th, there have been 34 attacks against Gazan medical facilities since this latest Israeli military assault began 25 days ago.
70 civilian families mass-murdered in ongoing Israeli genocides in Gaza
[ 01/08/2014 - 08:40 AM ]
GAZA, (PIC)--
Four unspeakable Israeli massacres hit the Gaza Strip Thursday evening and Friday morning as at least 28 civilians, all same members of different Palestinian families, were killed in a barrage of Israeli strikes on the Strip.
The first massacre rocked al-Farra family in Khan Younis after a drove of Israeli fighter jets shelled their home, taking away the lives of eight family members and leaving dozens severely injured.
Four-year-old child Lujein Basem al-Farra and Abdul Rahman al-Farra, eight, along with three other children, were murdered in the attack.
By-standers at the scene said heavy fire was unleashed by the Israeli Fighting Falcons moments after having sent evacuation threats to al-Farra family.
In Bani Suhila, east of Khan Younis, the Israeli warplanes blasted two more civilian homes, murdering six Palestinians and leaving others severely wounded.
Seven-year-old girl Meiyssoun Raafat al-Brim was killed on the spot in the Israeli raid.
At least 470 civilians were killed in a wave of Israeli genocides in Khan Younis over the past 25 days.
In an earlier incident Thursday, an Israeli strike on al-Bayoumi's family home in the Nusairat refugee camp in Gaza killed 14 civilians and injured more than 20 others.
Local sources said the casualties' bodies, including 3 children, were recovered from under the ruins torn into shreds.
The injured civilians were rushed to al-Aqsa Martyrs hospital in Deir al-Balah for urgent treatment after they sustained severe injuries in the strike.
Moments before the massacre, the Gaza Health Ministry documented the rise of Israeli genocides against Gaza civilian families to 70 over the past 25 days.
570 citizens, belonging to different civilian families, were mass-murdered in the ongoing Israeli military offensive while some 958 others sustained injuries, a statement by the Health Ministry reported.
Death toll of Gaza civilians has hit 1437 so far, including hundreds of women and innocent children.
Hamas: Our steadfast people will achieve victory
[ 01/08/2014 - 11:49 AM ]
GAZA, (PIC)--
"You are re-writing history through the very ink of perseverance, self-abnegation and support you've been providing the resistance with," Hamas said as it acclaimed the Palestinians' steadfastness and their eagerness to stand firm in their historic battle against the Israeli occupation.
"Every single drop of blood you've shed on behalf of Gaza is a harbinger of an imminent victory; every single tear you've dropped for the death of a dear person foreshadows the downfall of darkness and the launch of a new dawn," Hamas statement declared.
"Our People in Gaza have been an epitome of resistance, sacrifice, and patience in the face of the Israeli offensive against our children, women, and elderly people. Despite the agony inculcated in us by all such agonies, our offspring have been standing tall, so tall to protect their sacred soil and reclaim not only their honor but also that of an entire nation."
"Gazans have been enduring years of tough blockade, heavy shelling and ruthless destruction. Yet, they have never thrown in the towel. Our people has been standing its ground like an unbreakable mountain, never conceding defeat, never yielding in, forever craving for victory," Hamas added.
"We are standing here today to express our honor and pride of what you've done to face up to the ongoing Israeli terrorism. The occupation jets, tanks, and watchtowers have all failed to dash your hopes. You've made proof of an unparalleled vigor despite the wounds and pains you've had to endure."
Hamas hailed Gaza children, who have been snatching smiles from beneath the ruins that fell upon them, seeking to recover their toys from within the very mounds of stones into which their own and only homes have turned.
"Gaza children have been waving victory flags to remind all of Gaza's mosques, families, homes, souls, martyrs, and even trees that victory is coming out soon," Hamas concluded.
List of Palestinians Killed: 7/8 - 8/1
Friday August 01, 2014 12:01

by Saed Bannoura - IMEMC News
This list is constantly updated due to the ongoing Israeli assault on Gaza since July 8th. The following 1270 names have been confirmed - the actual number is at least 1458.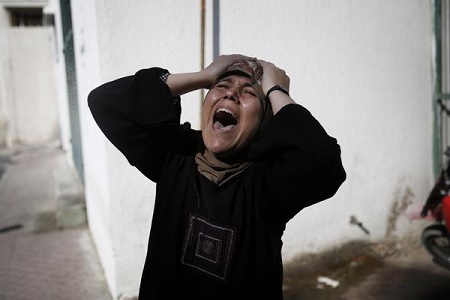 A Palestinian woman who lost her family due to the Israeli terrorist attacks on Gaza (image by Amnesty International)

We realize the number of slain Palestinians is higher than this. The Ministry of Health has stated that a total of at least 1457 Palestinians have been killed. We are still awaiting confirmation of some names.

This site, 'Beyond Numbers', has pictures of many of these victims.

Killed Friday, August 1
Abdul-Malek Abdul-Salam al-Farra, 58, Khan Younis.
Osama Abdul-Malek al-Farra, 34, Khan Younis.
Emad Abdul-Hafeth al-Farra, 28, Khan Younis.
Awatef Ezzeddin al-Farra, 29, Khan Younis.
Mohammad Mahmoud al-Farra, 12, Khan Younis.
Lojein Bassem al-Farra, 4, Khan Younis.
Yara Abdul-Salam al-Farra, 8, Khan Younis.
Nadine Mahmoud al-Farra, Khan Younis.
Abdullah Awad al-Breem, Khan Younis.
Mohammad Suleiman al-Breem, Khan Younis.
Maisoun Ra'fat al-Breem, Khan Younis.
Raed Abdul-Latif al-Qarra, Khan Younis.
Sami Suleiman al-Madani, Khan Younis.
Husam Suleiman al-Madani, Khan Younis.
Ahmad Salim Abdin, Khan Younis.
Mohammad Ahmad Hamad, Khan Younis.
Mousa Hamad Abu 'Amran, Khan Younis.
Hilal Eid Abu 'Amran, Khan Younis.
Ismael Zuheir Mohammadein, 26, Khan Younis.
Maher Ja'far Hajjaj, 54, Khan Younis.
Ahmad Mohammad Hassanein, Gaza.
Basil Diab al-Basyouni.
Shadi Mohammad Jom'a Abu Daher, 29, Khan Younis.
Hasan Abdul-Majid al-Bayyoumi, Deir al-Balah.
Mohammad Reziq Hassanein, 20, Shuja'eyya, Gaza.
Killed Thursday, July 31
Suleiman Baraka, 31, Gaza.
Aref Baraka, 58, Gaza.
Ahmed al-Loah, 22, Gaza.
Baraa' Yousef, 19. Gaza.
Maha Abdul-Nabi Salim Abu Hilal, Rafah.
Majdi Mohammad Ahmad Fseifis, 34, Khan Younis.
Mohammad Juma' an-Najjar, 32, Khan Younis.
Hani Abdullah Abu Mustafa, Khan Younis.
Hanan Yusef Abu T'aima, Khan Younis.
Mahar an-Najjar, Khan Younis.
Mahmoud Fouad an-Najjar, Khan Younis.
Mohammad Daher, Gaza.
Fadel Nader Almeghari, 27, Rafah.
Mahdiyya Suleiman Omar Abu Louly, 58, Khan Younis.
Tha'er Naji al-Amour, 22, Khan Younis.
Mohammed Yousef Al-Abadla, 21, Khan Younis.
Abdullah abu Shabab 20, Khan Younis.
Alaa' 'Alweh 22, Khan Younis.
Ahmed Salim Abdin , Khan Younis.
Mohamed Ahmed Hamad, Khan Younis.
Atiyyeh Salameh al-Hashash, 68, Rafah.
Hamza Fa'ek Ahmad al-Haddad, 20, , eastern Gaza City.
Ibrahim Asa'ad Ahmad al-Haddad, 21, eastern Gaza City.
Mohammad Ammar Sharaf, 10, Gaza City.
Mohammed Ra'fat Na'eem, Gaza Old City.
Husam Ra'fat Na'eem, Gaza Old City.
Kamal Abdul-karim al-Louh, 32, Deir al-Bala.
Ibrahim Abdul-karim al-Louh, 29, Deir al-Bala.
Khaled Nasr al-Louh, 46, Deir al-Bala.
Amaal Abdul-karim al-Masri, 48, Deir al-Bala.
Ilham Yahya al-Louh, 27, Deir al-Bala.
Samih Kamal Abu al-Kheir, 63, Khan Younis.
Othman Fawzi 'Abdeen, 17, Khan Younis.
Siham al-Ham, Khan Younis, Nusseirat.
Mohammad Adel Ashour, Nusseirat.
Renad Ashraf Ashour, Nusseirat.
Abeer Nahed al-'Ata, Nusseirat.
Naima Darwish Abu Shouq, Nusseirat.
Zaher Tawfiq Abu Maktoum, Nusseirat.
Ama' Rafat al-'Asa, Nusseirat.
Hasan Nassr Zaqqout, Nusseirat.
Labibeh Abu Shouqa, 23, Nusseirat.
This site contains copyrighted material the use of which has not always been specifically authorized by the copyright owner. We are making such material available in our efforts to advance understanding of environmental, political, human rights, economic, democracy, scientific, and social justice issues, etc. We believe this constitutes a 'fair use' of any such copyrighted material as provided for in section 107 of the US Copyright Law. In accordance with Title 17 U.S.C. Section 107, the material on this site is distributed without profit to those who have expressed a prior interest in receiving the included information for research and educational purposes. For more information go to: http://www.law.cornell.edu/uscode/17/107.shtml. If you wish to use copyrighted material from this site for purposes of your own that go beyond 'fair use', you must obtain permission from the copyright owner.