Perhaps we must admit there is no political solution for the Palestinian problem
By Khalid Amayreh
PIC, Al-Jazeerah, CCUN, April 9, 2014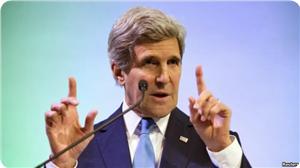 With frustration and helplessness easily detected in the tone of his voice, U.S. Secretary of State John Kerry has admitted that U.S.-mediated talks between Israel and the Palestinian Authority (PA) is going nowhere.

And in an implicit warning to the two sides, the head of American diplomacy said the U.S. is evaluating its role as broker of the Middle East peace process.

"This is not an open-ended effort, it never has been. It is reality check time, and we intend to evaluate precisely what the next steps will be. "There are limits in the amount of time and effort that the United States can spend if the parties themselves are unwilling to take construction steps in order to be able to move forward," Kerry said.

Futile talks

I don't know if John Kerry has ever believed in the depth of his heart that there is a real chance for a truly dignified and equitable (let alone just) solution for the Palestinian issue.

He has paid numerous visits to Occupied Palestine and held numerous meetings with Israeli and Palestinian leaders, but to no avail. The same thing was done by his many predecessors, including Hillary Clinton, Condoleezza Rice and Madeline Albright, to mention just a few secretaries of State, and no breakthrough was reached.

That is why, instead of reproducing the same failures all over again, Kerry and the Obama administration ought to devote some time to vigorously and honesty study the reasons for the chronic failure of the so-called America peace efforts in Occupied Palestine.

But, given the huge subservience of the US government to Jewish pressure groups such as AIPAC, I am not sure any American administration would be able to objectively re-assess American policy in the Middle East. Such a feat would probably trigger a no-holds-barred war with Israel's powerful supporters at the U.S. arena, a war any U.S. administration would probably lose given current political balances in Washington.

Well, one of the most scandalous aspects of U.S. government subservience to Israel manifests itself in the fact that the U.S. itself has always enabled Israel to reject and sabotage American "peace efforts" in the region. The U.S. gave Israel hundreds of billions of dollars throughout the years and helped turn Israel into a first-class military power, thanks to the unbridled transfer of American military technology to the "Jewish state".

None the less, instead of utilizing this virtually unlimited and unrestricted support to restrain Israel, Israel became ever more insolent, more intransigent and more recalcitrant. And instead of giving up the spoils of the 1967 war, Israel continued to build Jewish-only settlements on occupied Arab land and transfer its citizens to the West Bank and East Jerusalem to live on land that belongs to another people.

The US knew too well what Israel was doing. However, instead of calling the spade a spade, successive American administrations refused to act to save whatever hope there was for peace in the region.

In fact most of these U.S. administrations behaved like obsequious whores vis-à-vis Israel to the point of enabling Israel to call the shots in Washington. A Former American President and several American political scientists and intellectuals repeatedly raised serious questions about this scandalous imbalance in America's relations with Israel.

But the state of denial continued unabated in Washington until Israel was able to effectively decapitate the two-state solution through the intensive building of Jewish settlements in the Occupied West Bank.

Hence, John Kerry is only trying to salvage the bitter harvest of more than 50 years of American failure vis-à-vis Israel. Needless to say, his success chances are close to Zero.

The truth of the matter is that there is no longer a real chance for peace in the Middle East. Israel, thanks to America's overwhelming support for Israel's lebensraum policy at the Palestinians' expense, has killed almost all realistic prospects for a genuine peace settlement.

Indeed, while an equitable peace deal should see an absolute end to Israel's decades-old occupation of the West Bank, East Jerusalem and the Gaza Strip, along with the repatriation of millions of Palestinian refugees to their former towns and villages in what is now Israel, Israel understands peace as implying the liquidation of the Palestinian cause through a deceptive process enabling the "Jewish state" to arrogate the bulk of historical Palestine.

Under such an unthinkable deal, at least as far as the Palestinians are concerned, the Palestinians would get a "state" made up of small patches of scattered territories, without Jerusalem and without real sovereignty.

Such a deformed state wouldn't control its borders and border crossings, nor exercise any control over its land, airspace and sea waters. But the Palestinians would have to use the grandest of names to call their "state."!!!

There is no question that accepting such a solution would be tantamount to committing adultery with the Palestinian national cause. Hence, any Palestinian leader voicing a willingness to accept this thundering treachery would be committing the ultimate treason against his country, people and faith.
===============================
Troubled Mideast peace effort compounds U.S. policy woes in region
By Matt Spetalnick and William Maclean
WASHINGTON/DUBAI
Wed Apr 9, 2014 8:55am EDT
(Reuters) -
Addressing the United Nations General Assembly in September, U.S. President Barack Obama declared the pursuit of Israeli-Palestinian peace one of the two main U.S. foreign policy priorities for his second term.
Fast-forward to today, the Obama administration faces a stark choice: expend more energy on a faltering peace process or absorb the hit to an already-troubled record in the Middle East and walk away from negotiations.
Secretary of State John Kerry, who met Obama on Tuesday for a "reality check," says he hopes both sides will work with U.S. mediators to "find a way back." But as optimism fades, many inside and outside the Middle East warn now is not the time for a U.S. diplomatic failure in the region.
"A collapse of the peace process would only add to the perception that we really don't know what we're doing," said Aaron David Miller, a former U.S. peace negotiator.
Arabs say the most serious threat to creation of a Palestinian state alongside Israel is Israeli settlement construction on occupied land, a view echoed by a February report by European Union consuls general based in the region.
U.S. presidents since Jimmy Carter in the 1970s have failed to stop settlement building in the West Bank, a territory captured by Israel in the 1967 Middle East War.
Settlements are deemed illegal under international law. And Palestinians say relentless construction makes a mockery of their aspirations for an independent state in the West Bank, Gaza and East Jerusalem.
Citing security concerns and historic and Biblical links to the territory, Israel says it intends to keep large settlement blocs in any future peace deal.
Asked to what extent U.S. credibility would be damaged if the peace process failed, Mustafa Alani, a senior adviser at the Gulf Research Center think tank who has close ties to Saudi security officials, suggested Arab expectations of Washington were already about as low as they could get.
"That's because Arabs never trusted this administration as a peacemaker," he said.
But a senior U.S. official insisted any decision on Middle East diplomacy would hinge not on U.S. prestige but on whether it serves national interests and aids regional stability.
While successive administrations have come up dry in decades of Israeli-Palestinian peacemaking, the latest initiative faces trouble at a delicate time as Washington seeks to weather criticism for not doing enough to curb Syria's civil war and engages in high-stakes nuclear talks with Iran.
On top of that, U.S. inaction over the military's tightening grip in Egypt, upheaval in post-Gaddafi Libya and renewed sectarian bloodshed in Iraq have raised questions about the administration's broader Middle East agenda.
Polls show attitudes toward the United States languishing in much of the Arab world, where Obama once promised a "new beginning" in relations with Washington after his predecessor, George W. Bush, was widely reviled because of the Iraq war.
Doubts about the Obama administration's ability to broker Israeli-Palestinian peace and an overall lack of confidence in its leadership in the region appear widespread, even though U.S. officials insist that Washington's influence remains solid.
Even among Israelis, who count on the United States as their closest ally, Kerry's peace bid continues to be a tough sell.
"John Kerry took this issue very seriously," said Moshe Arens, a former Israeli foreign and defense minister who also served as ambassador to Washington. "But my guess is he did not really understand the reality of the area."
Kerry faced an even harsher assessment when he testified on Capitol Hill on Tuesday. "You can't help but get the impression that our foreign policy is simply spinning out of control," Senator James Risch, an Idaho Republican, told Kerry, who gave an impassioned defense of the administration's record.
BIG ROLLOUT, THEN SCALED-BACK EXPECTATIONS
When Kerry convinced Obama to push Middle East peace toward the top of his second-term foreign policy agenda last year, the strategy was cast as a way to create goodwill toward the United States in a region where Arab Spring popular revolts were toppling long-time rulers.
The idea was not only to win credit for tackling the decades-old Arab-Israeli conflict but also to rob Islamist groups like al Qaeda of a recruiting tool and take away one of Iran's main arguments for supporting anti-Israel militants.
But Kerry's peace drive was met with deep skepticism from the start, and over the course of more than eight months of tireless diplomacy neither side has been willing to make the tough compromises needed to achieve a peace deal.
That has prompted Kerry to steadily scale back his ambitious goals - to the point where now even getting talks extended beyond an April 29 deadline would qualify as an achievement.
Negotiations plunged into crisis last week in a series of tit-for-tat moves by Israelis and Palestinians.
By stepping away for now, Kerry has reminded the parties that he can ill-afford to focus endlessly on a fruitless peace process when other pressing international issues, such as the crisis in Ukraine, demand his attention, U.S. officials say.
Israel and Palestinians were quick to restart discussions and the administration says it has not thrown in the towel, but the outlook remains bleak and Kerry can be expected to take a lower-profile role even if the peace process survives.
Despite having prioritized Israeli-Palestinian peace along with an Iran nuclear deal in his U.N. speech, Obama has mostly kept his distance from the nuts and bolts of the Middle East negotiations, seemingly wary that the effort could suffer the fate of his own failed first-term initiative.
But seeking to tamp down speculation that Obama might pull the rug out from under Kerry, a White House aide said the president told his national security team on Friday: "I see a lot of senior officials quoted about Kerry and Middle East peace. But I'm the most senior official, and I have nothing but admiration for how John has handled this."
Washington is clearly mindful that abandoning the peace effort now would carry risks, including reinforcing the image of an administration seeking to disengage from the Middle East.
"There's tremendous upheaval in the region and internationally right now. Do you want to add to it?" said Dennis Ross, Obama's former top Middle East adviser. "We don't need to see something we've been investing in collapse."
With the administration moving only haltingly on limited arms shipments to Syrian rebels, some analysts believe a breakdown in the peace process could embolden Syrian President Bashar al-Assad by showing U.S. weakness in the region.
U.S. allies Israel and Saudi Arabia already fear Obama's failure to strike Assad over chemical weapons use last year suggests that war-weary Washington would not have the stomach to use force to prevent Iran from developing nuclear weapons.
There are also concerns in the region that Iran could see troubles in the peace process as a sign that the Obama administration might be desperate for a diplomatic success and that Tehran could then take a tough line against concessions in nuclear talks.
But a senior U.S. official said the administration saw no link between Middle East diplomacy and the Iran or Syria issues.
Even so, fallout for the United States may be limited because Arab leaders and their nations are now more focused on their own internal problems and less so on the Israeli-Palestinian issue once seen as the region's core conflict.
"All Arabs are preoccupied with calls for revolutions and reforms," Joseph Kechichian, a Beirut-based historian, said of the Gulf Arab states who are close to the Saudi ruling family.
But he added: "The Palestinian question will not go away."
(Additional reporting by Crispian Balmer in Jerusalem, Stephen Kalin in Cairo, Yara Bayoumy in Dubai and Arshad Mohammed in Washington; Editing by Jason Szep and Mohammad Zargham)
This site contains copyrighted material the use of which has not always been specifically authorized by the copyright owner. We are making such material available in our efforts to advance understanding of environmental, political, human rights, economic, democracy, scientific, and social justice issues, etc. We believe this constitutes a 'fair use' of any such copyrighted material as provided for in section 107 of the US Copyright Law. In accordance with Title 17 U.S.C. Section 107, the material on this site is distributed without profit to those who have expressed a prior interest in receiving the included information for research and educational purposes. For more information go to: http://www.law.cornell.edu/uscode/17/107.shtml. If you wish to use copyrighted material from this site for purposes of your own that go beyond 'fair use', you must obtain permission from the copyright owner.