Israeli occupation government builds a bridge for military vehicles, Jewish synagogues to be established at al-Aqsa Mosque
April 9, 2014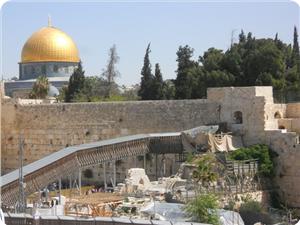 [ 09/04/2014 - 10:26 AM ]
OCCUPIED JERUSALEM, (PIC)--
Israeli Occupation Authority (IOA) has continued its Judaization scheme to turn Mughrabi Gate leading to al-Aqsa Mosque into a bridge for military vehciels.
The IOA is also planning to build a series of Jewish synagogues after demolishing large parts of the Mosque, Aqsa Foundation for Endowment and Heritage revealed in a statement on Tuesday.
Aqsa Foundation said that the bridge to be established in the Mughrabi Gate aims to enable army vehicles and equipment along with hundreds of soldiers to break into al-Aqsa Mosque at will.
The bridge came as part of an Israeli scheme to Judaize the Mughrabi hill as a whole, which is funded by the Israeli government.
Aqsa Foundation said that Israeli engineering and technical crews began Tuesday morning to erect large wooden planks in the street leading to the Mughrabi Gate.
The bridge is to be established at the expense of 1.6 acres of the Mughrabi neighborhood that was demolished in 1967.
In 2000, the IOA started preventing Palestinian worshipers' entry to al-Aqsa Mosque via Mughrabi Gate.
Aqsa Foundation described the construction of the bridge as a dangerous precedent and a prelude to the destruction of al-Aqsa Mosque, stressing the need for providing an Arab-Islamic protection for the Islamic holy sites.
This site contains copyrighted material the use of which has not always been specifically authorized by the copyright owner. We are making such material available in our efforts to advance understanding of environmental, political, human rights, economic, democracy, scientific, and social justice issues, etc. We believe this constitutes a 'fair use' of any such copyrighted material as provided for in section 107 of the US Copyright Law. In accordance with Title 17 U.S.C. Section 107, the material on this site is distributed without profit to those who have expressed a prior interest in receiving the included information for research and educational purposes. For more information go to: http://www.law.cornell.edu/uscode/17/107.shtml. If you wish to use copyrighted material from this site for purposes of your own that go beyond 'fair use', you must obtain permission from the copyright owner.