Fighting Intensifies in Syria, Torture and Rape Routine in Government Detention Camps
April 19, 2014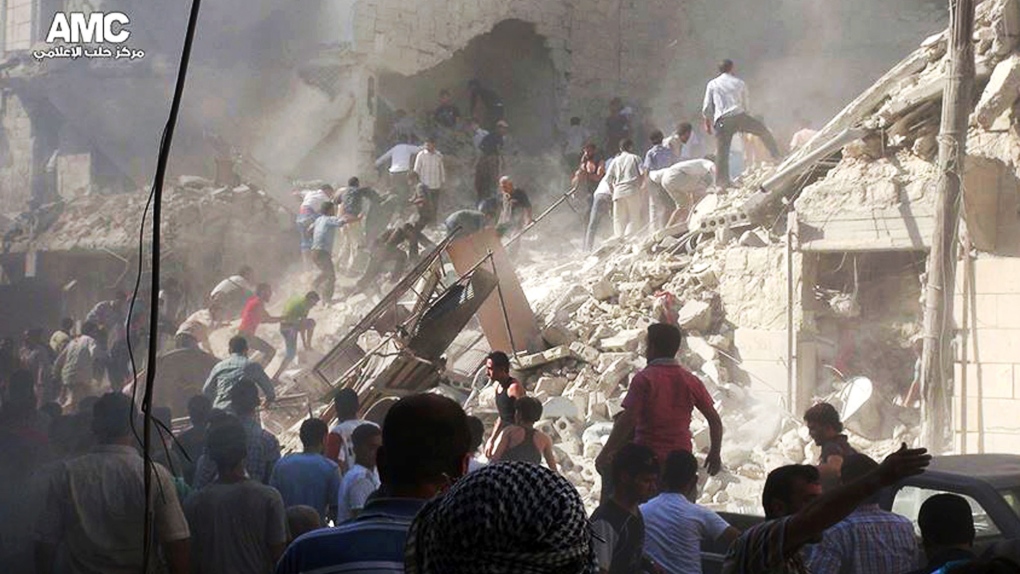 New UN report describes horrific and systematic torture of Syrian victims
By Fred Nathan
Telegraph, 14 Apr 2014
Human rights commissioner says rape, beating and pulling out of teeth and toenails "routine" in Syria, as government and rebel forces blame each other for chemical attacks.
The United Nations commissioner for Human Rights on Monday condemned the "routine" use of torture in Syrian detention facilities, as a new report describes how victims were raped, beaten and had their teeth and toenails pulled out.
Navi Pillay said torture was routinely used in government detention facilities as well as by some armed groups in the Middle Eastern nation, where more than 150,000 people have so far been killed in a bloody civil war lasting three years.
"When torture is used in armed conflict, in a systematic or widespread manner, which is almost certainly the case in Syria, it also amounts to a crime against humanity," said Ms Pillay.
The UN report, based on accounts by 38 survivors, detailed the systematic persecution of men, women and children in the war-torn country.
When detainees arrived at state detention facilities, they were "routinely beaten and humiliated for several hours by guards in what has come to be known as the 'reception party'," it said.
A 30-year-old university student described how he was beaten, had his beard pulled out and his feet burned at an Air Force Intelligence facility where he was interrogated in 2012.
In another session, "they pulled out two of my toenails with pliers," he said.
And a 26-year-old woman gave an account of being beaten, raped and having her teeth pulled out.
"They called us prostitutes and spat in our faces," said the woman, whose family rejected her after learning she had been raped.
Nearly half of Syria's population have been forced to flee their homes since peaceful anti-government protests that began in 2011 spiralled into a violent conflict.
Investigators also found that several armed groups, including the al-Nusra Front, had used torture against men, women and children.
Human rights activists and medical workers seen to be affiliated with other armed groups were particularly vulnerable.
Ms Pillay said torturers must be brought to justice and victims given treatment and fair compensation.
She also reiterated her call for Damascus to allow the UN and other international bodies to monitor conditions in detention centres.
Meanwhile, rebels and the government are blaming each other for two alleged chemical attacks last week.
Syrian opposition activists have posted photographs and video that they say shows an improvised chlorine bomb used by President Bashar al-Assad's forces on a rebel-held village in the central province of Hama, 125 miles north of capital Damascus.
However, state television on Saturday accused the al Qaeda-linked Nusra Front of carrying out the attacks, which it said wounded dozens.
Both sides claim chlorine gas - a deadly agent widely used in World War I - had been used. The gas, which has industrial uses, is not on a list of weapons that Assad declared to the global chemical weapons watchdog last year for destruction.
Eliot Higgins, a UK-based researcher who identifies weapon usage in online videos of Syria's civil, said that while videos did appear to show an industrial chlorine cylinder, he could not unequivocally verify the opposition's claims.
"It looks like they (the government) have taken an industrial chlorine cylinder, put it in a improvised barrel bomb and dropped it out of a helicopter," he told Reuters.
The yellow paint on the cylinder complies with international standards on industrial gas colour codes indicating it contains chlorine, he added.
A UN inquiry found last December that sarin gas had likely been used in the rebel-held Damascus suburb of Ghouta, where hundreds of people were killed.
The Syrian government and the opposition have each accused the other of using chemical weapons on several occasions, and both have denied it.
The Ghouta attack sparked global outrage and a U.S. threat of military strikes, which was dropped after President Assad pledged to destroy his chemical weapons.
Syria has so far destroyed or surrendered 65.1 per cent of the 1,300 metric tonnes of weapons it reported to possess, but is running several weeks behind schedule with the deadline of June 30 to completely abandon its chemical programme.
=============================
Fighting Intensifies as Syria Braces for Presidential Vote
DAMASCUS, April 19, 2014 (Xinhua) --
A string of car bombings have recently rocked pro-government districts of the country's central province of Homs, amid a crushing offensive the Syrian government troops have unleashed against a few remaining rebel-held districts in the historic quarter of Homs.
The state news agency SANA said a car bomb exploded Saturday near a mosque in the al-Jandali neighborhood of Homs, leaving undisclosed number of casualties.
It added that one person was killed and 10 others wounded when the rebels fired a mortar shell that slammed into a hospital in the government-loyal neighborhood of al-Zahra in Homs.
The same neighborhood was struck Thursday by the blast of a car bomb, which killed six people and injured 26 others.
On Friday, 14 people were reportedly killed and over 20 others wounded, when a booby-trapped car went off near a mosque in the pro-government district of Ekrima in Homs.
The explosive-packed vehicle went off as worshipers were leaving the mosque after performing Friday's noon prayers.
The blast came as the Syrian government troops have recently launched an offensive against rebel-held districts in the old quarter of Homs to dislodge the rebels and secure Homs.
Over the weekend, the government troops continued their progress against the rebels in the old Homs city, namely in the neighborhoods of Bab Hud and Wadi al-Sayeh, destroying rebels' positions and killing many of them, according to the local media.
Homs, Syria's third largest province, was one of the first provinces to sympathize with anti-government movement in Syria. The rebels there have taken considerable swathes of land, but the government troops have stripped them of these territories over the past year.
Several neighborhoods of Homs remained loyal to the government, pushing the rebels to unleash retaliatory attacks against them every time the government troops advance against opposition-held areas.
Meanwhile, Syria's permanent representative to the United Nations, Bashar al-Ja'afari, told reporters on Friday in New York that around 2,000 foreign rebels and 170 civilians are still in the old city of Homs.
In February, some 1,350 men, women and children -- more than half of the estimated 2,500 who have suffered the years-long siege -- were evacuated from the old city of Homs, and food was moved in as part of a "humanitarian pause" concluded between the government troops and the rebels under the mediation of the UN.
The recent military offensives against the eastern and northern fringes of Damascus and the old city of Homs are aimed to strengthen the government's grip on the southern and central region ahead of the presidential elections, whose campaign is scheduled to start on April 21, observers say.
In tandem with the government forces' progress in central and southern Syria, militant groups, including al-Qaida-linked ones, have unleashed a wide-scale offensive on government controlled areas in the western part of the northern city of Aleppo.
The fresh violence in Aleppo started on Thursday, which marks Syria's Independence Day, when an array of radical militant groups staged a series of blasts coupled by a violent attack against the Hanano military barrack in the Maysaloun neighborhood, which is adjacent to the rebel-held areas of eastern Aleppo.
On Thursday, the local media reported that the presidential elections' process will start on April 21, allowing candidates to submit their applications.
Government officials expressed optimism that President Bashar al-Assad still enjoys popular support despite the three-year-old conflict.
The opposition groups slammed the plans to hold the elections, saying that such process, under the current circumstances, would " blow up" the political process in Syria.
Assad himself, whose second term will expire on July 17, has not yet announced whether he will run for re-election, but he has reportedly expressed interest in running again for a third seven- year-term.
Assad was unanimously nominated by the Syrian parliament to be president in 2000 following the death of his father, former President Hafez Assad. He was re-elected without opposition in 2007 to a second term.
Observers believe that Assad is likely to be re-elected as no one has so far shown intention to run against him, adding that the radical rebels' infighting, mainly in eastern Syria, would also play in the hands of the government troops.
A general election bill adopted recently by the Syrian parliament stipulates that any candidate for presidency must have lived in Syria for 10 consecutive years prior to nomination, a condition that cannot be met by the exiled opposition, whose members have been living outside Syria for years.
Blast target aid convoy in Syria's Hama, killing 4
DAMASCUS, April 19, 2014 (Xinhua) --
At least four people were killed and nine others wounded on Saturday when a car bomb exploded near an aid convoy in the Syria's central province of Hama, the state news agency SANA reported.
The blast targeted four truckloads of humanitarian aid of the Syrian Arab Red Crescent (SARC) near a government-subsidized bakery in the town of Salamiyeh in Hama, SANA said.
The wounded people have been taken to nearby hospitals. The explosion also damaged shops, cars and other properties, according to the report.
SANA did not spell details about the fate of other SARC members who were accompanying the aid convoy.
SARC has lost about 34 of its humanitarian workers during the country's long-running conflict.
The blast is the latest violence to hit central Syria and coincided with another explosion that rocked the central province of Homs on Saturday. Further details about the Homs explosion are still forthcoming.
The three-year Syrian crisis started in mid-March 2011 when anti-government protesters took to the street calling for reforms, but rapidly evolved into a civil war which witnessed the formation of anti-government militias joined by radical jihadist movements.
This site contains copyrighted material the use of which has not always been specifically authorized by the copyright owner. We are making such material available in our efforts to advance understanding of environmental, political, human rights, economic, democracy, scientific, and social justice issues, etc. We believe this constitutes a 'fair use' of any such copyrighted material as provided for in section 107 of the US Copyright Law. In accordance with Title 17 U.S.C. Section 107, the material on this site is distributed without profit to those who have expressed a prior interest in receiving the included information for research and educational purposes. For more information go to: http://www.law.cornell.edu/uscode/17/107.shtml. If you wish to use copyrighted material from this site for purposes of your own that go beyond 'fair use', you must obtain permission from the copyright owner.