6 Kurdish Iraqis Killed, 36 Injured in Arbil Blasts


September 29, 2013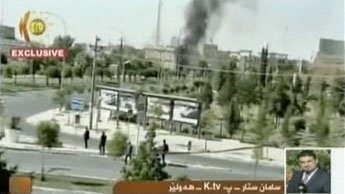 Deadly blasts strike Iraq's Kurdistan region
By News Wires (text)
France 24, September 29, 2013
Six people were killed on Sunday in a series of explosions outside a security directorate in the capital of Iraq's usually peaceful autonomous Kurdistan region, security and medical sources said.
Gunfire could be heard after the blasts in Arbil that wounded a further 36 people, according to the city's health directorate. The victims were believed to be members of the Iraqi Kurdish security forces, known as asayesh.
Television footage showed the charred remains of at least three cars and another in flames. Smoke rose into the air and firefighters and ambulances were at the scene.
A statement published on the Kurdistan Regional Government (KRG)'s website said one car had been targeted by asayesh before it blew up near the Interior Ministry.
The KRG statement also cited witnesses as saying five suicide bombers had been killed before they were able to detonate themselves.
This site contains copyrighted material the use of which has not always been specifically authorized by the copyright owner. We are making such material available in our efforts to advance understanding of environmental, political, human rights, economic, democracy, scientific, and social justice issues, etc. We believe this constitutes a 'fair use' of any such copyrighted material as provided for in section 107 of the US Copyright Law. In accordance with Title 17 U.S.C. Section 107, the material on this site is distributed without profit to those who have expressed a prior interest in receiving the included information for research and educational purposes. For more information go to: http://www.law.cornell.edu/uscode/17/107.shtml. If you wish to use copyrighted material from this site for purposes of your own that go beyond 'fair use', you must obtain permission from the copyright owner.