Germany's Victorious Merkel to Seek Coalition Partners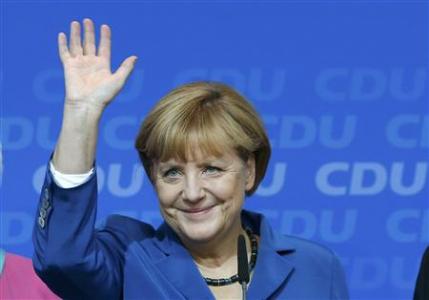 Germany's Victorious Merkel to Seek Coalition Partners
By Halla Mohieddeen / Kyle G. Brown (video)
FRANCE 24 (text), September 23, 2013
Angela Merkel's Christian Democratic Union (CDU) scored its best result in 23 years in elections on Sunday, winning 41.5% of the vote and finishing only five seats short of an absolute majority in the lower house.
Sunday's victory reaffirmed Merkel's position as Europe's most powerful leader and one of the few who enjoys strong support from their electorate.
True to her style, 59-year-old Merkel pledged that "we will use the result responsibly and carefully," but stressed that she intends to serve out her full term till 2017, as jubilant supporters yelled "Angie, Angie, Angie!"
FRANCE 24 Chief Foreign Editor Robert Parsons described Merkel's victor from Berlin as "astonishing".
"This is a far bigger victory than anyone had anticipated," he said. "It's one of the biggest triumphs in post-war Germany, and at a time when leaders all over Europe have been falling like ninepins as a consequence of the financial crisis."
German news website Spiegel Online ran with the headline "The Merkel Republic", adding that "Germany has finally become Angela Merkel-Land".
Coalition shock
However, there was bitter disappointment for Merkel's allies in the outgoing government, the pro-business Free Democrats (FDP), who suffered a humiliating exit from the Bundestag, the first time they will be absent from the chamber in the post-war era.
For Merkel, the shock demise of the FDP means she now has to look for a new coalition partner. She seemed to acknowledge the difficulty of the challenge ahead, when she was asked on television whether she planned to reach out to other parties.
"Maybe we won't find anyone who wants to do anything with us," she replied.
The most likely candidate was the centre-left Social Democrats (SPD), with whom she ruled in a mostly-successful "grand coalition" in her first term from 2005 to 2009.
The SPD came second with 25.6%, slightly above its worst post-war result of 2009. Its candidate Peer Steinbrueck said late Sunday that his party "did not achieve the result we wanted," adding that "the ball is in Merkel's court. She has to put together a majority".
An outside option would be a Merkel coalition with the ecologist and left-leaning Greens, who won 8.4%, although both parties in the campaign nixed such an uneasy alliance given their wide policy differences.
European support
Merkel, a pastor's daughter and former scientific researcher from Hamburg, described her party's victory on Sunday as "a super result". She said that Germany will face "many tasks, at home, in Europe and in the world" over the next four years and that her party "will do everything to make them successful years for Germany".
The CDU's campaign banked on Merkel's image as a calm, sensible and reassuring eurozone crisis manager, along with her record of keeping a strong economy and low unemployment.
"The CDU's campaign was all pinned to the personality of Merkel and her popularity," Parsons reported from Berlin. "There's a sense here that Merkel has provided people with the safety they've been looking for; people talk of good governance," he said.
Congratulations poured in from across Europe on Monday, while the euro firmed in Asian trade, with investors cheering the "continuity" Merkel provided.
French President François Hollande congratulated Merkel in a phone call in which both agreed "to continue their close cooperation to meet the challenges of the European project".
Italian Prime Minister Enrico Letta hailed the "good result for the European Union," noting that the eurosceptic Alternative for Germany (AfD) party had failed to garner enough support to enter parliament, with less than 5% of the vote.
Britain's David Cameron said in a tweet that he was "looking forward to continuing to work closely" with Merkel.
In Berlin, observers expected days or even weeks of tough negotiations over policies and ministry posts between potential partners.
(FRANCE 24 with wires)
Merkel must reach out to leftist rivals after poll triumph
By Noah Barkin
Mon Sep 23, 2013 7:08am EDT
BERLIN (Reuters) -
German Chancellor Angela Merkel faces the daunting prospect of persuading her center-left rivals to keep her in power after her conservatives notched up their best election result in more than two decades but fell short of an absolute majority.
Even her political foes acknowledged the chancellor was the big winner of the first German vote since the euro zone debt crisis began in 2010, thrusting the pastor's daughter from East Germany into the role of Europe's dominant leader.
Merkel's beaming face emblazoned the front pages of Monday's newspapers, which hailed the result as her personal victory.
"It is HER triumph... It was not taxes, justice or the euro that were decisive but the question: whom do the citizens trust to act in the chancellor's office with calm reason and good nerves?" wrote Nikolaus Blome in the top-selling Bild daily.
Merkel's conservative bloc stood at 41.5 percent, its strongest score since 1990 and just five seats short of the first absolute majority in the Bundestag lower house in over half a century.
The euro inched up and German government bond futures rose early on Monday as investors anticipated continuity in Berlin's cautious approach of seeking deficit cuts and economic reforms in return for financial support to euro zone weaklings.
The Social Democrats (SPD), with whom Merkel ruled in a largely successful 'grand coalition' in her first term from 2005 to 2009, finished second with 25.7 percent, little improved on their worst post-war result of 2009.
"We have the mandate to lead the government under Angela Merkel for the next few years," Environment Minister Peter Altmaier, a close Merkel ally, said on television.
"What is important is that we get a stable majority," he said, adding that the SPD and their Greens allies needed time to digest the results of their "painful defeat" before embarking on exploratory coalition talks.
The Greens secured 8.4 percent, down sharply from 2009. The only other party in the new Bundestag will be the hardline Left party, on 8.6 percent, after Merkel's current coalition partner, the business-friendly Free Democrats (FDP), failed to clear the 5 percent threshold to enter parliament.
Merkel, 59, seemed to recognise the difficulty of the challenge ahead when she was asked on Sunday night whether she planned to reach out to other parties.
"Maybe we won't find anyone who wants to do anything with us," she said after crushing her opponents and her liberal Free Democratic (FDP) allies.
"VERY, VERY DIFFICULT"
After coming off worst in their previous coalition, the SPD will be loath to do a deal with Merkel this time unless she pays a high price in terms of cabinet posts and policies.
During the campaign, the center-left party argued for a national minimum wage and higher taxes on the wealthy -- both opposed by Merkel. The SPD may also demand the finance ministry, pushing out respected 71-year-old incumbent Wolfgang Schaeuble.
"Given the issues that we set out and those that the CDU (Merkel's Christian Democrats) focused on in the campaign... (a grand coalition) is very, very difficult," SPD vice-chairwoman Manuela Schwesig told RBB-Inforadio.
SPD Chairman Sigmar Gabriel did not categorically rule out entering talks with Merkel, but signalled that his party, which lost millions of supporters during the last 'grand coalition', would not roll over.
He has called a meeting of the 150-year-old SPD's leadership on Friday to discuss options. If the party does decide to enter coalition talks with Merkel, experts predict they could last months and be the most difficult in the post-war era.
That could keep key European decisions on the next stage in a banking union and further financial support for Greece and possibly Portugal on hold.
"There are bigger differences than in 2005," said a top aide to Merkel on condition of anonymity. "If you look at the SPD programme it is far more to the left than it was then."
Still, polls show the consensus-driven German public would welcome a right-left partnership, as would Berlin's European partners, who hope the SPD might soften Merkel's austerity-focused approach to struggling euro zone members.
Should the SPD refuse to enter talks, Merkel could turn to the environmentalist Greens, but leading Green lawmaker Renate Kuenast said she could not imagine such a coalition.
There was bitter disappointment for Merkel's FDP allies, who suffered a humiliating exit from the Bundestag, the first time they will be absent from the chamber in the post-war era.
The Alternative for Germany (AfD), a new eurosceptic party that had threatened to spoil Merkel's victory by breaking into parliament for the first time, finished just short of the 5 percent threshold required to win seats.
The movement's hostility to euro zone bailouts and call to cut weaker southern members loose from the currency area resonated with many crisis-weary voters and may act as a brake on Merkel's conduct of European policy.
Their leader Bernd Lucke, a conservative Hamburg economist, said the result provided a good basis to contest next year's European Parliament elections and regional German polls, adding that the AfD was not 'anti-European'.
The result leaves Merkel as one of the few European leaders to survive the debt crisis, which has seen 19 of her EU peers lose their jobs since the start of 2010.
But the chancellor faces major challenges in a new term, from bedding down her complex shift from nuclear to renewable energy, to setting out a vision for a euro zone.
She has presided over a strong recovery in the German economy and a sharp reduction in unemployment, but economists are worried that Germany could lose momentum without reforms and new initiatives to head off a looming demographic crisis.
"The biggest medium-term risk for Germany may be a lack of reforms," Citigroup analysts said in a note. "Aside from the much-needed energy reform, Germany still has a fairly rigid labour market, low service sector productivity, and large demographic challenges."
(Additional reporting by Stephen Brown, Michelle Martin, Annika Breidthardt, Sarah Marsh, Madeline Chambers, Sophie Duvernoy, Erik Kirschbaum and Gareth Jones; Writing by Gareth Jones and Noah Barkin; Editing by Paul Taylor)
This site contains copyrighted material the use of which has not always been specifically authorized by the copyright owner. We are making such material available in our efforts to advance understanding of environmental, political, human rights, economic, democracy, scientific, and social justice issues, etc. We believe this constitutes a 'fair use' of any such copyrighted material as provided for in section 107 of the US Copyright Law. In accordance with Title 17 U.S.C. Section 107, the material on this site is distributed without profit to those who have expressed a prior interest in receiving the included information for research and educational purposes. For more information go to: http://www.law.cornell.edu/uscode/17/107.shtml. If you wish to use copyrighted material from this site for purposes of your own that go beyond 'fair use', you must obtain permission from the copyright owner.