18 Iraqis Killed, 21 Wounded in Attack on a Samarra Sunni Mosque
September 20, 2013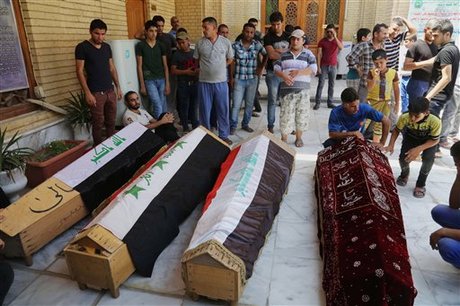 Explosion hits Sunni mosque in Iraq, killing 18
QASSIM ABDUL-ZAHRA 1 hour ago
BAGHDAD (AP) —
Two bombs hidden inside air conditioners exploded Friday in a Sunni mosque packed with worshippers north of Baghdad, killing at least 18 people in the latest outburst of violence to hit the country.
Iraq is weathering its worst bout of attacks in half a decade. The violence has risen significantly since April, intensifying fears the country is slipping back toward the widespread bloodshed and sectarian fighting that marked the years following the 2003 U.S.-led invasion.
The past several months have been the deadliest since 2008. More than 4,000 people have been killed since the start of April, according to U.N. figures.
Friday's attack took place in the city of Samarra, where the deputy head of the municipal council said bombs were placed inside two of the mosque's air-conditioning units. The explosions went off around midday, during Friday prayers. The official, Mizhar Fleih, said the explosion also wounded at least 21 people.
Fleih said that the Musaab Bin Omair mosque was heavily damaged in the attack.
"We are worried that the attacks on Sunni and Shiite mosques aim at reigniting the sectarian strife in this country, "he added.
Samarra, 95 kilometers (60 miles) north of the Iraqi capital, is largely Sunni Muslim and is home to a revered Shiite shrine.
There has also been a spike in attacks on Sunni mosques in recent months. While it is possible that Sunni extremists could be to blame, Shiite militias that had been largely quiet for years may also be behind those assaults.
Last week, a similar attack on a Sunni mosque in northeast of Baghdad killed 33 worshippers.
Iraq Sunni mosque blasts kill 18
By Mahmud Saleh (AFP) –
SAMARRA, Iraq —
Two bombs tore through worshippers gathering for prayers at a Sunni mosque in Iraq on Friday, killing 18 people, while three died in other attacks, officials said.
Militants have carried out numerous attacks on both Sunni and Shiite mosques this year, raising fears of a return to the all-out sectarian conflict that peaked in 2006-2007 and killed thousands of people.
The bombs, which hit the Musab bin Omair mosque near Samarra, north of Baghdad, also wounded 21 people, police and a doctor said.
"A huge explosion happened, and everything around us was thrown in the air," Zaid Abdulwahid, a 26-year-old who was wounded in the blasts, told AFP at the main hospital in Samarra.
Questions for Abdulwahid had to be shouted, as his hearing was damaged by the explosions.
"We never expected that the mosque would be targeted," said Othman Ahmed, 23, another of the wounded.
He said he initially could not see anything after the blasts, but then noticed he was surrounded by dead and wounded people.
The February 2006 bombing of a Shiite shrine in Samarra itself sparked the wave of brutal sectarian violence that plagued Iraq in past years.
The blasts came a day after the bodies of 10 young men who had been shot dead were found in Baghdad, another reminder of the sectarian conflict, during which militants frequently carried out summary executions.
Also on Friday, mortar rounds killed a young girl west of Samarra and wounded two members of her family.
And gunmen kidnapped and killed a soldier in the northern province of Kirkuk, while a roadside bomb north of the city of Baquba killed one person and wounded three.
The United Nation's deputy special representative for Iraq, Gyorgy Busztin, expressed "extreme concern" this week about sectarian-based displacement of Sunnis and members of the small Shabak minority, and the killing of Sunnis in the country's south.
"The use of violence and intimidation against communities by illegal armed groups forcing them to flee their homes is unacceptable and a clear violation of basic human rights," Busztin said.
Prime Minister Nuri al-Maliki, who heads Iraq's Shiite-majority government, condemned the trend as he met with displaced Sunni families this week.
He said members of the Sunni Al-Saadun clan had been driven out of Nasiriyah, Basra and Kut, all Shiite-majority areas.
A Western diplomat said "ethnic cleansing is taking place each day. There are more and more attacks aimed at widening the rift" between Iraqi communities.
In the port city of Basra, gunmen have shot dead 15 Sunnis since the start of the month, including a cleric and mosque employees, according to Abdulkarim al-Khazraji, a representative of the local Sunni community.
"Messages have been left in envelopes at night near Sunni mosques telling Sunnis to leave Basra" or face revenge attacks for violence against Shiites in the northern city of Mosul.
"An eye for an eye, a tooth for a tooth," the messages warned, according to Khazraji, a religious leader.
He said some families had fled, despite assurances of protection by the authorities, and all prayer services in Sunni mosques had been suspended.
Violence in Iraq has reached a level not seen since 2008, killing more than 4,200 people since the beginning of the year, according to an AFP toll based on security and medical sources.
Bombs inside Sunni mosque in Iraq kill 15: police, medics
Fri Sep 20, 2013 7:25am EDT
TIKRIT, Iraq (Reuters) -
Two bombs concealed in air conditioning units inside a Sunni mosque south of the Iraqi city of Samarra exploded during Friday prayers, killing at least 15 people, police and hospital sources said.
It was not clear who was behind the attack, which took place in al-Mafraq, around 10 km (6 miles) south of Samarra.
"During the Friday prayer suddenly a huge explosion took place. Black smoke filled the mosque, we could not see each other. I tried to stand, but I couldn't as I had some injuries in my legs," said 35-year-old Saleh al-Shamani.
At least 17 people were wounded, the sources said.
Iraq's delicate sectarian balance has come under growing strain from the civil war in neighboring Syria, where mainly Sunni rebels are fighting to overthrow a leader backed by Shi'ite Iran.
Both Sunnis and Shi'ites have crossed into Syria from Iraq to fight on opposite sides of the conflict.
Al Qaeda's Syrian and Iraqi branches merged earlier this year to form the Islamic State of Iraq and the Levant, which has claimed responsibility for attacks on both sides of the border.
Iraq has also witnessed several incidents in recent weeks suggesting that Shi'ite militias, which have so far refrained from retaliating to attacks by Sunni insurgents, may once again be resorting to violence.
Around 800 Iraqis were killed in acts of violence in August, according to the United Nations.
Intensifying violence has raised concerns of a return to wider conflict in a country where Shi'ite Muslims, Sunnis and ethnic Kurds have yet to find a stable way of sharing power.
(Reporting by Ghazwan Hassan; Writing by Isabel Coles; Editing by Louise Ireland)