US Government Scales Back Obamacare Impact for 2014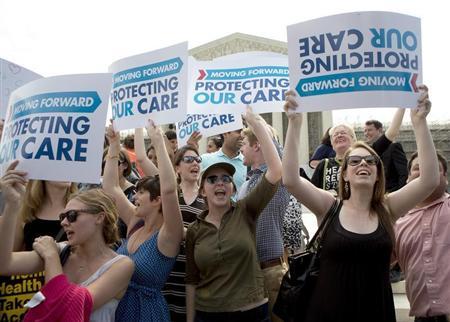 By David Morgan
Wed Sep 18, 2013 4:02pm EDT
WASHINGTON (Reuters) -
The U.S. government on Wednesday scaled back its projections for Obamacare's impact in 2014, saying the law would generate slower healthcare spending growth and provide coverage to only half as many of America's uninsured as anticipated last year.
The biggest factor in the change stems from the U.S. Supreme Court verdict last year allowing each state to decide whether to expand the public Medicaid program for the poor under President Barack Obama's healthcare reform law. Republican leaders in nearly half of the nation's 50 states have rejected the expansion.
The U.S. Department of Health and Human Services now expects 11 million uninsured Americans to obtain coverage next year, down from about 22 million projected a year ago, according to the report, which appeared in the journal Health Affairs. It said healthcare spending would rise 6.1 percent in 2014, partly due to the implementation of Obamacare, compared with a previous projection of an increase of 7.4 percent.
The new report estimates that Medicaid enrollment will increase by 8.7 million people in 2014, nearly all as a result of the Obamacare expansion. Last year, analysts projected that about 20 million people would gain coverage through the expansion alone.
"For the states that do expand, we're expecting that some will elect to expand their Medicaid programs after 2014," said Gigi Cuckler, an economist with the Centers for Medicare and Medicaid Services, the HHS agency that produced the report.
Cuckler and her colleagues also projected slightly slower spending growth among the newly insured who obtain private coverage, including those who enter new online state health insurance marketplaces that are due to begin enrolling people in subsidized coverage in less than two weeks.
The latest HHS report said 2.9 million uninsured Americans would gain private coverage next year through employers, the individual market and the new marketplaces. The Congressional Budget Office has forecast 7 million enrollees for the marketplaces alone, but that number includes people who currently have insurance and may switch to the new exchanges.
The projected spending increase would nudge the sprawling U.S. healthcare system to just over $3 trillion in total spending for 2014, representing a cost of $9,697 for every man, woman and child, or 18.3 percent of the U.S. economy. New insurance beneficiaries are expected to be "younger and healthier" and spend more of their healthcare dollars on prescription drugs and physician services rather than hospitals, the report said.
Over the longer term, the report said healthcare spending growth would accelerate to 6.5 percent by 2022, when the industry would hit the $5 trillion mark and represent 19.9 percent of gross domestic product.
Obamacare's contribution to spending is expected to diminish after 2015 as retiring baby boomers shift the momentum toward the Medicare program for the elderly and disabled.
Annual healthcare spending growth is expected to average 5.8 percent for the decade, or about 1 percent above GDP, and below historic growth rates that reached nearly 12 percent in the 1990s.
Obamacare, which will account for more than two-thirds of next year's spending increase, is expected to add only 0.1 percent to average spending growth over the decade or $621 billion in cumulative spending, the report said.
(Editing by James Dalgleish)
This site contains copyrighted material the use of which has not always been specifically authorized by the copyright owner. We are making such material available in our efforts to advance understanding of environmental, political, human rights, economic, democracy, scientific, and social justice issues, etc. We believe this constitutes a 'fair use' of any such copyrighted material as provided for in section 107 of the US Copyright Law. In accordance with Title 17 U.S.C. Section 107, the material on this site is distributed without profit to those who have expressed a prior interest in receiving the included information for research and educational purposes. For more information go to: http://www.law.cornell.edu/uscode/17/107.shtml. If you wish to use copyrighted material from this site for purposes of your own that go beyond 'fair use', you must obtain permission from the copyright owner.