Israeli Occupation Soldiers Attack Muslim Worshippers at Al-Aqsa Mosque with Tear Gas Bombs
September 18, 2013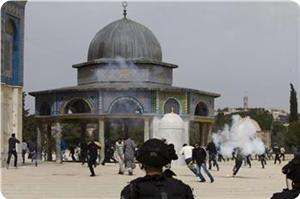 Many Palestinian worshipers injured during violent police raid at Aqsa Mosque
[ 18/09/2013 - 10:13 AM ]
OCCUPIED JERUSALEM, (PIC)--
Dozens of Palestinian worshipers at the Aqsa Mosque on Wednesday morning suffered injuries and tear gas suffocation when the Israeli occupation police forces suddenly stormed the courtyard and started to attack them.
Safa news agency quoted media coordinator for the Aqsa foundation Mahmoud Abul Atta as saying that scores of rapid reaction policemen raided the Aqsa Mosque in the morning and surrounded the Palestinian worshipers in its courtyard and premises.
Abul Atta added that the policemen tried to get five Jewish settlers to enter the Mosque compound through Al-Maghariba Gate and when they failed they besieged it, intensified their presence in its courtyard and started to attack the Palestinian worshipers, who kept shouting the protest chants of Allahu Akbar.
He also said that the invading policemen attacked the worshipers with batons and sprayed pepper gas at their faces, which rendered many of them injured.
He added that despite the ferocious attack, many worshipers held their positions in the courtyard while some others went back to the grey-domed Mosque to defend it from any desecration by the policemen.
Abul Atta also affirmed that the police detained one of the worshipers identified as Samer Shala'ita and chained the Gates of the Mosque shut.
He warned that the situation was getting increasingly tense at the Mosque and its vicinity as the police tightened their siege and intensified their attacks on the Palestinian worshipers inside.
This site contains copyrighted material the use of which has not always been specifically authorized by the copyright owner. We are making such material available in our efforts to advance understanding of environmental, political, human rights, economic, democracy, scientific, and social justice issues, etc. We believe this constitutes a 'fair use' of any such copyrighted material as provided for in section 107 of the US Copyright Law. In accordance with Title 17 U.S.C. Section 107, the material on this site is distributed without profit to those who have expressed a prior interest in receiving the included information for research and educational purposes. For more information go to: http://www.law.cornell.edu/uscode/17/107.shtml. If you wish to use copyrighted material from this site for purposes of your own that go beyond 'fair use', you must obtain permission from the copyright owner.