16 Nigerian Soldiers, 150 Boko Haram Killed in Army Attack


September 18, 2013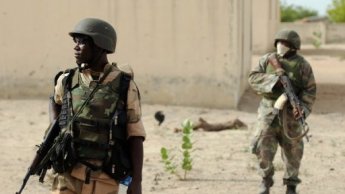 Raid kills 150 Boko Haram Islamists, Nigeria says
France 24, By News Wires (text), September 18, 2013
A military strike on a Boko Haram camp in Nigeria's restive northeast last week left about 150 members of the group and 16 soldiers dead, the army said Wednesday, amid reports of dozens of troops killed.
The army's claim of a major offensive against the Nigerian insurgents on September 12 came after local media reported that Boko Haram had ambushed a group of soldiers in the same area, killing 40 and leaving dozens of others missing.
Military officials were not available to comment on the reported Boko Haram ambush, speaking only about the purported military strike.
Details of last week's military operation had not been previously made public.
"It was a highly fortified insurgent camp with heavy weapons in (northeastern) Borno State," army spokesman Ibrahim Attahiru said, adding that the camp was in the Kasiya forest.
"The army raided the camp on September 12. Some 150 Boko Haram (members) were killed, while the military lost 16 soldiers. Nine soldiers are still missing," he told AFP.
The forest where the alleged raid occurred is some 70 kilometres (43 miles) northeast of Borno's capital Maiduguri, the city where Boko Haram was founded more than a decade ago.
There has been speculation that Boko Haram had strengthened its presence in the remote area in recent months, several people familiar with the region told AFP.
Borno was placed under a state of emergency in mid-May, when the military shut down the mobile phone network to block (the group members) from coordinating attacks amid an operation aimed at crushing the insurgency.
With the communication network switched off, details of attacks have been slow to emerge and difficult to verify.
Residents, victims, as well as local political leaders have been largely unreachable, with military statements forming the main source of information in the ongoing offensive against Boko Haram.
The military has claimed major successes in the operation, describing the insurgents as being in disarray.
There are indications that Boko Haram attacks, which were previously carried out across northern Nigeria, have been partly contained in the northeast, especially Borno state, the group's historic stronghold.
If confirmed however, Boko Haram's reported ambush on the military would cast doubt on claims that the insurgents' capacity to attack has been curbed.
According to local media, the alleged Boko Haram ambush happened in the northeastern corner of Borno state, towards the border with Chad.
Widely read Punch newspaper, citing a high-ranking military source, said the military failed to send aerial support for the soldiers who were ambushed.
According to the paper, the failure to send air support has led to anger among soldiers involved in the pursuit of Boko Haram.
The (group members) have also repeatedly clashed with vigilante groups which have formed in Borno.
Boko Haram has said it is fighting to create an Islamic state in northern Nigeria, but its aims have shifted and the group is believed to consist of different factions.
Nigeria is Africa's most populous nation and top oil producer, with a mostly Christian south and a predominately Muslim north.
(AFP)
This site contains copyrighted material the use of which has not always been specifically authorized by the copyright owner. We are making such material available in our efforts to advance understanding of environmental, political, human rights, economic, democracy, scientific, and social justice issues, etc. We believe this constitutes a 'fair use' of any such copyrighted material as provided for in section 107 of the US Copyright Law. In accordance with Title 17 U.S.C. Section 107, the material on this site is distributed without profit to those who have expressed a prior interest in receiving the included information for research and educational purposes. For more information go to: http://www.law.cornell.edu/uscode/17/107.shtml. If you wish to use copyrighted material from this site for purposes of your own that go beyond 'fair use', you must obtain permission from the copyright owner.