Syria air strikes target rebel assault on key bases,
October 8, 2013
Syria air strikes target rebel assault on key bases
France 24, 08 October 2013 - 14H37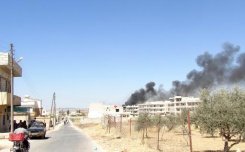 File picture shows smoke billowing from the site of a reported air strike by Syrian government forces in the rebel-held northwestern Syrian province of Idlib on September 5, 2013
- Syrian regime war planes on Tuesday launched strikes against rebels in northwestern Idlib province after they began an assault against two key military bases there, a monitoring group said.
"War planes carried out two air strikes on areas in the town of Maaret al-Numan as clashes continued around the Wadi Deif military base between rebels and regime troops," the Syrian Observatory for Human Rights said.
The group said regime forces also bombed the areas of Maarshamsha and Deir al-Sharqi in the Maaret al-Numan region, causing casualties.
The strikes came a day after rebel fighters launched a major assault against the two bases in Syria's Idlib province, which is largely controlled by the opposition.
The offensive -- dubbed "The Earthquake" -- aims to seize the Wadi Deif and Hamidiyeh bases, which rebels have laid siege to for almost a year.
Wadi Deif, a garrison housing a large quantity of weapons, lies to the east of Maaret al-Numan, and Hamidiyeh, the last military stronghold in the region still in regime hands, lies to the south of the town.
Clashes continued overnight, and the Observatory said at least 10 regime troops and five rebels had been killed since the assault began.
On Monday, the Observatory said rebels had captured an officer and three soldiers in a raid in Hamidiyeh.
Idlib and Maaret al-Numan activists Tuesday posted a picture on Facebook of a man said to be a captured officer, giving his name as Brigadier General Nasser Salah al-Din.
The photo showed the man, his face bloodied and a bandage wrapped around his head, with his eyes clothes and his upper half naked.
Some 25 brigades and small, mainly Islamist groups are taking part in the assault, including Liwa al-Umma, an Islamist brigade that includes Libyan fighters, according to the Observatory.
Rebel fighters seized the town of Maaret al-Numan last October, cutting off a key regime supply route running between the capital Damascus and Aleppo in the north.
Regime forces have regularly tried to recapture the town, which is a key rebel stronghold in the Idlib region.
Elsewhere in the country, the Observatory reported regime air strikes on Moadamiyet al-Sham, a suburb in the southwest of Damascus, causing casualties.
It also said the death toll in a Monday raid on the town of Shaddadeh, in the northeastern province of Hasakeh, had risen to eight.
Anti-regime activists in Syria say government forces have continued to shell civilian areas of Daraa, in the southwest.
Video footage uploaded to YouTube appears to show rebels firing on government positions and parts of the city being shelled
In the Idlib region in Northwest Syria rebels launched a major assault on two key military bases, killing 10 soldiers.
Syria's main opposition group in exile, the Syrian National Coalition, has been laying out its conditions for taking part in the Geneva II peace conference.
The US and Russia want to bring together the opposition and the Syrian government to talk about a possible transitional government.
The SNC says Arab countries must be present as negotiators and it rejected any involvement by Iran.
Ahmad al-Jarba, the SNC president said: "We have requested that before any negotiation process, the Arab and Islamic states must be present to oversee it, especially countries like Saudi Arabia and Qatar, Turkey, the United Arab Emirates and Jordan."
Meanwhile President Assad has been praised by the US for starting to destroy his chemical weapons arsenal. The opposition say the world is simply giving more time to Assad to kill more people with conventional weapons.
Fighting Between Rebels Intensifies Over a Strategic Town in Syria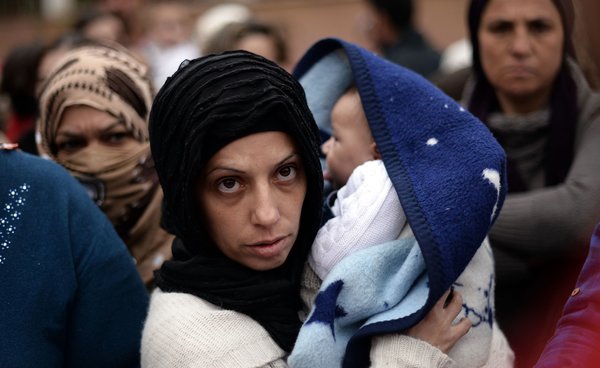 Dimitar Dilkoff/Agence France-Presse — Getty Images
By
BEN HUBBARD
Published: October 3, 2013
BEIRUT, Lebanon — A group of powerful rebel brigades in northern Syria is struggling to defuse an armed standoff pitting insurgents against an affiliate of Al Qaeda for control of a strategic town near the Turkish border.
Turkpix, via Associated Press
The conflict over the town, Azaz, has shuttered a Turkish border crossing long used to supply the rebel movement and heightened tensions between rebels who seek the ouster of President Bashar al-Assad and extremists who want to erase Syria's borders and establish a transnational Islamic state.
The Qaeda group, the Islamic State in Iraq and Syria, known as ISIS, routed local rebels to take control of Azaz two weeks ago and has since set up checkpoints around the town and taken over the bases of other rebel groups.
Rebels who oppose the ISIS jihadists have collected their forces at the Bab al-Salameh border crossing a few miles away and are preparing to protect it should the jihadists advance.
Turkey has kept the crossing closed since Sept. 19 because of security concerns, a Turkish Foreign Ministry official said.
Seeking to end the crisis, a group of six powerful rebel brigades released a statement late Wednesday calling for an immediate cease-fire.
In a jab at the strict ideology of the ISIS jihadists, the statement told them not "to shed the blood of Muslims and be hasty in calling them heretics and apostates." It also called on both sides to submit themselves to the Shariah Commission, a rebel-run court in the northern city of Aleppo, within 48 hours to resolve the problem.
It was unclear if the ISIS fighters would heed the call.
The rise of ISIS in rebel-held areas in northern and eastern Syria has posed a problem for the broader rebel movement. While many insurgents are deeply Islamist themselves, their focus remains on toppling Mr. Assad, and they accuse ISIS of prioritizing its own jihadist agenda over the fight against the president. But the rebels hesitate to confront ISIS, saying their resources are already stretched by fighting the government.
ISIS seized Azaz from the local rebel group known as the Northern Storm that led the fight last year to oust government forces from the town.
A Northern Storm commander reached by telephone said that since taking over the town, ISIS had attacked his group's bases in nearby villages and that his fighters were shooting back with heavy machine guns meant to down airplanes.
"This is all we can do until we find a way to end this," said the commander, who goes by the name Abu Yamen.
This week, a Qaeda spokesman accused the Northern Storm of attacking first and said the rebel group had struck a deal with Senator John McCain during his brief visit to Syria this year to fight against ISIS "and hit the mujahedeen."
Turkey's Parliament on Thursday extended a mandate for the army to launch military operations in Syria if necessary, as the government argued that the use of chemical weapons by forces loyal to the Assad government had aggravated Turkey's national security concerns.
Turkey's president, Abdullah Gul, speaking to reporters on his way to New York last week to attend the opening session of the United Nations General Assembly, called radical Islamist groups in Syria a serious security threat for his country, and warned that the continuing civil war there "could produce an Afghanistan in Eastern Mediterranean," according to the daily newspaper Hurriyet.
This site contains copyrighted material the use of which has not always been specifically authorized by the copyright owner. We are making such material available in our efforts to advance understanding of environmental, political, human rights, economic, democracy, scientific, and social justice issues, etc. We believe this constitutes a 'fair use' of any such copyrighted material as provided for in section 107 of the US Copyright Law. In accordance with Title 17 U.S.C. Section 107, the material on this site is distributed without profit to those who have expressed a prior interest in receiving the included information for research and educational purposes. For more information go to: http://www.law.cornell.edu/uscode/17/107.shtml. If you wish to use copyrighted material from this site for purposes of your own that go beyond 'fair use', you must obtain permission from the copyright owner.