An African American Man Sets himself on Fire, an African American Woman Killed by Police, in Front of the Congress Building


Police and Media Dismiss them as Mentally Ill, as Usual ...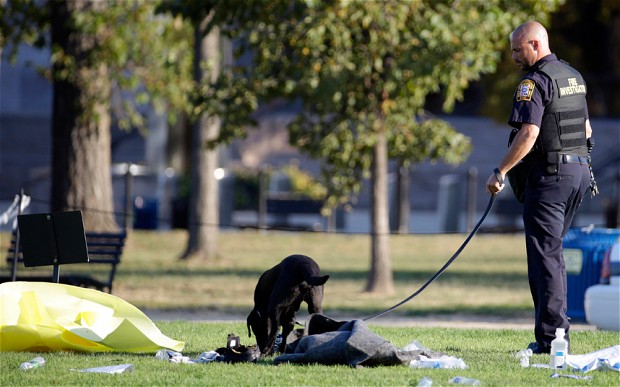 Man who set himself on fire on National Mall is identified - U.S. News
Gary Cameron / Reuters file
By M. Alex Johnson, Staff Writer,
NBC News, October 8, 2013
Police at the scene where a man set himself on fire in front of the U.S. Capitol on Friday. The man, who died, was identified as John Constantino, 64, of Mount Laurel, N.J.
The man who died after having set himself ablaze last week on the National Mall in Washington, D.C., was identified Monday night by police, who gave no indication they had any idea why he did it.
John Constantino, 64, of Mount Laurel, N.J., suffered "significant" burns over his entire body and died at a hospital, D.C. police said. Constantino doused himself with gasoline from a red canister and set himself on fire Friday afternoon near the National Air and Space Museum, further rattling a city that was already on edge a day after a Connecticut woman was shot dead after she tried to ram her car through a White House barrier.
Initial speculation was that the man may have been homeless, but Burlington County property records listed Constantino as living at a home in Mount Laurel as recently as last week.
No one answered a call to the home's phone number.
New Jersey man identified as Mall fire victim
The Washington Post
By Martin Weil, Tuesday, October 8, 12:21 AM
The man who died last week after being found severely burned on the Mall was identified Monday night as a 64-year-old resident of New Jersey, and D.C. police said it was "now apparent that he set himself on fire."
D.C. police gave the man's name as John Constantino, and said he was 64, and from Mount Laurel.
New Jersey man identified as Mall fire victim - The Washington Post
An attorney who represents the man's family released a statement Monday night asserting that Constantino acted not out of political motives but as the result of "a long battle with mental illness.''
The statement described Constantino as a "loving father and husband." The nature of his mental illness was not addressed.
Witnesses said last week that Constantino had poured gasoline over his body and then ignited it with a lighter.
He was found on the Mall about 4:30 p.m. near Seventh Street NW and in view of the Capitol. One witness said that before the gasoline was ignited, the man gave a crisp military salute to the Capitol.
Flames engulfed Constantino as passersby rushed to help him. It all took place in about a minute, according to news accounts.
Efforts were made by the passersby to extinguish the flames with their shirts. Emergency personnel found Constantino still conscious.
He reportedly thanked them and the passersby for their efforts.
He was taken to a hospital where he died Friday night, several hours after being found on the Mall. Police said dental records and DNA would be used to try to identify him.
A woman who, according to public records, is a neighbor of Constantino's in Mount Laurel expressed surprise after learning that he was involved.
She called him easygoing and happy.
"Just a sweet, sweet man," she said.
According to the neighbor, Constantino had relatives in the Washington area, whom he might have been visiting.
Mount Laurel is a township in southern New Jersey, about 15 miles east of Philadelphia. People who lived near him said he resided on a middle class street of townhouses.
The statement from the family was issued by attorney Jeffrey Cox on Monday night after efforts had been made to contact Constantino's survivors.
The statement said that "his death was not a political act or statement, but the result of a long battle with mental illness."
In the statement, family members said they "would like to acknowledge the heroism of the paramedics and bystanders who attempted to save his life."
His family "is shocked and deeply saddened," the statement said. Describing the incident as a "personal family matter and not an issue of public concern," they asked that the media respect their request for privacy.
The incident provoked widespread public attention because of the setting and because of the events that unfolded in Washington last week. Those included the shutdown of the government and the fatal shooting on Capitol Hill of a woman who had crashed her car into a police barricade at the White House and led officers on a chase to the Capitol..
Peter Hermann and Jennifer Jenkins contributed to this report.
Man who set himself on fire on the National Mall dies of his injuries
Telegraph, AP, 12:17AM BST, 06 Oct 2013
Edited by Bonnie Malkin
A man who set himself on fire on the National Mall in the US capital has died of his injuries, which were so severe that authorities will have to use DNA and dental records to identify him.
The man died on Friday night at a Washington hospital where he had been airlifted, Officer Araz Alali, a police spokesman, said.
The man poured the contents of a red canister of gasoline on himself in the center portion of the National Mall on Friday afternoon. He then set himself on fire, with passing joggers taking off their shirts to help put out the flames. Police had said he was conscious and breathing at the scene, but he was airlifted to MedStar Washington Hospital Center.
Police are investigating the man's possible motives. Lt. Pamela Smith of the US Park Police said she was unaware whether he carried signs or had articulated a cause.
One witness, Katy Scheflen, said she did not hear the man say anything intelligible before he set himself on fire. But she said she did notice that another man with a tripod was standing nearby and had disappeared by the time the police had arrived. It was not immediately clear whether a recording exists.
"He appeared to be waiting for something to happen. After it happened, he was gone," Scheflen, a Justice Department lawyer, said Saturday of the man with the tripod.
"I can't say what the connection was between them or whether there was a connection," she added.
The fire occurred in a city with jangled nerves following a Sept. 16 mass shooting at the Washington Navy Yard that left 13 dead, including the gunman, and a high-speed car chase outside the US Capitol on Thursday. The chase ended with a woman being shot dead by police with a young child in the car.
Man sets himself on fire on US National Mall
Telegraph, UK, 11:22PM BST, 04 Oct 2013
A man has doused himself in petrol and set himself on fire on Washington's National Mall, in the latest of a series of violent incidents to rock the American capital.
The man was flown by helicopter to hospital where he was reportedly in critical condition after setting himself alight on the long stretch of grass in front of the US Capitol.
One witness, Vanessa Sink, said the man "danced down the Mall" in flames before passerbys helped to put the fire out.
Police found a red fuel canister at the scene, which unfolded yesterday afternoon less than a mile from Congress.
The area was taped off and surrounded by investigators last night as tourists and onlookers took pictures with their mobile phones.
Nicole Didyk, an environmental engineer for the Federal Aviation Administration, told Reuters she was out for a run when she saw spotted a man with small flames on him.
"He was the only one in the middle of the mall," she said. "There were five gentlemen hitting him with their T-shirts. When he fell over his arms were all white. He was burnt really bad."
The man thanked people who helped put the fire out, she said.
Washington tourist Meghan Van Heertum, who was standing nearby, said the man was African-American.
"There were just a few cops at that time. One of them kicked something that was on fire, about 15 feet (4.5 meters) away from the site," said Ms Van Heertum, 29.
"Somebody extinguished the flames. I saw a cop run to his truck and grab a cooler full of ice, grabbed bottles of water, ran back over.
"There were some guys without their shirts on and I heard from some people that this man had set himself on fire, bystanders took off their shirts to put out the fire.
"It smelled very strong of burnt flesh."
Another bystander, Ellie Hess, took to Twitter to express her shock at the rare incident.
" ... someone just lit himself on fire in the middle of the National Mall," she said, tweeting a picture of police and emergency vehicles rushing to the scene as people watched.
The incident caps off a fraught week in Washington and comes a day after police shot dead a 34-year-old mother who tried to ram through security barriers at the White House and the Senate.
Miriam Carey, a dental hygienist with a history of mental health problems, drove from Connecticut Avenue with her 18-month-old daughter, apparently convinced that President Barack Obama was monitoring her movements to broadcast them on television.
The child was not hurt as police killed her mother in a hail of gunfire following a car chase through the streets of Washington.
Two weeks earlier a gunman rampaged through a naval base in Washington, killing 12 civilian Navy employees.
Meanwhile, tens of thousands of Washington area residents are unpaid leave as the US government remained shut down for a fourth consecutive day with no end in sight.
Capitol Hill crash attack: Woman driver had post-natal depression
Telegraph, October 4, 2013
A woman shot dead outside the US Capitol after first trying to ram a barrier at the White House had post-natal depression, her mother has revealed.
The woman, named by US media as Miriam Carey, 34, a dental hygienist, was killed in a flurry of police bullets outside the US Senate after driving towards Congress and becoming ensnared at a security checkpoint.
A one-year-old girl was removed from the car by police after the shooting and is in a "good condition", police said.
Idella Carey, her mother, said on Thursday night that her daughter began suffering from post-partum depression after giving birth to her daughter, Erica, last August.
"She had post-partum depression after having the baby," she told ABC News. "A few months later, she got sick. She was depressed. ... She was hospitalised."
Mrs Carey said her daughter had "no history of violence" and she didn't know why she was in Washington, DC, on Thursday. She said she thought Carey was taking Erica to a doctor's appointment in Connecticut.
Carey's employer, dentist Dr Steven Oken, described her as a person who was "always happy."
"I would never in a million years believe that she would do something like this," he told ABC News. "It's the furthest thing from anything I would think she would do, especially with her child in the car. I am floored that it would be her."
Police said it was not clear if Carey was armed but she is not believed to have opened fire.
The incident, which comes two weeks after a gunman killed 12 people at the nearby Washington Navy Yard, began shortly before 2.30pm on the east side of the White House.
Carey's black Infiniti, which had Connecticut licence plates, sped onto a driveway leading to the White House, over a set of barricades. When she couldn't get through a second barrier, she spun her car in the opposite direction, flipping a Secret Service officer over the hood of the car as she sped away, said BJ Campbell, a tourist from Portland, Oregon.
Tourists, congressional staff and even some senators watched anxiously as a caravan of law enforcement vehicles chased Carey's car down Constitution Avenue outside the Capitol as officers with high-powered firearms canvased the area.
The House and Senate both abruptly suspended business, cutting a politician's speech in mid-sentence, as the Capitol Police broadcast a message over its emergency radio system telling people to stay in place and move away from the windows.
Metropolitan Police Chief Cathy Lanier said police shot and killed Carey a block northeast of the historic building.
The FBI served a search warrant in connection with the investigation and police cordoned off a condominium building and the surrounding neighborhood in Stamford, Connecticut.
Eric Bredow, a banker who lives in the building, said police told him the suspect in the car chase was one of his neighbors.
"I see the door to my building open and the FBI bomb squad in front of it," said Mr Bredow.
Chief Cathy Lanier of Washington's Metropolitan Police Department said "this does not appear to be in any way an accident" but would not speculate on the suspect's motive.
US Capitol Police are not currently being paid because of the US government shutdown which began on Tuesday.
This site contains copyrighted material the use of which has not always been specifically authorized by the copyright owner. We are making such material available in our efforts to advance understanding of environmental, political, human rights, economic, democracy, scientific, and social justice issues, etc. We believe this constitutes a 'fair use' of any such copyrighted material as provided for in section 107 of the US Copyright Law. In accordance with Title 17 U.S.C. Section 107, the material on this site is distributed without profit to those who have expressed a prior interest in receiving the included information for research and educational purposes. For more information go to: http://www.law.cornell.edu/uscode/17/107.shtml. If you wish to use copyrighted material from this site for purposes of your own that go beyond 'fair use', you must obtain permission from the copyright owner.