Despite Republican attempts to stop it, Obamacare launch hits early hitch as web traffic snarls up sites
By David Morgan and Caroline Humer
Tue Oct 1, 2013 11:30am EDT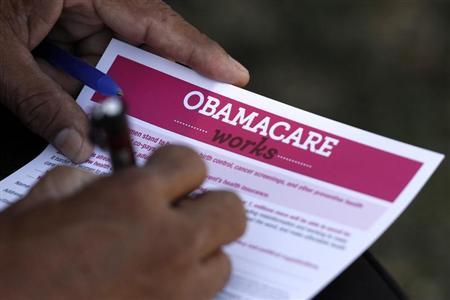 (Reuters) - The U.S. government launched the centerpiece of President Barack Obama's landmark healthcare reform on Tuesday, opening online insurance marketplaces across the country for millions of uninsured Americans, but technical glitches prevented early access for many.
The first day of the six-month open enrollment period on the state marketplaces, or exchanges, went ahead despite a partial federal government shutdown precipitated by Republican opposition to the healthcare law that deadlocked a spending bill in Congress.
According to early checks, the rollout of the most ambitious U.S. social program in five decades had a rocky start. A federally-run exchange for consumers in 36 states began posting error messages for at least 25 of them soon after the system opened for enrollment at 8 a.m. EDT, citing online traffic as a reason for the difficulties.
An Obama administration official said experts were aware of the issue and were working on it. The Department of Health and Human Services directed consumers to call centers and local community organizers to seek information.
The administration had predicted hitches early on because of the challenge of building a massive technology infrastructure in a short time. The problems could last weeks. Even before Tuesday's launch, officials last week announced delays for exchanges geared toward Spanish speakers and small businesses.
The snags are expected to contribute to a slow start to enrollment and will be a focus of the political debate over whether the 2010 Affordable Care Act, commonly known as Obamacare, will succeed.
Frustrated customers are likely to fuel opposition to the healthcare law from Republicans in the U.S. House of Representatives, who have voted more than 40 times to repeal or delay it.
"It's very significant for the political campaign but not for the enrollment campaign," said Jon Kingsdale, the former head of the Massachusetts state health exchange, which opened in 2006 and became the model for Obamacare.
"I don't know if it's two weeks or five weeks, but I don't think we're talking just days," Kingsdale said. He said if the problems persist until November, "that is really a big problem."
The exchanges, shopping places for people to find out whether they qualify for federal subsidies, will accept applications for the new plans until March 31. They are expected to sign up as many as 7 million people in their first year.
Republicans have fought for years to delay or stop Obamacare, blaming its requirements for pushing up the cost of health insurance for business and individuals. On Monday night, that battle triggered a shutdown of several federal government agencies after Republicans insisted that a routine funding measure include a delay in the law. The Democratic-controlled Senate rejected it.
"What I want is to keep the government running and at the same time to deal with the harms, the millions of Americans who are ... at risk of losing their healthcare, are facing skyrocketing insurance premiums," Texas Senator Ted Cruz, who has been leading the charge among Republicans in Congress to defund the law, said in an interview with CNN.
SUBSIDIZED INSURANCE
The websites will give many Americans their first glimpse of new subsidized health plans that are being offered to millions of the uninsured, in the most ambitious U.S. social program since Medicare was introduced in the 1960s.
Exchanges run by 14 states and the District of Columbia presented a mixed picture early on Tuesday. Some, like Massachusetts and New York, were able to accept consumer log-ins. New York said its site received 2 million hits in the first two hours.
The state-run exchange in Maryland delayed its opening by four hours and Minnesota said it would wait until the afternoon to check its connection with federal databases.
California and Washington state exchange officials said they were ready to open later in the morning as planned.
Obama was scheduled to promote his signature domestic policy achievement on Tuesday, including a meeting in the Oval Office with a group of Americans who stand to benefit from the program.
Vice President Joe Biden and first lady Michelle Obama will also promote the law in the media.
The marketplaces require health plans to provide a broad range of essential benefits that were not necessarily part of individual policies in the past, including mental health services, birth control and preventive care. The coverage is linked to other insurance market reforms and new consumer safeguards, including a ban on discrimination based on gender and health history.
The Affordable Care Act also mandates that Americans obtain insurance or pay a fine. Provisions that have taken effect since the law was passed three years ago have already prompted changes in the way insurance companies and hospitals do business, as they prepare for an influx of new insured members.
Shares in health insurers like UnitedHealth Group and Aetna Inc, as well as for hospital operator HCA Holdings Inc, outpaced rises on the broader U.S. stock market on Tuesday.
"For years, the financial, physical or mental health of millions of Americans suffered because they couldn't afford the care they or their family needed," Health and Human Services Secretary Kathleen Sebelius said in a statement on Tuesday. "But thanks to the health care law, all of that is changing. Today's launch begins a new day when health care coverage will be more accessible and affordable than ever before."
(Additional reporting by Lewis Krauskopf, Sharon Begley and Curits Skinner in New York; Editing by Michele Gershberg and Grant McCool)
This site contains copyrighted material the use of which has not always been specifically authorized by the copyright owner. We are making such material available in our efforts to advance understanding of environmental, political, human rights, economic, democracy, scientific, and social justice issues, etc. We believe this constitutes a 'fair use' of any such copyrighted material as provided for in section 107 of the US Copyright Law. In accordance with Title 17 U.S.C. Section 107, the material on this site is distributed without profit to those who have expressed a prior interest in receiving the included information for research and educational purposes. For more information go to: http://www.law.cornell.edu/uscode/17/107.shtml. If you wish to use copyrighted material from this site for purposes of your own that go beyond 'fair use', you must obtain permission from the copyright owner.