Israel Steps Up Terror Against Palestinians:
Yatta Cold-Blooded Killing
By Khalid Amayreh
in occupied Palestine
PIC, November 27, 2013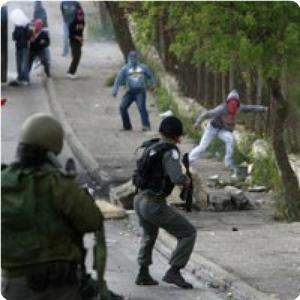 Israel steps up terror against Palestinians
The apparently cold-blooded murder by the Israeli occupation army of three Palestinians near the southern West Bank city of Yatta on Tuesday is only the latest Zionist provocation against the Palestinians.
The three victims of the latest murder are Moussa Muhammed Makhamreh, Mahmoud Khalid Al-Najjar and Muhammed Fouad Nayrokh.
Two of the victims were killed inside a car they were riding while a third was executed elsewhere near Yatta. Israel is refusing to say why the third person was murdered, prompting speculations that the man might have been abducted and then executed.
The Israeli army claimed the three belonged to "a Salafist cell" and were planning to carry out an attack against Israeli targets.
The Israeli army also hinted that the Palestinian Authority (PA) might have been involved in intelligence efforts leading to the "liquidation of the cell."
The Israeli spokesman claimed an exchange of fire preceded the killings. However the same spokesman said that only a pistol was found in the car two of the victims were riding, which really raises questions about the credibility and veracity of the Israeli spokesman's account of the incident.
One really wonders how the two Palestinians would "exchange fire" with heavily armed crack soldiers when all they had was a small pistol?
Moreover, it is really hard to buy the Israeli claim that that the three victims were planning an attack. This is no more than a cheap pretext to murder innocent people.
Indeed, even if we gave Israeli claims the benefit of the doubt, Israel would still be guilty of premeditated murder.
In the final analysis, people are not executed because they are suspected of contemplating carrying out an attack. Israel can't be accuser, judge and executioner.
More to the point, the victims could have been easily arrested, especially given the fact that the car was wrecked and couldn't move any further, especially as the two victims remained inside the car, even according to the Israeli spokesman's narrative.
All these actual and circumstantial pieces of evidence suggest that we are talking about an act of cold blooded murder.
This act of murder is, of course, not the first of its kind nor will it be the last.
Murdering Palestinians, often in cold blood, has always been and is Israel's modus operandi in dealing with our people.
Israel is simply seeking to ignite the region, especially after the nuclear agreement between Western countries and Iran, which Israeli Prime Minister called a "historical mistake."
The murderous Israeli behavior suggests Israel is trying to compensate its political loss and diplomatic failure following the Iran-west deal by ganging up on the helpless Palestinians.
If true the three victims were Salafists, revenge would be in the offing. Furthermore, the latest crime is likely to create more motivation for attacks on para-military Israeli settlers in the West Bank. Israel has chosen to up the ante and will have to face the consequences.
Finally, the Palestinian Authority is not really innocent. The protection of Palestinians from Israeli savagery and barbarianism ought to be its utmost responsibility. In fact, the PA stands accused of collaboration with Israel against its own people.
Yes the PA is too weak and too pliant to physically protect Palestinian citizens from Zionist aggression.
But the PA does have certain cards to play, including the so-called security coordination with Israel.
Isn't it a national disgrace for a purportedly national authority to cooperate and coordinate with the murderers of its people? This is more than just an unforgivable sin. It is an indelible crime and monumental disgrace that will haunt the PA for eternity.
Three Palestinians Killed By Army Fire In Hebron
Wednesday November 27, 2013 02:35 by Saed Bannoura - IMEMC & Agencies
Palestinian medical sources report that three Palestinians have been killed by Israeli army fire, on Tuesday evening [November 26, 2013], east of Yatta town, south of the southern West Bank city of Hebron.

The Red Crescent Society in Hebron stated that the three have been identified as Mahmoud Khaled Najjar and Mohammad Mousa Fansha, both from Yatta, and Mohammad Fuad Nairoukh from Hebron.

The army initially prevented the medics from reaching the bodies of the slain Palestinians, only informing them of their identities. The ambulance was only allowed through late Tuesday night.

Furthermore, medical sources in Hebron deny reports claiming that the army killed a fourth Palestinian during the attack.

The Israeli military alleges that it killed three members of a "Salafist Jihadist group on its way to open fire at Israeli targets", and that the soldiers found two pistols and explosive charges in a car which belonged to them.

The army also kidnapped several Palestinians in the area before killing the three Palestinians and declaring it a closed military zone.

Meanwhile, Israel's TV Channel 10 said that the operation in Hebron is not over yet, as the army is still searching for more "wanted Palestinians" believed to be hiding in Yatta or nearby.

An Israeli military commander stated that the soldiers fired live rounds at the wheels of a car transporting gunmen, an issue which led to exchanges of fire leading to the death of three Palestinians.

He claimed that the "cell planned to abduct an Israeli soldier" in addition to "planning other attacks against Israeli targets in the Hebron area."

His claims are similar to statements recently made from Yatta, by the Israeli Shin Bet (Internal Security Agency), which announced the arrest of two Palestinians belonging to the same group in Hebron and Nablus, and that all investigations have led to the conclusion that the group intends to attack Israeli targets, in addition to planning attacks against the Palestinian Authority in the West Bank.

The Shin Bet claimed that the group prepared apartments for its members to hide in, purchasing weapons and supplies, in addition to manufacturing explosive materials, over the past few months.

Clashes in al-Khalil (Hebron) following new Israeli crime in Yatta
[ 27/11/2013 - 04:35 PM ]
AL-KHALIL, (PIC)--
Violent clashes have erupted throughout al-Kahlil (Hebron) in the southern occupied West Bank on Wednesday following the new Israeli crime in Yata town.
Clashes erupted in Bab al-Zawiya in al-Khalil between Palestinian youths, protesting the killing of three Palestinians in Yatta, and Israeli forces who fired tear gas bombs and metal bullets towards citizens. Several suffocation cases were reported.
Meanwhile, local sources reported that clashes have erupted near Tariq ibn Ziyad school in southern al-Khalil. Several citizens marched in several areas of al-Khalil before the funeral of the three martyrs.
Meanwhile, Israeli Occupation Forces (IOF) intensified on Wednesday its security measures and erected a number of checkpoints in al-Khalil, while Palestinian factions and groups called for day of rage and marches in protest at Yatta massacre.
Israeli patrols were stationed since the early morning hours at entrances to al-Khalil province and erected several checkpoints throughout the city.
Furthermore, Palestinian factions and youth group called for day of rage protesting the killing of three Palestinian resistance fighters affiliated with the Qassam Brigades near Yatta on Tuesday night.
For its part, the Student Movement and Student Council at Birzeit University called on Wednesday for a march outside Ofer prison west of Ramallah protesting Yatta massacre.
The Student Movement has organized a sit-in at the university before heading toward Ofer prison condemning the Israeli continued crimes against Palestinians, most recently was the killing of three citizens in Yatta.
Local sources also said that Al-Quds University in Abu Dis organized a march in protest against Yatta massacre. Different towns and villages in the West Bank have declared a day of rage against Israeli violations and the continued security coordination.
IOF kidnap 15 Palestinians from their homes in Al-Khalil [ 27/11/2013 - 01:42 PM ]
WEST BANK, (PIC)-- The Israeli occupation forces (IOF) on Wednesday morning carried out mass detention of Palestinian citizens in Al-Khalil city and some of its towns and kidnapped 15 of them from their homes during violent raids.
Different local sources told the Palestinian information center (PIC) that a large number of Israeli troops stormed Al-Khalil city and Yatta town and kidnapped 13 Palestinians, four of them brothers, from their homes.
Two other citizens identified as Mohamed Salibi and Yahiya Abu Mariya were also taken prisoners during violent raids on homes in Beit Ummar town, northwest of Al-Khalil.
The IOF detention raids took place amid intensive gunfire, which caused widespread panic among the children and women and triggered clashes with some citizens.
In another incident, the IOF on the same day at dawn kidnapped three Palestinian young men during raids on homes in Nablus city and the nearby towns Tel and Zawarta.
Local sources in Nablus city reported that the IOF broke into and ransacked one of the houses in Al-Qaryoun neighborhood and kidnapped the young man Ali Shubairi, affirming that he was brutally beaten by Israeli soldiers during the detention.
The IOF also stormed homes in Tel and Zawarta towns and kidnapped two other young men identified as Mutassim Rayhan and Mohamed Abu Amsha.
This site contains copyrighted material the use of which has not always been specifically authorized by the copyright owner. We are making such material available in our efforts to advance understanding of environmental, political, human rights, economic, democracy, scientific, and social justice issues, etc. We believe this constitutes a 'fair use' of any such copyrighted material as provided for in section 107 of the US Copyright Law. In accordance with Title 17 U.S.C. Section 107, the material on this site is distributed without profit to those who have expressed a prior interest in receiving the included information for research and educational purposes. For more information go to: http://www.law.cornell.edu/uscode/17/107.shtml. If you wish to use copyrighted material from this site for purposes of your own that go beyond 'fair use', you must obtain permission from the copyright owner.