French Imperialist Forces Kill
Hacene Ould
Khalill, in Mali, West Africa
November 23, 2013
| | |
| --- | --- |
| | |
| A google photo of Hacene Ould Khalill | A google photo of Hacene Ould Khalill |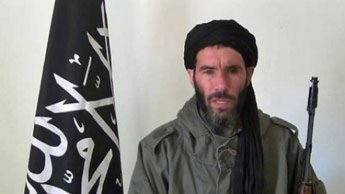 French forces in Mali have killed Hacene Ould Khalill, the No. 2 in command of the militant group, led by chief Mokhtar Belmokhtar (pictured).
French forces kill Islamist chief Belmokhtar's No. 2
November 23, 2013, By FRANCE 24 (text)
French special forces have killed the deputy of Algerian Islamist chief Mokhtar Belmokhtar in an operation in Mali's northern Tessalit region, security sources said Thursday.
Hacene Ould Khalill, a Mauritanian national known by the nickname Jouleibib, was the deputy commander of the Those Who Sign in Blood Brigade, formed when Belmokhtar broke off from al Qaeda's North African wing, al Qaeda in the Islamic Maghreb or AQIM.
The group claimed attacks on the In Amenas gas plant in Algeria in January in which 38 hostages died, and the twin suicide bombing of an Areva uranium mine and a military barracks in Niger in May.
"He was killed near Tessalit," a security source confirmed to Reuters. A second source confirmed that an operation had been carried out by French special forces, but French defence ministry spokesman Colonel Gilles Jaron declined to comment.
Rebel groups in northern Mali have stepped up their operations in recent months with attacks on UN peacekeepers and the killing of two French journalists who worked for FRANCE 24's sister station, Radio France Internationale (RFI), in the northern town of Kidal on Nov. 2.
At least three rockets launched by militants on Thursday hit Gao, the largest town in the region, military sources said.
The rocket fire followed an attack on an armoured vehicle in the outskirts of Kidal that wounded three soldiers on Wednesday, according to a source involved in the French military operation. UN peacekeepers have stepped up their patrols in the town.
Election concerns
The latest violence has sown concerns over security in northern Mali ahead of legislative elections set for Sunday as Mali seeks a return to order after the north of the country was overtaken by rebels last year. The vote will helpmark the country's democratic transition following a military coup in March 2012 that plunged the West African nation into chaos, allowing Tuareg separatists and al Qaeda-linked Islamist rebels to seize the north.
France launched a military intervention to oust the rebels in January. But persistent instability in the north has raised concern over French plans to slash the number of troops it has in Mali to 1,000 by February, leaving responsibility for security to Malian forces and UN peacekeepers.
Another major challenge faced by newly elected President Ibrahim Boubacar Keita is to impose order on the military itself following several incidents of army violence.
Mali summoned the leader of last year's coup, General Amadou Sanogo, for questioning over the death of six soldiers in September, but a judicial source said he did not appear before prosecutors this week in answer to a summons issued late last month. (FRANCE 24 with REUTERS)
This site contains copyrighted material the use of which has not always been specifically authorized by the copyright owner. We are making such material available in our efforts to advance understanding of environmental, political, human rights, economic, democracy, scientific, and social justice issues, etc. We believe this constitutes a 'fair use' of any such copyrighted material as provided for in section 107 of the US Copyright Law. In accordance with Title 17 U.S.C. Section 107, the material on this site is distributed without profit to those who have expressed a prior interest in receiving the included information for research and educational purposes. For more information go to: http://www.law.cornell.edu/uscode/17/107.shtml. If you wish to use copyrighted material from this site for purposes of your own that go beyond 'fair use', you must obtain permission from the copyright owner.