Egyptian Government Asks Turkish Ambassador to Leave, in Protest Against Support for Morsi, Human Rights Conference


November 23, 2013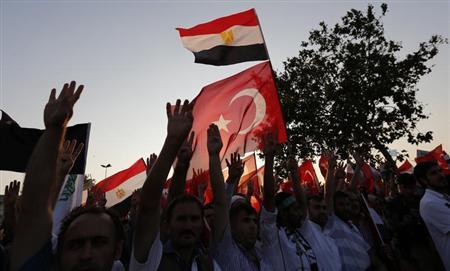 CAIRO, Nov. 23, 2013 (Xinhua) --
Egypt has decided to recall its ambassador in Ankara and expel the Turkish ambassador here, state- run Ahram online quoted Egypt's Foreign Ministry spokesman as saying on Saturday.
"We decided to withdraw our ambassador from Turkey and summon the Turkish ambassador in Cairo to inform him he is persona non grata and ask him to leave," Badr Abdel Aaty said.
Egypt has also decided to downgrade its diplomatic representation to Turkey to the level of Charge d'Affaires, said Badr during a press conference in Egypt's Interior Ministry.
The comments that Turkey Prime Minister Recep Tayyip Erdogan made on Thursday about Egypt was "untrue and was against the will of Egyptian people," he said.
"Egypt has been giving opportunities to Turkey to fill the gap of bilateral relations, however, Turkey kept making similar comments and supporting some activities which aimed to undermine Egypt's stability," Badr contended.
On Thursday, Erdogan criticized the Egyptian interim government and condemned the ouster of Islamist president Mohamed Morsi.
Egypt considered these remarks as an affront to the will of the Egyptian people and an interference in its affairs.
On the other hand, Turkish Foreign Ministry said on Saturday that Turkey will take steps in line with the principle of " reciprocity" after Egypt expelled Ankara's ambassador in Cairo, Today's Zaman reported.
Diplomatic relations between Turkey and Egypt have been strained after Ankara condemned Egypt's use of force against supporters of Morsi.
In August, Egypt summoned its ambassador to Turkey for consultation on bilateral relations.
Turkey to act in line with principle of "reciprocity" against Egypt's move
ANKARA, Nov. 23, 2013 (Xinhua) --
Turkey will take steps in line with the principle of "reciprocity" after Egypt expelled Ankara's ambassador in Cairo on Saturday, Today's Zaman reported, citing Turkish Foreign Ministry sources.
Turkish Foreign Ministry will hold a meeting about measures to respond to Egypt's move of expelling its ambassador Huseyin Avni Botsali and declaring him "persona non grata."
The relations between the two countries have been strained since Egyptian military toppled Islamist president Mohamed Morsi.
The Egyptian decision was made after the Turkish ambassador was summoned to the Egyptian Foreign Ministry for a meeting, Turkish diplomatic sources told Anadolu Agency.
After leaving the ministry, the Turkish ambassador described the Egyptian and Turkish people as "brothers."
"I will keep praying for the best of Egypt," he was quoted by the semi-official Anadolu Agency.
Egypt expels Turkish envoy amid rising tensions
AFP, By FRANCE 24 (text)
November 23, 2013
Diplomatic relations between Egypt and Turkey came to near freezing point on Saturday after Ankara's ambassador to Cairo was expelled amid mounting tension over the ousting of Islamist President Mohammed Morsi.
The expulsion came after Turkey's Prime Minister Recep Tayyip Erdogan on Thursday renewed his criticism of Egypt's new leaders, dismissing the ongoing trial of Morsi – where the former leader is accused of having incited the murder of his opponents while he was in office – and by describing the current situation in Egypt as a "humanitarian drama".
Egypt's Foreign Ministry said the Turkish envoy had been ordered to leave the country because of what it described as Ankara's continued "interference" in Egypt's internal affairs.
Foreign Ministry spokesman Badr Abdelatty said Cairo had made three decisions concerning its diplomatic ties with Ankara.
"First to expel the Turkish ambassador and downgrade our ties to the level of charge d'affaires; second to declare the Turkish ambassador persona non grata; and third, we will not send our ambassador to Turkey," he was quoted as saying by AFP.
While Turkey's President Abdullah Gul told reporters he hoped relations "will be restored soon", other Ankara officials vowed to retaliate.
"We will take steps in reciprocity after comprehensive consultations with the Turkish ambassador," foreign ministry spokesman Levent Gumrukcu said.
Turkey's Islamic-rooted ruling party had strongly backed Morsi – a leading figure in Egypt's Muslim Brotherhood – as an example for the Arab world of a democratically elected, pro-Islamic leader. It has criticised his July 3 overthrow by Egypt's military, while also criticising the West for what it has deemed a weak response to a military coup.
Following the criticism,Turkey and Egypt recalled their ambassadors in August. Turkey's ambassador returned weeks later, but Egypt had declined to return its envoy to Ankara.
"This (Turkish) leadership has persisted in its unacceptable and unjustified positions by trying to turn the international community against Egyptian interests and by supporting meetings for groups that seek to create instability in the country and by making statements that can only be described as an offense to the popular will," the foreign ministry statement said (in reference to an international human rights conference about Egypt held this week in Istanbul - Editor).
Egyptian officials and media have repeatedly accused Muslim Brotherhood leaders of meeting in Turkey to plan protests and other ways to undermine the new government in Cairo.
(FRANCE 24 with AFP, AP)
Egypt asks Turkish ambassador to leave, cites threat to stability
November 23, 2013
(Reuters) -
Egypt has asked Turkey's ambassador to leave and accused Ankara of backing unnamed organizations bent on spreading instability - a likely reference to the Muslim Brotherhood of ousted Egyptian president Mohamed Mursi.
Turkey said it would reciprocate within hours in the latest sign of a growing dispute between the two regional powers and U.S. allies, a row triggered by the Egyptian army's overthrow of Mursi on July 3.
Turkey has emerged as one of the fiercest international critics of Mursi's removal, calling it an "unacceptable coup". Mursi's Muslim Brotherhood, which has been staging protests calling for his reinstatement, has close ties with Turkey's ruling AK Party.
Ankara was "attempting to influence public opinion against Egyptian interests, supported meetings of organizations that seek to create instability in the country," said foreign Ministry Spokesman Badr Abdelatty on Saturday.
In response to Egypt's decision, Turkish President Abdullah Gul spoke live on state run TRT television saying, "I hope our relations will again get back to its track."
But a Turkish foreign ministry spokesman said Ankara was in touch with the ambassador "and we will respond with reciprocal steps in coming hours".
Both sides had recalled their ambassadors in August for consultation after Egyptian security forces stormed into pro-Mursi camps on August 14, killing hundreds.
(Reporting by Asma Alsharif and Ali Abdelatty, and Seda Sezer in Turkey.; Editing by Andrew Heavens)
This site contains copyrighted material the use of which has not always been specifically authorized by the copyright owner. We are making such material available in our efforts to advance understanding of environmental, political, human rights, economic, democracy, scientific, and social justice issues, etc. We believe this constitutes a 'fair use' of any such copyrighted material as provided for in section 107 of the US Copyright Law. In accordance with Title 17 U.S.C. Section 107, the material on this site is distributed without profit to those who have expressed a prior interest in receiving the included information for research and educational purposes. For more information go to: http://www.law.cornell.edu/uscode/17/107.shtml. If you wish to use copyrighted material from this site for purposes of your own that go beyond 'fair use', you must obtain permission from the copyright owner.