40 Syrians Killed in Aleppo Air Strike, Islamic Front Formed, Opposition Captures Largest Oil Field
November 23, 2013
| | |
| --- | --- |
| | |
| Free Syrian Army Fighter | Government Air Strike on Aleppo market |
| | |
| --- | --- |
| | |
| Collapsed buildings as a result of government air | strike on an Aleppo market, November 23, 2013 |
Islamist rebels report capture of largest Syrian oil field
BEIRUT, Saturday, November 23, 2013, 9:27am EST
Islamist rebels report capture of largest Syrian oil field | Reuters
(Reuters) - Islamist rebels led by al Qaeda-linked fighters seized Syria's largest oil field on Saturday, cutting off President Bashar al-Assad's access to almost all local crude reserves, activists said.
There was no immediate comment from the government and it was not immediately possible to verify the reports of the capture independently.
But the loss of the al-Omar oil field in Deir al-Zor province, if confirmed, could leave Assad's forces almost completely reliant on imported oil in their highly mechanized military campaign to put down a 2-1/2-year uprising.
"Now, nearly all of Syria's usable oil reserves are in the hands of the Nusra Front and other Islamist units ... The regime's neck is now in Nusra's hands," said Rami Abdelrahman, head of the pro-opposition Syrian Observatory for Human Rights.
Assad's forces have gained momentum against the rebels in recent months, partially due to support from the Lebanese Shi'ite milita Hezbollah and its regional ally Iran.
In the northern province of Aleppo on Saturday, army air strikes killed at least 40 people and wounded dozens, most of them civilians, the Observatory said.
But opposition fighters, particularly powerful Islamist factions, still hold large swathes of territory in northern and eastern Syria.
Foreign powers are trying to bring together the warring parties at an international peace conference, dubbed 'Geneva 2', planned for mid-December. Both the Syrians and their international partners are at odds over terms for the talks.
Syria's peace envoy Lakhdar Brahimi discussed the conference on Saturday with Russian Foreign Minister Sergei Lavrov in Geneva. He is expected to meet U.S. Secretary of State John Kerry later.
FUEL FROM IRAN
The civil war in Syria has killed more than 100,000 people, according to the United Nation and it is destabilizing its neighbors, due to sectarian and ethnic tensions that transcend borders. The uprising has fuelled Sunni-Shi'ite tensions in particular.
The rebels are led by the Sunni Muslim majority in Syria and have drawn support from radical Sunni groups such as al Qaeda and other foreign militants.
Shi'ite countries and militias have thrown their weight behind Assad, who is from Syria's minority Alawite sect, an offshoot of Shi'ite Islam.
Until the reported insurgent capture of the field, a pipeline transporting the crude to central Syria for refinement had still been working despite the civil war.
Most oil reserves are now in the hands of rebels, local tribes or Kurdish militias, some of whom may be willing to sell oil Assad.
Assad is also believed to be getting fuel from Shi'ite Muslim giant Iran, his main regional ally. Tehran has been bankrolling the Syrian government's fight against the rebels and offering military support.
A video posted on the internet showed rebels in camouflage and black scarves driving a tank under a sign that read "Euphrates Oil Company - al-Omar field". The speaker in the video said the field was overrun at dawn on Saturday, but the authenticity of the footage could not be independently verified.
Syria is not a significant oil producer and has not exported any oil since late 2011, when international sanctions took effect to raise pressure on Assad. Prior to the sanctions, the country exported 370,000 barrels per day, mainly to Europe.
The conflict began in March 2011 as peaceful protests against four decades of Assad family rule but has degenerated into a civil war were more than 100 people are killed each day.
REBEL OFFENSIVE NEAR CAPITAL
Despite international efforts to launch peace talks, neither the rebels or Assad's forces appear ready to lay down arms.
Activists near Damascus said a heavy battle was raging in the eastern suburbs outside the capital between the army and pro-government militias and rebel units, including the Islamic State of Iraq and the Levant (ISIL), an al Qaeda affiliate.
Rebels are trying to retake the town of Oteiba in order to break a heavy blockade on the opposition-held suburbs in the east that ring the capital. For months Assad's forces have choked off the areas from both food, supplies and weapons.
The fighting caused dozens of deaths on both sides, a fighter in the area said.
In Switzerland, diplomatic wrangling continued as the international supporters of different sides of the conflict discussed a framework for talks.
Moscow, Assad's main arms supplier, wants Iran to participate in the peace conference, which is opposed by both the United States and Saudi Arabia, a regional rival of Tehran and major backer of the rebels.
Brahimi is to hold "trilateral" talks with Russian deputy foreign ministers Mikhail Bogdanov and Gennady Gatilov, as well as U.S. Under Secretary Wendy Sherman, in Geneva on Monday.
(Additional reporting by Stephanie Nebehay in Geneva; Editing by Andrew Heavens)
Air strikes kill at least 40 in northern Syria: monitoring group
November 23, 2013, (Reuters) -
Air strikes around the northern Syrian city of Aleppo killed at least 40 people on Saturday, most of them civilians, the Syrian Observatory for Human Rights said.
The pro-opposition monitoring group said there were at least six strikes on the outskirts of Aleppo and nearby towns. Dozens of people were wounded, it said.
"Some of the strikes in the neighborhood of Tareeq al-Bab appeared to be targeting rebel headquarters but instead the rockets fell in a busy street and caused heavy civilian casualties," Rami Abdelrahman, head of the Observatory, said by telephone.
(Reporting by Erika Solomon; Editing by Pravin Char)
Islamists unite to form largest Syrian rebel alliance
AFP, By FRANCE 24 (text), November 23, 2013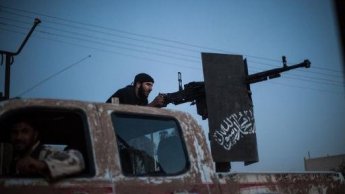 Islamist groups fighting to topple President Bashar al-Assadís regime and replace it with an Islamic state joined forces on Friday to form Syriaís largest rebel alliance, the new group announced in a statement.
"The Islamic Front is an independent military and social force that is aimed at bringing down Assad's regime in Syria and at replacing it with a just Islamic state," said a statement released by the group.
A rebel spokesman, Abu Firas, earlier declared "the complete merger of the major military factions fighting in Syria".
The merger of at least six separate Islamist groups comes after repeated calls for unity from opposition fighters and their foreign backers, and international frustration over a lack of solidarity among rebel groups.
But the new alliance threatens to undermine the leadership of the mainstream Free Syrian Army, which has lost credibility over its inability to secure arms demanded by its fighters.
Among those joining the new coalition are Aleppo's biggest fighting force Liwa al-Tawhid (Tawhid Brigade), the Salafist group Ahrar al-Sham, Suqour al-Sham, al-Haq Brigades, Ansar al-Sham and the Islamic Army, which is centred around Damascus. The Kurdish Islamic Front also reportedly joined the alliance.
The groups are seen as not being as hard-line as the al Qaeda-linked rebels of al Nusra Front or the Islamic State of Iraq and the Levant (ISIL), which also operate in Syria.
Speaking to AFP via the Internet from the northern province of Aleppo, Firas said the Islamic Front, which unites tens of thousands of rebels, would have "one policy and one military command".
Aron Lund, an expert on the Syrian conflict and a Middle Eastern affairs analyst, described as significant the new coalition of mainstream and hard-line Islamists, excluding any al Qaeda factions.
"It's something that could be very important if it holds up," Lund told AFP.
The Islamic Front's formation was a response to both regime advances and the "aggressive posture" of jihadists against other rebels, he said, adding: "I assume there's a good deal of foreign involvement as well."
"There's been a lot of talk about how Saudi [Arabia] and the Gulf have been pushing to unify the rebels," he said.
The move came days after the death of Liwa al-Tawhid's charismatic military chief Abdel Qader Saleh, who had called for unity.
Bad news for Assad, al Qaeda
Firas said "the doors are open to all the military factions, and a committee is working to study the entrance of all groups that also want to join".
"It has been decided that all the factions' military, media, humanitarian and administrative offices will merge over a transitional period of three months," he added.
Saleh died from his wounds Monday, after an air strike on a building in Aleppo where he and other faction leaders had been meeting.
Activists welcomed the merger as "bad news" both for Assad and al Qaeda-linked ISIL, which has fought against rebel brigades in opposition-held areas, including some rival Islamists.
"The news will terrorise the regime and ISIL at the same time," said one activist group.
In the latest fighting, rebels, including jihadists, seized Deir Attiya on the Lebanese border, according to the Syrian Observatory for Human Rights.
The majority Christian town in the Qalamoun area north of Damascus is on a strategic route linking the capital to Homs in central Syria. It was seized by ISIL and al Nusra Front as well as other Islamist groups, the Observatory said.
Three days earlier, the Syrian army took nearby Qara, which had been under opposition control for months.
Regime warplanes staged 16 air strikes on Qalamoun on Friday, the Observatory said.
More than 120,000 people have died in Syria's war, which erupted after Assad's regime launched a crackdown on pro-democracy protests, sparking a brutal insurgency.
(FRANCE 24 with AFP)
Syrian minister survives assassination attempt
DAMASCUS, Nov. 23, 2013 (Xinhua) --
Syria's National Reconciliation Minister, Ali Haidar, has survived an assassination attempt in central Syria, the state-run TV reported Saturday.
Haidar's convoy was attacked on the Misyaf-Qadmous road in central Syria. The minister escaped unscathed while his driver died in the ambush.
Coincidentally, Haidar's son was killed last year on the same road by opposition rebels.
A number of Syrian officials have been killed or targeted during the long-standing crisis in the war-torn country.
Haidar's ministry was formed to achieve reconciliation between the warring sides in the conflict.
Haidar, 51, served as the leader of the Syrian Social Nationalist Party. Since June 2011, he has become the Minister of State for National Reconciliation Affairs.
This site contains copyrighted material the use of which has not always been specifically authorized by the copyright owner. We are making such material available in our efforts to advance understanding of environmental, political, human rights, economic, democracy, scientific, and social justice issues, etc. We believe this constitutes a 'fair use' of any such copyrighted material as provided for in section 107 of the US Copyright Law. In accordance with Title 17 U.S.C. Section 107, the material on this site is distributed without profit to those who have expressed a prior interest in receiving the included information for research and educational purposes. For more information go to: http://www.law.cornell.edu/uscode/17/107.shtml. If you wish to use copyrighted material from this site for purposes of your own that go beyond 'fair use', you must obtain permission from the copyright owner.