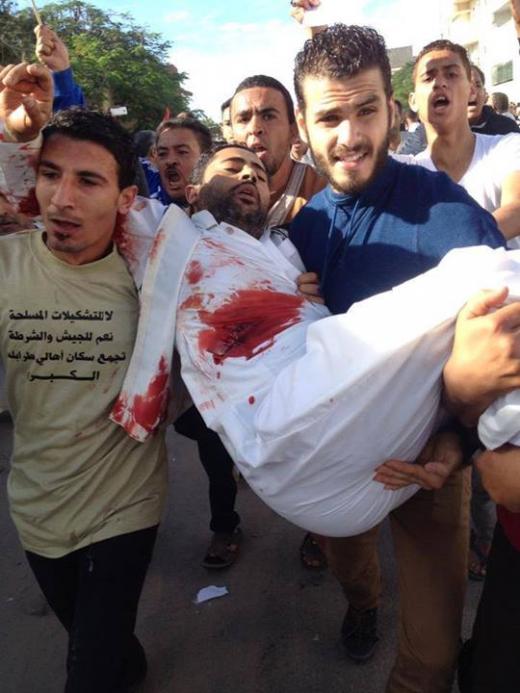 Armed militiamen have fired on a crowd demonstrating
against their presence
in the Libyan capital, Tripoli. Photos of the incident began appearing on social media networks as soon as the first shots were fired.
Protesters had converged on the headquarters of the Misrata militia in the Gharghour district of Tripoli, when armed men inside the building started shooting loaded weapons in the air to scare them off. Reports say that when protesters continued to march on the building, the gunmen then turned their
weapons on the crowd
. Other Twitter users on the ground also report seeing
armed men firing
at the protesters. Not long after, Libyan Air Force jets were seen sweeping low over the Libyan capital.
WARNING: THE FOLLOWING IMAGES ARE GRAPHIC.
Protesters rush away a wounded man in the Libyan capital, Tripoli. Photo uploaded onto Facebook group '
Libya tube
'.
At least
5 people were killed
when gunmen opened fire on the demonstration. Dozens more were wounded, many critically.
In this image, an elderly man suffering from a gunshot wound is carried away by several protesters.
Photo uploaded onto Twitter. Taken Friday, November 15 in Tripoli, Libya.
This picture, uploaded onto Twitter, shows the march before it turned violent.
Article written by FRANCE 24 journalist Andrew Hilliar (@andyhilliar).