Former Chile's President, Michelle Bachelet, Wins Election First Round, Faces Run-Off
November 17, 2013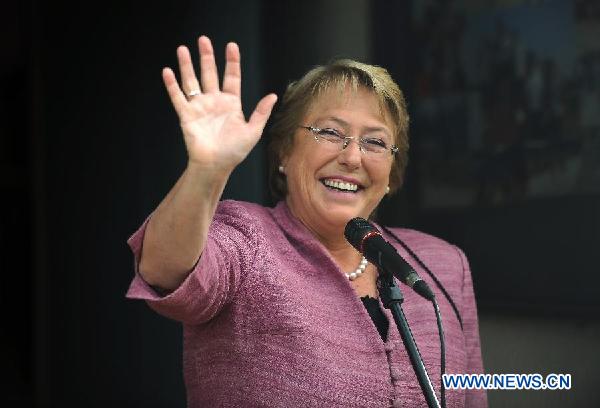 Michelle Bachelet waves to her supporters at a polling station in Santiago, capital of Chile, on Nov. 17, 2013. Michelle Bachelet, candidate of the opposition center-left New Majority coalition and ex-president, won Chile's presidential elections Sunday, the Electoral Service announced. (Xinhua/Jorge Villegas)
Chile's presidential election to face run-off
SANTIAGO, Nov. 17, 2013 (Xinhua) --
Opposition candidate Michelle Bachelet vowed to seal her victory in a December run-off after taking a big lead in Chile's first-round presidential election on Sunday.
"We have won the election and made it by a large majority," Bachelet told her supporters at the end of the election day. "We won tonight and we will work to earn widely in December."
With 96.46 percent of the ballots counted, the former president had 46.73 percent of the votes, while ruling conservative party candidate Evelyn Matthei garnered 25 percent, the Electoral Service announced.
As no candidate won more than 50 percent of the vote, the top two will go to a run-off election on Dec. 15.
The results were a boon for Matthei, who entered late in the presidential race, but will now have another month to bolster her support.
"Passing to the second round is definitely a victory because we start late," said Matthei.
"There are differences between us and we are going to highlight them in the next 30 days," she said.
A crowded field of nine candidates made the vote fractured, with the third- and fourth-placed candidates each garnering more than 10 percent of the votes.
Independent candidate Franco Parisi got 10.15 percent, while Progressive Party candidate Marco Enriquez-Ominami got 10.84 percent.
More than 13.5 million people are eligible to vote in Chile. According to some estimates, more than 7.5 million went to the polls on Sunday at 365 municipalities across the nation.
Bachelet leading presidential election in Chile with 46.69 percent
SANTIAGO, Nov. 17, 2013 (Xinhua) --
Chile's opposition candidate Michelle Bachelet was leading Sunday's presidential election with 46.69 percent of the vote, said the country's authority for elections, the Electoral Service (Servel), adding the trend pointed to a runoff in December.
The result was given after 78.38 percent of the voting stations were counted, said Servel, but the second-round of the voting would be between Bachelet and runner-up Eevelym Matthei of the ruling party, who just garnered 25.18 percent of the vote.
More than 13.5 million people are eligible to vote in Chile and by some estimates more than 7.5 million went to the polls Sunday at 365 municipalities across the nation. In addition to voting to elect a successor to the incumbent President Sebastian Pinera, Chileans also had to vote for legislators and regional councilors.
Final results of Sunday's elections will be announced later in the day.
The results so far matched pre-election polls that placed the socialist Bachelet ahead of her rivals.
If she wins the presidential election, she will be sworn in on March 11, 2014.
Garnering an outright majority was difficult in a crowded field of nine candidates, with the third-place candidate Marco Enriquez- Ominami of the Progressive Party getting 11 percent of the vote, and independent candidate Franco Parisi gathering 10 percent.
Matthei spokeswoman Senator Lily Perez said she was satisfied with the results so far.
"We said since day one and few believed us ... we beat the polls and those political scientists that said Bachelet would win in the first round."
"We did everything to win in the first round," said the Opposition Senator Ricardo Lagos Weber, adding "we still have to wait for the tallies."
Key facts about Chilean general elections
SANTIAGO, Nov. 16, 2013 (Xinhua) --
Chile will hold presidential and congressional elections on Sunday.
The following are some key facts about the South American country in the run-up to its sixth voting since the end of the 1973-90 military regime of Augusto Pinochet.
All Chileans above 18 years old are eligible to vote. Out of the country's 17.4 million population, more than 13.5 million people have registered to cast their ballots to elect a president, who can serve a four-year term.
All of the 120 seats in the Chamber of Deputies, 20 out of the 38 seats in the Senate and 278 regional councillor posts will be contested during the elections. Deputies and senators serve for a period of four years and eight years respectively. Reelection is permitted.
Voting opens at 8:00 a.m. local time (1100 GMT) and ends at 18:00 (2100 GMT) on Sunday. Preliminary results will be announced after 19:30 (2230 GMT). There are 2,012 polling stations in 365 municipalities across the country.
The presidential term was reduced from six years to four years under an amended constitution in 2005. A candidate needs an absolute majority of votes to be elected. If no candidate receives more than 50 percent of the votes, the two front-runners will compete in a Dec. 15 runoff. The winner will succeed President Sebastian Pinera on March 14, 2014.
Nine candidates are running for the presidency. According to the latest opinion polls, Michelle Bachelet, candidate of the center-left New Majority coalition and ex-president, enjoyed a comfortable lead of 47 percent, followed by Evelyn Matthei, candidate of the ruling Coalition for Change with 21.7 percent, independent candidate Franco Parisi, 7.9 percent and candidate of Progressive Party Marco Enriquez-Ominami, 7.2 percent.
The Inter-American Institute of Human Rights will send a mission to observe the elections.
Chile, with a total area of 756,626 sq km, is the longest and narrowest country in the world. It boasts a 10,300-km Pacific coastline. It borders Argentina to the east, and Bolivia and Peru to the north.
Chile is world's top copper producer with an annual production of 5.4 million tons and has the world's largest copper reserves, accounting for 28 percent of the world total.
Despite deceleration, Chile's economy grew 5.6 percent in 2012 and expected a 4 to 4.5 percent growth this year.
Editor: Hou Qiang
This site contains copyrighted material the use of which has not always been specifically authorized by the copyright owner. We are making such material available in our efforts to advance understanding of environmental, political, human rights, economic, democracy, scientific, and social justice issues, etc. We believe this constitutes a 'fair use' of any such copyrighted material as provided for in section 107 of the US Copyright Law. In accordance with Title 17 U.S.C. Section 107, the material on this site is distributed without profit to those who have expressed a prior interest in receiving the included information for research and educational purposes. For more information go to: http://www.law.cornell.edu/uscode/17/107.shtml. If you wish to use copyrighted material from this site for purposes of your own that go beyond 'fair use', you must obtain permission from the copyright owner.