10,000 Killed in Tacloban, Philippines, Haiyan Typhoon, Need for Massive International Aid
November 12, 2013
| | |
| --- | --- |
| | |
| A view of a coastal town, devastated by Typhoon Haiyan, in Samar province in central Philippines. (Reuters) | |
| | |
| --- | --- |
| | |
| | |
November 12, 2013, 8:34 a.m. Eastern
Philippines typhoon victims beg for help as aid slowly trickles in
TACLOBAN, Philippines When two Philippine Air Force C-130s arrived at the typhoon-wrecked airport here just after dawn Tuesday, more than 3,000 people who had camped out hoping to escape the devastation surged onto the tarmac past a broken iron fence. Only a few hundred made it aboard; the rest were left in a shattered, rain-lashed city short of food and water and littered with uncounted bodies.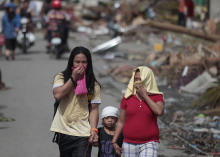 62 Photos
Powerful typhoon slams Philippines
Just a dozen soldiers and several police held the crowd back. Mothers raised their babies high above their heads in the rain, in hopes of being prioritized. One woman in her 30s lay on a stretcher, shaking uncontrollably.
"I was pleading with the soldiers. I was kneeling and begging because I have diabetes," said Helen Cordial, whose house was destroyed in the storm. "Do they want me to die in this airport? They are stone-hearted."
"We need help. Nothing is happening," said Aristone Balute, an 81-year-old who also didn't get a flight. "We haven't eaten since yesterday afternoon." Her clothes were soaked from the rain, and tears streamed down her face.
CBS News correspondent Seth Doane arrived on Tuesday in Tacloban and reported that many of the people at the airport seemed to be realizing that surviving the storm was just the beginning of their battle. They lined up amid the ruins pleading for food, water and medicine, but new storms brought even more rain, and the debris-clogged streets of the decimated island city -- home to more than 220,000 people -- made it very difficult to reach some of the hardest hit areas.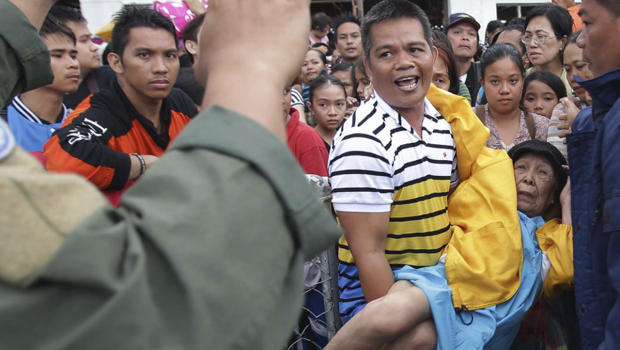 Filipino troopers control survivors who want to board military planes to flee the typhoon ravaged Tacloban city, central Philippines, Nov. 12, 2013.
/
AP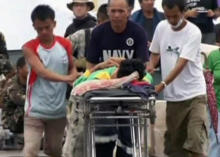 Play Video
Typhoon Haiyan: Massive humanitarian response underway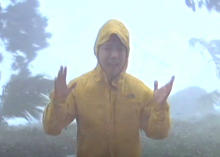 Play Video
Reporter's firsthand account of Haiyan's power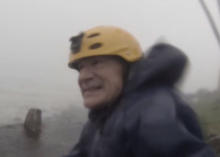 Play Video
Typhoon Haiyan first-hand account: "Everything was gone"
The struggle at Tacloban's airport is one of countless scenes of misery in the eastern Philippines since Typhoon Haiyan struck Friday. Only a tiny amount of assistance has arrived -- including two Marine C-130 cargo planes that unloaded supplies at the airport on Monday -- and the needs of the nearly 10 million people affected by the disaster were growing ever more urgent.
The official death toll from the disaster stood at 1,774 on Tuesday, though authorities have said they expect that to rise markedly. They fear estimates of 10,000 dead are accurate and might be low.
As local authorities struggled to deal with the enormity of the disaster, the United Nations said it had had released $25 million in emergency funds and was launching an emergency appeal for money.
Tacloban, a city of about 220,000 people on Leyte island, bore the full force of the winds and the tsunami-like storm surges. Most of the city is in ruins, a tangled mess of destroyed houses, cars and trees. Malls, garages and shops have all been stripped of food and water by hungry residents.
"I don't believe there is a single structure that is not destroyed or severely damaged in some way - every single building, every single house," U.S. Marine Brig. Gen. Paul Kennedy said after taking a helicopter flight over Tacloban. The U.S. military dispatched food, water, generators and a contingent of Marines to the city, the first outside help in what will swell into a major international relief mission.
Most residents spent the night under pouring rain wherever they could - in the ruins of destroyed houses, in the open along roadsides and shredded trees. Some slept under tents brought in by the government or relief groups.
Local doctors said they were desperate for medicine. Beside the ruined airport tower, at a small makeshift clinic with shattered windows, army and air force medics said they had treated around 1,000 people since the typhoon for cuts, bruises, lacerations and deep wounds.
"It's overwhelming," said Air Force Capt. Antonio Tamayo. "We need more medicine. We cannot give anti-tetanus vaccine shots because we have none."
International aid groups and militaries are rushing assistance to the region, but little has arrived. Government officials and police and army officers have been caught up in the disaster themselves, hampering coordination.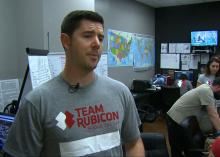 Play Video
Military vets head to Philippines for typhoon relief efforts
The USS George Washington aircraft carrier was expected to arrive off the coast in about two days, according to the Pentagon. A similar sized U.S. ship, and its fleet of helicopters capable of dropping tons of water daily and evacuating wounded, was credited with saving scores of lives after the 2004 Asian tsunami. The U.S. said it is providing $20 million in immediate aid.
Several other countries, including Japan, Britain and Australia, together have donated tens of millions of dollars. The United Nations said in a statement that its $25 million would be used to pay for emergency shelter materials and household items, and for assistance with the provision of emergency health services, safe water supplies and sanitation facilities.
"We have deployed specialist teams, vital logistics support and dispatched critical supplies - but we have to do more and faster," said U.N. humanitarian chief Valerie Amos, who was flying to the country.
Joselito Caimoy, a 42-year-old truck driver, was one of the lucky ones at Tacloban airport. He was able to get his wife, son and 3-year-old daughter on a flight out. They embraced in a tearful goodbye, but Caimoy stayed behind to guard what's left of his home and property.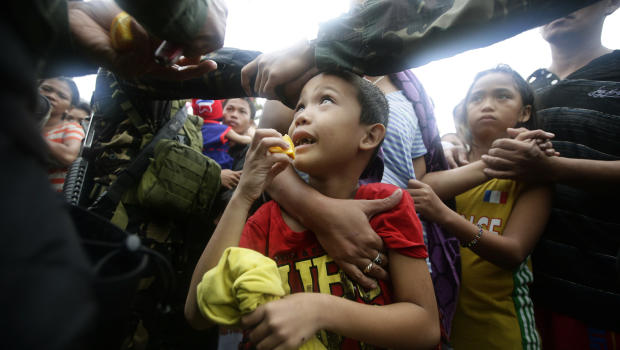 A Philippine air force officer hands out orange slices to typhoon survivors as they line up to board a C-130 military transport plane, Nov. 12, 2013, in Tacloban.
/
AP
"People are just scavenging in the streets. People are asking food from relatives, friends. The devastation is too much ... the malls, the grocery stories have all been looted, "he said. "They're empty. People are hungry. And they (the authorities) cannot control the people."
Before leaving for Tacloban, CBS News' Doane met another of the lucky evacuees who made it aboard a C-130 flight out of the ravaged city. Weena Gonzalez survived the storm by clinging onto a sheet of plywood. She told Doane she was only allowed onto the evacuation flight because she's seven-months pregnant. She had to leave her husband behind, to fend for himself with the other survivors.
The dead, decomposing and stinking, litter the streets or remain trapped in the debris.
As many as 41 provinces were affected by the typhoon, known as Haiyan elsewhere in Asia but called Yolanda in the Philippines. It was likely the deadliest natural disaster to beset this poor Southeast Asian nation.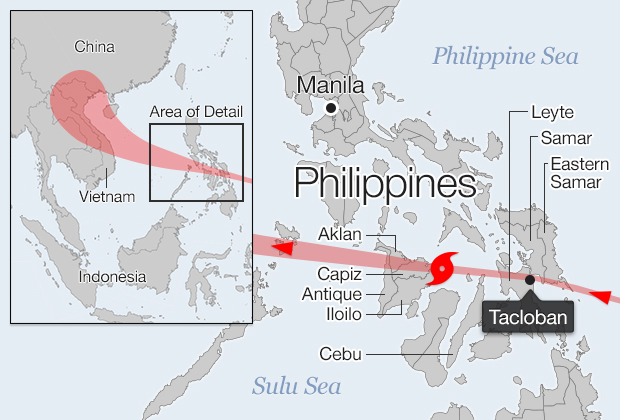 CBSNews
Authorities said they had evacuated 800,000 people ahead of the typhoon, but many evacuation centers proved to be no protection against the wind and rising water. The Philippine National Red Cross, responsible for warning the region and giving advice, said people were not prepared for a storm surge.
"Imagine America, which was prepared and very rich, still had a lot of challenges at the time of Hurricane Katrina, but what we had was three times more than what they received," said Gwendolyn Pang, the group's executive director.
Philippine President Benigno Aquino III declared a "state of national calamity," allowing the central government to release emergency funds quicker and impose price controls on staple goods. He said the two worst-hit provinces, Leyte and Samar, had witnessed "massive destruction and loss of life" but that elsewhere casualties were low.
The Philippines, an archipelago nation of more than 7,000 islands, is annually buffeted by tropical storms and typhoons, but Haiyan was an especially large catastrophe. Its winds were among the strongest ever recorded, and it appears to have killed more people than the previous deadliest Philippine storm, Thelma, in which about 5,100 people died in the central Philippines in 1991.
The country's deadliest disaster on record was the 1976 magnitude-7.9 earthquake that triggered a tsunami in the Moro Gulf in the southern Philippines, killing 5,791 people.
Amos of the U.N. and Philippines Foreign Secretary Albert del Rosario will launch an emergency appeal Tuesday in Manila for aid to help the almost 9.8 million people affected, the director of U.N. humanitarian operations said.
The storm also killed eight people in southern China and inflicted hundreds of millions of dollars in damage to farming and fishing industries, Chinese state media reported Tuesday.
© 2013 CBS Interactive Inc. All Rights Reserved. This material may not be published, broadcast, rewritten, or redistributed. The Associated Press contributed to this report.
Filipinos thankful for UAE aid as they mourn typhoon Haiyan victims
Al-Arabiya, Monday, 11 November 2013
Noelle Manalastas, Al Arabiya
Hours before his flight to his hometown in Tacloban, the main city hit by the super typhoon, Mikkoy Tampil, an overseas Filipino worker based in Dubai, said he doesn't know what to expect upon his arrival.
Tampil has been trying to contact his wife and daughter, both who have been staying in a hotel in the city when typhoon Haiyan made landfall on Friday.
"It's been five days since I last spoke to them," he said.
"We all need prayers," he added.
The United Arab Emirates on Sunday said it will send $10 million of assistance to victims of typhoon Haiyan in the Philippines, which is feared to have claimed more than 10,000 lives.
The international community "must stand together in times like these and assist the relief efforts. With this contribution, the UAE Government affirms its deep solidarity with those affected by this natural disaster in the Philippines," read a statement released by the UAE's news agency WAM.
Rizalina Reposo, a Filipina worker based in Dubai, told Al Arabiya News: "I'm very thankful to the UAE government for giving aid to the Philippines. I just hope it goes to the right people."
Reposo lost her uncle, aunt and two cousins to the typhoon. Her relatives are searching for other five members of her family who are missing and feared dead.
Kirby Fajardo, a Filipino worker based in Abu Dhabi, told Al Arabiya News: "I hope that with this amount of money, they can help us find our missing families, and provide food and shelter to our relatives."
Fajardo has been unable to contact his aunt and uncle.
Typhoon Haiyan, considered one of the most powerful storms on record, struck six central Philippine islands on Friday, wiping away buildings and levelling seaside homes with ferocious winds of 235 kilometres per hour.
Grace Princesa, the Philippines' ambassador to the UAE, told Al Arabiya: "We're thankful to the Emirati government and people for their support during our trying times."
Her embassy was able to send initial financial aid to the Philippines on Sunday, and has released hotline numbers to make donations and ask for assistance, she added.
The Filipino community in the UAE is continuously raising funds to help the typhoon victims back home, said Princesa.
U.S. and Britain send warships to typhoon-stricken Philippines
Al Arabiya, Tuesday, 12 November 2013
The United States and Britain are sending several warships, including an aircraft carrier, to the typhoon-stricken Philippines, according to official announcements on Monday.
U.S. Defense Secretary Chuck Hagel has ordered the aircraft carrier USS George Washington other naval warships to the Philippines as Marines began arriving in the hardest-hit areas to joint relief efforts following the deadly typhoon.
Typhoon Haiyan, considered one of the most powerful storms on record, struck six central Philippine islands on Friday, wiping away buildings and leveling seaside homes with ferocious winds of 235 kilometers per hour.
The typhoon is feared to have claimed more than 10,000 lives and more than nine million people have been affected. Many are now struggling to survive without food, shelter or clean drinking water.
The U.S. aircraft carrier, which has 5,000 sailors and more than 80 aircraft aboard, is currently in Hong Kong for a port visit, according to Agence France-Presse.
In a statement, the Pentagon said the crew is being recalled early from shore leave.
Also on Monday, British Prime Minister David Cameron announced a navy warship with equipment to make drinking water from seawater and a military transport aircraft will be sent to the Philippines.
"HMS Daring, currently deployed near Singapore, will shortly be heading at full speed towards the disaster zone with further support from an RAF (Royal Air Force) C-17 which will be a powerful help to the relief operation," Cameron told a dinner attended by business leaders in London, according to Reuters news agency.
HMS Daring is expected to reach the area in five days and the C-17 within the next few days. About 200 military personnel will be involved.
The announcements came after Gulf Arab states, the United States, Australia and the United Nations began mobilizing emergency aid to the Philippines on Monday.
Donations from Arab states include the United Arab Emirates, which has announced support and assistance programs and projects worth $10 million to the Philippines.
Saudi Prince Talal bin Abdul Aziz's Arab Gulf Program for Development announced a $100,000 donation to the victims channeled through the Philippine government.
(With Reuters and AFP)
At least 10,000 feared dead in typhoon-hit Philippine province
Al-Arabiya, Sunday, 10 November 2013
The death toll of a super typhoon that struck the Philippines is expected to rise on Sunday after at least 10,000 people were killed in one province in Tacloban city on Leyte Island.
Typhoon Haiyan, one of the most powerful storms on record, struck six central Philippine islands on Friday, wiping away buildings and leveling seaside homes with ferocious winds of 235 kilometers per hour. The super-typhoon weakened on Sunday as it approached central and northern Vietnam where authorities evacuated more than 500,000 people. It was forecast to make landfall Monday morning, according to AP. "The rescue operation is ongoing. We expect a very high number of fatalities as well as injured," Interior Secretary Mar Roxas was quoted as saying by AP after visiting Tacloban on Saturday.
"All systems, all vestiges of modern living - communications, power, water - all are down. Media is down, so there is no way to communicate with the people in a mass sort of way," he said.
The U.S. and other governments and agencies were mounting a major relief effort.
The Pentagon announced Saturday that it was providing the Philippines with naval and aviation resources in the wake of the country's devastating typhoon.
Mobilizing equipment
A statement said that U.S. Defense Secretary Chuck Hagel would male helicopters, fixed-wing aircraft and surface maritime search and rescue equipment available after a request from the Philippines government, according to Agence France-Presse.
U.N. Secretary-General Ban Ki-moon offered his condolences and said U.N. humanitarian agencies were working closely with the Philippine government to respond rapidly with emergency assistance, according to a statement released by the U.N. spokesperson's office, AFP reported.
"The government estimates that some 4.3 million people are affected, across 36 provinces, and initial assessments show that thousands of homes have been destroyed, roads are impassable and people need food, water, shelter and power," U.N. humanitarian coordinator Valerie Amos was quoted as saying by AFP.
Even by the standards of the Philippines, which is battered by many natural disasters with about 20 typhoons a year, earthquakes and volcanic eruptions, the latest typhoon has shocked the impoverished nation of 96 million people.
(With AFP and the Associated Press)
This site contains copyrighted material the use of which has not always been specifically authorized by the copyright owner. We are making such material available in our efforts to advance understanding of environmental, political, human rights, economic, democracy, scientific, and social justice issues, etc. We believe this constitutes a 'fair use' of any such copyrighted material as provided for in section 107 of the US Copyright Law. In accordance with Title 17 U.S.C. Section 107, the material on this site is distributed without profit to those who have expressed a prior interest in receiving the included information for research and educational purposes. For more information go to: http://www.law.cornell.edu/uscode/17/107.shtml. If you wish to use copyrighted material from this site for purposes of your own that go beyond 'fair use', you must obtain permission from the copyright owner.