Editorial Note: The following news reports are summaries from original sources. They may also include corrections of Arabic names and political terminology. Comments are in parentheses.
30 Iraqis Killed, 170 Injured in a Wave of Bombing Attacks, May 30, 2013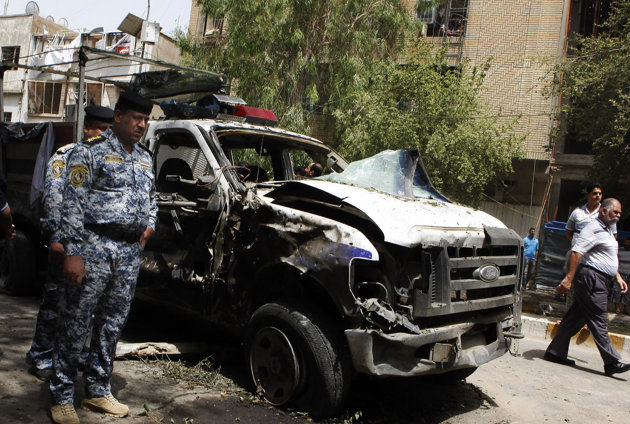 Wave of Bombings Kills 30 in Fresh Iraq Attacks
BAGHDAD (AP) —
May 30, 2013
A series of bombs in Iraq, including one targeting a provincial governor, killed at least 30 people Thursday and wounded dozens as a tireless wave of violence further rattled the country.
Iraq is experiencing its most relentless round of bloodshed since the 2011 U.S. military withdrawal, deepening fears that the country is heading back toward the widespread sectarian fighting that pushed it to the brink of civil war in the years after the invasion.
More than 500 people have been killed in May, with attacks escalating in the last two weeks. The month before was Iraq's deadliest since June 2008, according to a United Nations tally that put April's death toll at more than 700.
Prime Minister Nouri al-Maliki's office said he spent three hours inspecting checkpoints throughout the capital late the previous night, underscoring growing concerns about the security forces' ability to stem the violence.
Authorities in Baghdad also announced a ban in effect from early Friday on cars bearing temporary black license plates, which are common in post-war Iraq, where for years it was difficult to obtain new ones. The plates are typically on older model vehicles and are more difficult to trace, and authorities say they are frequently used in car bombings.
Most of Thursday's blasts went off in Baghdad. Car bombs killed four in the northeastern Shiite neighborhood of Binouq, and three died in a bombing at a market selling spare car parts in central Baghdad, according to police.
In Baghdad's eastern Shiite Ur neighborhood, a parked car bomb went off next to an army patrol, killing four and wounding 17, police said.
Police officials also said that a roadside bomb exploded near a police patrol in the largely Shiite central commercial district of Karradah, killing three people there.
The Karradah blast shattered glass and twisted metal signs on several storefronts, and left the stricken police unit's modified Ford pickup truck charred and mangled.
"What have these innocent people done to deserve this?" asked witness Sinan Ali. "So many people were hurt. Who is responsible?"
In Baghdad's northern Shiite neighborhood of Shaab, a car bomb exploded in a commercial area, killing six civilians and wounding 17 others.
In the largely Sunni neighborhood of Azamiyah in the capital's north, a car bomb struck near a military convoy, killing three people, including two soldiers, according to police. Another 14 people were wounded in that attack.
Another police patrol was struck in the southern neighborhood of Saydiyah, injuring six.
Hospital officials confirmed the casualties.
In Anbar province, the provincial governor escaped an assassination attempt when a suicide bomber rammed his explosive-laden car into his convoy, his deputy Dhari Akan said. The governor escaped unharmed, but four of his guards were wounded, Arkan said.
Anbar is a vast Sunni-dominated province west of Baghdad that has been the center for months of protests against the Shiite-led government.
In the northern city of Mosul, two police officers said a suicide bomber killed three when he blew himself up on a federal police checkpoint. Mosul is a former insurgent stronghold, located about 360 kilometers (225 miles) northwest of Baghdad.
And to the west of Mosul, a suicide attacker drove his explosives-packed car into a security checkpoint, killing two members of the security forces and two civilians, a police officer and a doctor said. Eight other people were wounded in the attacks in the town of Tal Afar, they added.
All officials spoke on condition of anonymity because they weren't authorized to talk to the media.
The United Nations envoy to Iraq, Martin Kobler, urged Iraqi leaders to do more to urgently "pull the country out of this mayhem."
"Systemic violence is ready to explode at any moment," he said in a statement.
There was no immediate claim of responsibility for the attacks but blame is likely to fall on al-Qaida's Iraq arm, which frequently carries out bombing attacks against civilians and security forces in an effort to undermine faith in the Shiite-led government.
Other militant groups have also grown more active in recent months, including the Army of the Men of the Naqshabandi Order, which has ties to members of Saddam Hussein's now-outlawed Baath party.
The attacks came hours after bomb blasts tore through two Baghdad neighborhoods Wednesday evening. At least 30 people were killed, including several members of a wedding party in the mixed Sunni-Shiite Jihad neighborhood.
The southwestern neighborhood was one of the earliest flashpoints in Baghdad's descent into sectarian bloodshed in the years following the 2003 U.S. led invasion. It housed mainly Sunni civil servants and security officials under Saddam Hussein's regime, though many Shiites now live there too.
Many of Jihad's Sunni residents earlier this year received threatening leaflets from a Shiite militant group, the Mukhtar Army, warning them to leave.
___
Associated Press writers Adam Schreck and Sinan Salaheddin contributed to this story.
============================================================================
The following is an Arabic news report from Yaqen.net, detailing killing and injuring 200 Iraqis in the May 30, 2013 attacks.
http://www.yaqen.net/Portal/news.php?action=view&id=30456
لمحة موجزة عن أهم وابرز التطورات الامنية والسياسية التي شهدها العراق حتى مساء الخميس



نشر بتاريخ: الخميس 30-05-2013 11:00 مساء




دانت هيئة علماء المسلمين في العراق خلال بيانها المرقم (898) الصادر ، اليوم الخميس سلسلة التفجيرات الدامية التي ضربت

بغداد خلال الساعات 24 الماضية ، اضافة الى عودة ظاهرة الجثث المجهولة والقتل الهوية.

كما و دعت اللجان التنسيقية لثورة الشرف والكرامة العراقية ، جميع العراقيين للمشاركة بتظاهرات مليونية حاشدة وصلوات موحدة في عموم المحافظات الثائرة ،يوم غد بجمعة "خيارنا قوتنا " ، كما حددت رابطة ائمة وخطباء بغداد وديالى الامكان التي ستقام فيها الصلوات الموحدة.

و جددت منظمة الأمم المتحدة مخاوفها من تصاعد وتيرة العنف في البلاد ، داعية الاتحاد الأوروبي إلى القيام بدور أقوى في البلاد والتواصل مع مجلس النواب الحالي لمناقشة التطورات الأمنية الأخيرة.

بغداد : سقط 200 شخص بين قتيل وجريح في عشرة تفجيرات وقعت في مناطق متفرقة من العاصمة بغداد ، خلال الساعات ال24 الماضية.

حيث قتل ستة اشخاص واصيب 19 ، صباح اليوم الخميس بانفجار سيارتين مفخختين في منطقتي البنوك ومجمع المشن في العاصمة بغداد .

كما واصيب عشرة اشخاص ، صباح اليوم الخميس بانفجار عبوتين ناسفتين في منطقتي البلديات والسيدية جنوب العاصمة بغداد .

واصيب ثمانية اشخاص بينهم من الشرطة الحكومية بتفجير عبوة ناسفة استهدفت دورية حكومية وسط بغداد ، صباح اليوم الخميس.

وايضا قتل واصيب 15 شخصا بتفجير سيارة مفخخة في منطقة شارع المغرب بالاعظمية شمالي العاصمة بغداد ، اليوم الخميس ، ليكون التفجير العاشر الذي استهدف بغداد خلال 24 ساعة .

وقتل واصيب 14 شخصا بتفجير سيارة مفخخة شرقي مدينة بغداد، اليوم الخميس وذلك في التفجير 12 الذي شهدته بغداد خلال الساعات الـ24 الماضية .

كما واكدت مصادر صحفية ، اليوم الخميس انتشار ظاهرة وجود عناصر مدنية في نقاط الجيش والأمن الحكومية مايؤكد دعم الحكومة لتلك القوات والمليشيات الطائفية المنتشرة في شوارع بغداد.

الى ذلك ارتفعت حصيلة التفجير الدامي الذي استهدف حفل زفاف غربي العاصمة بغداد ، الى 84 قتيلا وجريحا ، بحسب مصادر حكومية وطبية ، اليوم الخميس.

نينوى : قتل واصيب نحو 30 شخصا بين قتيل وجريح بينهم من العناصر الحكومية ،اليوم الخميس بتفجيرين منفصلين وقعا في محافظتي نينوى وبغداد .

كما وسقط 12 من العناصر الحكومية بين قتيل وجريح بتفجير سيارة مفخخة استهدف نقطة تفتيش حكومية مشتركة غربي مدينة الموصل مركز محافظة نينوى ، فجر اليوم الخميس.

الانبار : اصيب 12 شخصا بينهم اربعة من افراد حماية محافظة الانبار الحالي "قاسم الفهداوي" والشرطة الحكومية بجروح خطرة بتفجير سيارة مفخخة استهدف موكبه عند مدخل مبنى مجلس المحافظة ، صباح اليوم الخميس .

كما واندلعت اشتباكات عنيفة بين ثوار العشائر وقوات الشرطة الحكومية استخدمت فيها مختلف انواع الاسلحة في مكانين منفصلين شمالي مدينة الفلوجة كبرى مدن محافظة الانبار ، كما تعرض مقر حكومي في المدينة ذاتها لقصف بعدد من قذائف الهاون .
=======================================
15 killed, 65 wounded in Iraq's violence
BAGHDAD, May 30, 2013 (Xinhua) --
Up to 15 people were killed and 65 wounded in shootings and bomb attacks, including seven car bombings, across Iraq on Thursday, the police said.
In Baghdad, five car bombs and two roadside bombs ripped through the Iraqi capital and killed a total of nine people and wounded some 52.
One of the bombings was carried out by a suicide bomber who drove his explosive-laden car into an Iraqi army patrol in the northern district of Adhamiyah, killing a soldier and wounding six, an Interior Ministry source told Xinhua on condition of anonymity.
Two of the car bombings hit al-Bunoug district in the northeastern part of the capital, killing five people and wounding 20 others.
Two other car bombs struck Karrada district in the southern part of Baghdad, killing three people and wounding 16, while two roadside bombs exploded in Saidiyah and Baladiyat districts in southern and eastern Baghdad respectively, wounding a total of 10 people.
In northern Iraq, a booby-trapped car detonated in the town of Tal Afar, some 430 km northwest of Baghdad, killing four civilians and wounding eight more, a local police source anonymously told Xinhua.
In western Iraq, a car bomb parked near the entrance of the local government compound in Anbar's provincial capital of Ramadi, some 110 km west of Baghdad, detonated in the morning near a convoy of vehicles carrying the provincial governor Qassim al- Fahdawi.
Al-Fahdawi, who was heading to his work in the compound, escaped the blast unharmed, but the huge explosion destroyed one of his vehicles and wounded two of his bodyguards aboard and three bystanders.
In a separate incident, two border policemen were shot dead by gunmen who ambushed their vehicle on the main highway in the desert area between Ramadi and Jordan.
Thursday attacks are part of almost daily waves of massive bomb attacks in Baghdad and some Iraqi cities that killed and wounded hundreds of people.
On Wednesday, bombings and clashes in the country killed at least 26 people and wounded some 80 others.
Violence is still common in Iraqi cities despite a dramatic decrease since its peak in 2006 and 2007, when the country was engulfed in sectarian killings.
This site contains copyrighted material the use of which has not always been specifically authorized by the copyright owner. We are making such material available in our efforts to advance understanding of environmental, political, human rights, economic, democracy, scientific, and social justice issues, etc. We believe this constitutes a 'fair use' of any such copyrighted material as provided for in section 107 of the US Copyright Law. In accordance with Title 17 U.S.C. Section 107, the material on this site is distributed without profit to those who have expressed a prior interest in receiving the included information for research and educational purposes. For more information go to: http://www.law.cornell.edu/uscode/17/107.shtml. If you wish to use copyrighted material from this site for purposes of your own that go beyond 'fair use', you must obtain permission from the copyright owner.