1267 Palestinians killed in Syria since the outbreak of the revolution
[ 02/05/2013 - 08:45 PM ]
DIMASCUS, (PIC)--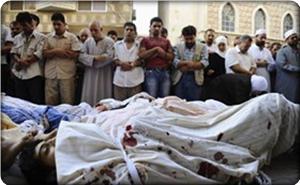 The Working Group for Palestinian Refugees in Syria confirmed that nearly 1267 Palestinian refugees were martyred in Syria while tens of thousands were displaced since the outbreak of the Syrian revolution.
The Working Group called on UNRWA to intervene to stop the continued conflict in Syria that led to a real humanitarian disaster, noting that the Palestinian refugees are subjected to heinous crimes where 235 thousands refugees were displaced in Syria.
The Group expressed, in a statement on Thursday, its concern towards the displacement of about 6000 Palestinian refugees on April 26 from Ein el-Tal refugee camp in Aleppo in northern Syria.
The Group's reporter confirmed the martyrdom of 4 Palestinian refugees in Syria in light of the continued shelling on Palestinian camps.
Al-A'adin Palestinian refugee camp was subjected to shelling where several injuries were reported, while the Syrian regime forces have stormed the camp looking for "wanted" amid intensive fire.
In al-Sabina refugee camp, the shelling targeted al-Khodra market, no one was injured. The reporter pointed out to the food and fuel shortage in the camp.
A state of tension and panic prevailed in Khan al-Sheikh refugee camp after a rocket landed in the camp causing a huge fire. The camp still suffers food shortage and power and communication outages.
Yarmouk refugee camp is still witnessing a difficult living condition due to the continued siege imposed by the regime army, led to food and fuel shortage and lack of medicines.
This site contains copyrighted material the use of which has not always been specifically authorized by the copyright owner. We are making such material available in our efforts to advance understanding of environmental, political, human rights, economic, democracy, scientific, and social justice issues, etc. We believe this constitutes a 'fair use' of any such copyrighted material as provided for in section 107 of the US Copyright Law. In accordance with Title 17 U.S.C. Section 107, the material on this site is distributed without profit to those who have expressed a prior interest in receiving the included information for research and educational purposes. For more information go to: http://www.law.cornell.edu/uscode/17/107.shtml. If you wish to use copyrighted material from this site for purposes of your own that go beyond 'fair use', you must obtain permission from the copyright owner.