Islamophobe Michelle Bachmann Not to Seek Re-election to US Congress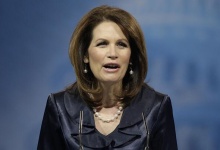 Islamophobe Michelle Bachmann
***
Ardent conservative Bachmann not to seek re-election to Congress
By Fred Barbash
WASHINGTON | Wed May 29, 2013 8:47am EDT
WASHINGTON (Reuters) -
Michele Bachmann, the firebrand conservative 2012 presidential contender, announced Wednesday she will not seek re-election to the U.S. House of Representatives.
Bachmann, a Minnesota Republican, did not rule out another run for the Republican presidential nomination.
She said in a video posted on her campaign website that four two-year terms was enough time for anyone to serve in the House. She gave no other specific reason for not running for a fifth term.
Bachmann faced a House challenge from Democrat Jim Graves who came within one percent of beating her in 2012. But fear of a difficult race in 2014 was not her reason for leaving the House, she said in the video.
Bachmann's campaign for the 2012 nomination, which centered around charges that President Barack Obama was putting the U.S. "on the road to socialism," brought her wide attention. But much of it was negative thanks to regular misstatements of fact.
While she had a conservative following, she placed sixth among the contenders for caucus votes in the conservative state of Iowa in January, 2012 with only 5 percent of the vote and withdrew from contention afterwards.
Bachmann also said in the video that an ethics probe being conducted by the Federal Election Commission into the handling of money for her presidential race was not a factor in her decision.
(Editing by W Simon)
***

Background articles:

Michele Bachmann's McCarthyite Witch Hunt Against Muslims, 'Sharia Law'

By Robert Dreyfuss
TheNation.com | July 23, 2012 |
"I'd call Frank Gaffney an intellectual bomb-thrower—but, he's not an intellectual. Instead, he treats politics and national security the way James Holmes treats movie-theater patrons: don't worry about aiming, just shoot to kill. Fortunately for his victims, Gaffney mostly fires duds, such as the ones he's been shooting lately at Huma Abedin, an aide to Hillary Clinton, whom Gaffney calls an agent of the Muslim Brotherhood...

...Gaffney, of course, is the extreme-right-wing chief of something called the Center for Security Policy. AsRightWeb and SourceWatch report, Gaffney is involved in, connected to, or cited by anti-Muslim crazies who oppose mosque-building, generated volumes of conspiracy theories, and he was even cited by the Norwegian terrorist who killed scores of campers in 2011. How far right? For years I've watched Gaffney's Islamophobic and ultrahawkish antics, including a long-running battle he's had with Grover Norquist, the taxophobic head of Americans for Tax Reform...[Read More]

...In her jihad against Abedin, Bachmann spewed out a stream of letters to half a dozen top US officials, including John Brennan, Obama's top adviser on terrorism; the director of National Intelligence; and many others. To get a flavor of the letters, I urge you to read one or two. Among them: a letter to the deputy inspector general of the State Department...

Fortunately, rather than rely on pro-Obama, obviously Muslim-tainted sources to rebut Bachmann, we can quote a speech from Senator McCain on the Senate floor"
"These allegations about Huma and the report from which they are drawn are nothing less than an unwarranted and unfounded attack on an honorable woman, a dedicated American and a loyal public servant."
http://fl.cair.com/blog/michele_bachmanns_mccarthyite_witch_hunt_against_muslims_sharia_law.html
http://aljazeerah.info/Opinion%20Editorials/2012/August/16%20o/Will%20Someone%20Please%20Educate%20These%20Republican%20Bigots%20About%20Islam%20By%20Paul%20Balles.htm
This site contains copyrighted material the use of which has not always been specifically authorized by the copyright owner. We are making such material available in our efforts to advance understanding of environmental, political, human rights, economic, democracy, scientific, and social justice issues, etc. We believe this constitutes a 'fair use' of any such copyrighted material as provided for in section 107 of the US Copyright Law. In accordance with Title 17 U.S.C. Section 107, the material on this site is distributed without profit to those who have expressed a prior interest in receiving the included information for research and educational purposes. For more information go to: http://www.law.cornell.edu/uscode/17/107.shtml. If you wish to use copyrighted material from this site for purposes of your own that go beyond 'fair use', you must obtain permission from the copyright owner.