Anger at Erdogan Intensifies Amid Violent Turkish Riots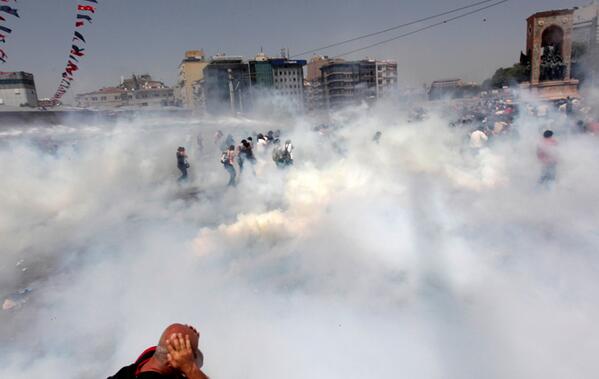 Turkish premier brands protesters extremists
By Birsen Altayli and Ayla Jean Yackley
Mon Jun 3, 2013 1:44pm EDT
ISTANBUL (Reuters) -
Turkish Prime Minister Tayyip Erdogan accused anti-government protesters on Monday of walking "arm-in-arm with terrorism", remarks that could further inflame public anger after three days of some of the most violent riots in decades.
Hundreds of police and protesters have been injured since Friday, when a demonstration to halt construction in a park in an Istanbul square grew into mass protests against a heavy-handed crackdown and what opponents call Erdogan's authoritarianism. Protests have been held in dozens of cities.
The demonstrations showed no sign of abating on Monday with protesters gathering again in Taksim Square. Barricades of rubble hindered traffic alongside the Bosphorus waterway and blocked entry into the area. Leftist groups hung out red and black flags and banners calling on Erdogan to resign and declaring: "Whatever happens, there is no going back."
In Ankara, protesters threw up a barricade in the Kizilay government quarter and lit a fire in the road as a helicopter circled overhead. Police charged demonstrators, mostly teenagers, and scattered them using tear gas and water cannon.
Erdogan has dismissed the protests as the work of secularist enemies never reconciled to the mandate of his AK party, which has roots in Islamist parties banned in the past but which also embraces center-right and nationalist elements. The party has won three straight elections and overseen an economic boom, increasing Turkey's influence in the region.
"This is a protest organized by extremist elements," Erdogan said at a news conference before departing on a trip to North Africa. "We will not give away anything to those who live arm-in-arm with terrorism."
"Many things have happened in this country, they've hanged, they've poisoned, but we will walk towards the future with determination and through holding onto our values," he added, an allusion to Turkey's murky past of military coups.
Turkey's leftist Public Workers Unions Confederation (KESK), which represents 240,000 members, said it would hold a "warning strike" on June 4-5 to protest over the crackdown on what had begun as peaceful protests.
The unrest delivered a blow to Turkish financial markets that have thrived under Erdogan. Shares fell more than 10 percent and the lira dropped to 16-month lows.
Since taking office in 2002, Erdogan has dramatically cut back the power of the army, which ousted four governments in the second half of the 20th century and which hanged and jailed many, including a prime minister. In 1997 Turkey's first Islamist government was eased from office by the military.
Hundreds of officers, including top generals, as well as journalists and intellectuals have been jailed over an alleged coup plot against Erdogan. The wind of change has swept also through the judiciary. Where Erdogan was jailed in the late 1990s for promoting Islamism by reciting a poem, a musician was recently jailed for blasphemy after mocking religion in a tweet.
Erdogan said the protesters had no support in the population as a whole and dismissed any comparison with the 'Arab Spring' that swept nearby Arab states, toppling rulers long ensconced in power with the help of repressive security services.
His own tenure in office, with its economic and political reforms, was itself the "Turkish Spring", he suggested.
"Those in foreign media who talk about a Turkish Spring, we are already going through Turkish Spring, we have been living in it, and those who want to turn it into winter will not succeed."
He gave no indication he was preparing any concessions to protesters who accuse him of fostering a hidden Islamist agenda in a country with a secularist constitution.
Some object to new restrictions on alcohol sales and other steps seen as religiously motivated. Others complain of the costs of Erdogan's support of rebels in neighboring Syria's civil war. Still others bear economic grievances, viewing the disputed development project in Taksim Square as emblematic of wild greed among those who have benefited from Turkey's boom.
Walls around Taksim were plastered with cartoon posters of an image borrowed from a photograph, broadly disseminated on twitter, of a policeman spraying tear gas at a young woman in a red summer dress, her long hair swept upwards by the draught of the spraygun.
"The more they spray, the bigger we get," read the caption.
Western governments have promoted Erdogan's administration as a democratic Islamist model that could be copied elsewhere in the Middle East after the fall of authoritarian leaders. They have expressed concerns about human rights standards discreetly, but last weekend's events prompted the United States and the European Union to openly criticize police action.
Erdogan appeared to reject accusations of heavy handedness.
"We ... are behaving in a very restrained way," he said.
"Be calm, relax," he advised the public. "All this will be overcome."
"FUEL TO THE FIRE"
The protests had appeared to ease off on Saturday night, but were re-ignited by defiant comments by Erdogan on Sunday afternoon describing the protesters as "a few looters" driven on by the opposition Republican People's Party (CHP).
"Rather than try to calm the situation ... some of Mr Erdogan's public statements about the protesters have added fuel to the fire," Robert O'Daly, Turkey Analyst at The Economist Intelligence Unit, said. "Mr Erdogan appears to have underestimated the mood in the country."
There were signs some in the AK party did not back Erdogan's view that the troubles were promoted by the hardline secularist CHP.
"The people on the street across Turkey are not exclusively from the CHP, but from all ideologies and all parties," senior CHP member Mehmet Akif Hamzacebi told Reuters. "What Erdogan has to do is not to blame CHP but draw the necessary lessons from what happened."
With strong support, especially in the conservative religious heartland of Anatolia, Erdogan seems safe for now.
He said plans would go ahead to re-make Taksim Square, long a rallying point for demonstrations, including construction of a new mosque and the rebuilding of a replica Ottoman-era barracks.
Protests have involved a broad spectrum in dozens of cities, from students to professionals, trade unionists, Kurdish activists and hardline secularists who see Erdogan seeking to overthrow the secularist state set up by Mustafa Kemal Ataturk in 1923 in the ruins of the Ottoman Empire.
Erdogan remains the most popular politician, and pointed to his electoral mandate, won since 2002 on the virtual ruin of traditional parties mired in corruption and mismanagement.
"The fact the AK Party has increased its votes at three elections in a row and has successfully won two referendums, shows how the people of this nation have embraced the AK Party," he said.
(Writing by Ralph Boulton; Editing by Nick Tattersall, Peter Graff and Giles Elgood)
Anger at Erdogan intensifies amid violent Turkish riots
By FRANCE 24 (text)
AFP, June 3, 2013
Turkey's Islamist-rooted government faced growing pressure on Monday after angry protesters clashed for a fourth day with police as part of a nationwide wave of demonstrations.
Police fired teargas at some 1,000 protesters in central Kizilay square calling on Prime Minister Recep Tayyip Erdogan to resign.
President Abdullah Gul urged calm and promised demonstrators that their message had been received.
"Democracy does not only mean elections," Gul said, quoted by the Anatolia news agency. "The messages delivered with good intentions have been received."
But Gul also called for protesters to abide by the law, and warned against allowing extremists to hijack the message.
"I am calling on all my citizens to abide by the rules and state their objections and views in a peaceful way, as they have already done," Gul said, adding that "illegal organisations" might infiltrate the protests.
Manipulation of figures for injured?
Interior Minister Muammer Guler said earlier that more than 1,700 people had been arrested in days of nationwide unrest, though most have since been released.
He said 58 civilians and 115 security officers had been injured over several days of protests, although rights groups have put the number of injured higher.
According to FRANCE 24's correspondent in Istanbul, Jasper Mortimer, one "factor the protesters resent is that the government seems to be manipulating the casualty figures, saying twice as many police have been injured than civilians".
"Usually, it's the other way around," said Mortimer.
A doctors' union in Ankara said more than 400 civilians had been injured there, including some with serious head wounds.
Rights groups have denounced the violence that police meted out to demonstrators and Turkey's Western allies have appealed for restraint.
Amnesty International said some protesters had been left blinded by the massive quantities of tear gas and pepper spray used by police.
Human Rights Watch said the number of injured was higher than official figures suggested and that one protester had lost an eye after police shot him with a plastic bullet.
Turkey's NATO allies Britain, France and the United States have all urged the Erdogan government to exercise restraint.
They were joined Sunday by the European Union, whose foreign policy chief Catherine Ashton released a statement condemning the "disproportionate use of force" by police and calling for dialogue.
Turkey's southeastern neighbour Iraq on Sunday warned of the implications for the region.
"Adopting violence will cause it to spread, which will affect the situation in the region," said Prime Minister Nuri al-Maliki in an emailed statement.
"We call for restraint and for avoiding violence."
The unrest began as a local outcry against plans to redevelop Gezi Park, a rare green spot near Taksim, but after a heavy-handed police response the protests spread to other districts – and then to dozens of cities across Turkey.
Accused by critics of pushing an increasingly conservative and authoritarian agenda, Erdogan's government is facing the biggest protests since it took power in 2002.
Erdogan on Sunday renewed his call for an end to the disturbances.
"If you love this country, if you love Istanbul, do not fall for these games," he said in televised comments.
Foreign Minister Ahmet Davutoglu warned in a Twitter message: "The continuation of these protests... will bring no benefits but will harm the reputation of our country which is admired both in the region and the world."
The prime minister had insisted on Saturday that his government would press ahead with the park redevelopment, although he said it may not include a shopping mall, as protesters fear.
He also admitted "some mistakes" in the police response and called off the police from Taksim on Saturday. An unwanted mosque
On Sunday however, he confirmed a plan to build a mosque on Taksim Square – a sensitive issue as he faces growing accusations of trying to impose an Islamic agenda.
"The prime minister deciding [these tens of thousands of mostly secular demonstrators] need a mosques is exactly the mindset they are protesting against," FRANCE 24 correspondent Mortimer noted
Erdogan's populist government is often accused of trying to make predominantly Muslim but staunchly secular Turkey more conservative.
A controversial new law introduced by his ruling Justice and Development Party aims to restrict the sale and advertising of alcohol.
"It's not about the Gezi Park project anymore. It has become a movement against the government which is interfering more and more in our private life," said Hamdi, a protestor in Ankara who would not give his family name.
The government has also been criticised for its crackdown on opponents including Kurds, journalists and the military establishment.
"They call me a dictator," Erdogan said in a speech on Sunday. "If they liken a humble servant to a dictator, then I am at a loss for words."
His AKP party has won three successive parliamentary elections, grabbing almost 50 percent of the vote the last time around in 2011.
But one indication of the growing resistance to his agenda has come at nine o'clock for the last few evenings.
Across Ankara and Istanbul, residents open their apartment windows to rattle saucepans, blow whistles and shout anti-government slogans into the streets below.
(FRANCE 24 with wires)
==================================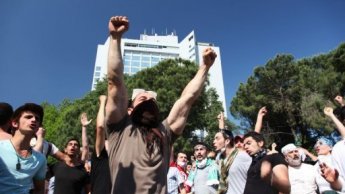 Turkey's Taksim Square: a symbol of political struggle
AFP, France 24, June 3, 2013
As tensions escalate in Turkey, Istanbul's historic Taksim Square has become the focal point for the anti-government protests. Leading Turkish architect Korhan Gümüş explains why the square holds such political importance for demonstrators.
By Hürriyet Daily News (text)
Taksim Square acquired a political identity after the founders of the republic saw and designed it as their prestige project, according to architect Korhan Gümüş. Ever since, the square has become a site of struggle for dominance, with each government trying to leave their mark, says Gümüş.
After the Republic designed Taksim Square as its prestige project, the area became a ground for tension about who was going to dominate the public space, according to architect Korhan Gümüş.
Each government has sought to leave its mark on the square, and the ruling Justice and Development Party is no exception to this rule, said Gümüş, a member of the civil initiative Taksim Platform that is opposed to the government's plans to redesign the square.
The government is displaying the same unilateralism that was seen during the one-party regime in the early days of the Republic, Gümüş told the Daily News.
==============================
Turkey realises strength with 'Occupy Taksim' protest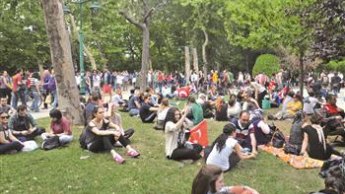 The "Occupy Taksim" protests have become the symbolic centre for protests fuelled by the ruling Justice and Development Party's decision to pursue a more conservative agenda, says Cihan Çelik of the "Hurriyet Daily News".
By Hürriyet Daily News (text)
Waking up to a morning whose freshness was contaminated by air filled with tear gas, Istanbul's iconic Taksim Square has been witnessing popular unrest against a controversial urbanisation project in the city.
But the "Occupy Taksim" protests have metamorphosized into a broader political protest, fuelled by the ruling Justice and Development Party's decision to pursue a more conservative agenda, and Taksim has become the symbolic centre of a battle for Turkey's future.
Click here to read more on Hürriyet Daily News.
=============================
Turkey protests spread online, and in the streets
Thousands of people have taken to social media in Turkey as violent clashes between police and protesters over the construction of a shopping mall in Istanbul's Gezi Park entered a second day on Saturday.
Protests against the construction of a shopping mall in Istanbul's Gezi Park in Taksim Square entered their second day on Saturday after activists were violently dispersed by Turkish police on Friday.
The violent police response triggered mass protests in Istanbul, Ankara and other cities across the country with the demonstrations now channeling widespread frustration and anger with Turkish Prime Minister Erdogan, who is seen as becoming increasingly authoritarian.
Early on Saturday, a group of protesters tried to seize the building of the Turkish ruling party in the province of Izmit as the local police broke up the demonstrators.
The hashtag #OccupyGezi went viral on Twitter as the news spread quickly online.
Some of the powerful images that have surfaced on social media from the raid and the protest include a picture of protesters marching across the Bosphorus bridge and making their way to Gezi Park in Taksim Square.
Demonstrators took to the internet to set up a livestream of the demonstrations, in protest at the Turkish government's media blackouts.
It wasn't long before activists created their very own Tumblr page dedicated to images capturing the two-day standoff with police. The pictures below capture the clashes between protesters and police.
Over 60 people have been arrested and a further 12 injured from Friday's clashes with police, according to the Turkish government.
A page dubbed #OccupyGezi also popped up on Facebook giving citizen journalists and activists another avenue to share their photos from the clashes.
In an interview posted on YouTube, a Turkish activist explains why this protest isn't just about the mere expansion of a shopping mall. Instead, the tensions stem from the government's overall policies--including a new bill that bans late night drinking from 10pm, the building of a third bridge in Istanbul and the deteriorating state of Turkey's free press.
But it's not just multimedia images and video that have sprung up on social networking sites. Demonstrators also spearheaded an online petition, calling on Turkish Prime Minister Erdogan to stop the violent crackdown, gathering almost 5,000 signatures in a mere few hours.
"The Turkish government is discrediting itself by violently cracking down on citizens who are peacefully assembling and expressing their opinions," says the campaign message on Avaaz.org, a community petition site."As concerned citizens from around the world, we urge you to immediately cease using violence against protesters in Taksim Square -- including the use of tear gas and pressurized water," the petition adds.
But in a defiant speech on Saturday, Prime Minister Erdogan insisted that the park project would go ahead.
This site contains copyrighted material the use of which has not always been specifically authorized by the copyright owner. We are making such material available in our efforts to advance understanding of environmental, political, human rights, economic, democracy, scientific, and social justice issues, etc. We believe this constitutes a 'fair use' of any such copyrighted material as provided for in section 107 of the US Copyright Law. In accordance with Title 17 U.S.C. Section 107, the material on this site is distributed without profit to those who have expressed a prior interest in receiving the included information for research and educational purposes. For more information go to: http://www.law.cornell.edu/uscode/17/107.shtml. If you wish to use copyrighted material from this site for purposes of your own that go beyond 'fair use', you must obtain permission from the copyright owner.