Bernanke Bond Announcement Was Poorly Timed, Says Fed Member James Bullar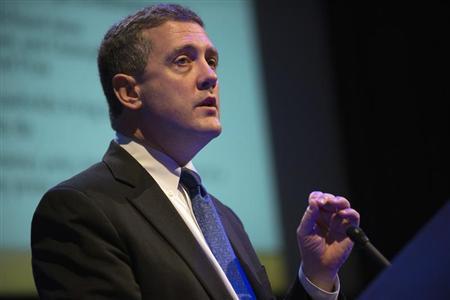 The Federal Reserve Bank of St. Louis' President and CEO James Bullard speaks during the ''Hyman P. Minsky Conference on the State of the U.S. and World Economies,'' in New York, April 17, 2013.
Credit: Reuters/Keith Bedford
Fri Jun 21, 2013 7:43am EDT
WASHINGTON (Reuters) -
St. Louis Federal Reserve Bank President James Bullard worried that the Fed's decision earlier this week to announce a plan to reduce bond buying was poorly timed, the regional Fed bank said in a statement on Friday explaining his dissent.
"President Bullard ... felt that the committee's decision to authorize the chairman to lay out a more elaborate plan for reducing the pace of asset purchases was inappropriately timed," the St. Louis Fed's statement said.
Bullard was one of two dissents cast on Wednesday by members of the U.S. central bank's policy-setting Federal Open Market Committee. The other dissent, by Kansas City Fed President Esther George, was in the opposite direction, as she worried that ongoing bond buying could stoke financial instability.
Global financial markets have sunk sharply since Fed Chairman Ben Bernanke laid out the plan to begin cutting the pace of asset purchases later this year, provided the U.S. economy continues to improve as the central bank expects.
The Fed is currently buying bonds at an $85 billion monthly pace to put downward pressure on longer term borrowing costs. These steps, together with official Fed overnight interest rates that have been held near zero since late 2008, are designed to boost U.S. growth and hiring.
The St. Louis Fed noted that the 19 Fed officials who took part in the policy discussion on Wednesday also released economic projections in which they marked down forecasts for U.S. growth and inflation in 2013, while "simultaneously announcing that less accommodative policy may be in store."
"President Bullard felt that a more prudent approach would be to wait for more tangible signs that the economy was strengthening and that inflation was on a path to return toward target before making such an announcement," St. Louis said.
It also repeated that Bullard thought the Fed should have more strongly signaled a willingness to defend its 2 percent inflation target, in light of recent low inflation readings, which was the explanation for his dissent offered in a statement issued by the Fed on Wednesday.
Furthermore, St. Louis said that Bullard viewed the decision to lay out a rough timeline for scaling back bond buying, which Bernanke explained would likely come to a halt around mid-2014, was a step away from a "state-contingent" monetary policy that was dictated by economic conditions, rather than calendar dates.
(Reporting by Tim Ahman and Alister Bull; Editing by Lisa Von Ahn and Chizu Nomiyama)
Related News
Thu, Jun 20 2013 Wall St. drops after Bernanke hints at slowing stimulus
Wed, Jun 19 2013 Dollar gains versus major currencies after Fed decision
Wed, Jun 19 2013 Stocks firm, dollar rises against yen as markets await Fed
Tue, Jun 18 2013 Dollar gains on yen ahead of Fed; euro gains on data
Tue, Jun 18 2013
Analysis & Opinion
Markets revert to common sense Bernanke should be international man of mystery
This site contains copyrighted material the use of which has not always been specifically authorized by the copyright owner. We are making such material available in our efforts to advance understanding of environmental, political, human rights, economic, democracy, scientific, and social justice issues, etc. We believe this constitutes a 'fair use' of any such copyrighted material as provided for in section 107 of the US Copyright Law. In accordance with Title 17 U.S.C. Section 107, the material on this site is distributed without profit to those who have expressed a prior interest in receiving the included information for research and educational purposes. For more information go to: http://www.law.cornell.edu/uscode/17/107.shtml. If you wish to use copyrighted material from this site for purposes of your own that go beyond 'fair use', you must obtain permission from the copyright owner.