Al-Jazeerah History

Archives

Mission & Name

Conflict Terminology

Editorials

Gaza Holocaust

Gulf War

Isdood

Islam

News

News Photos

Opinion Editorials

US Foreign Policy (Dr. El-Najjar's Articles)

www.aljazeerah.info
Editorial Note: The following news reports are summaries from original sources. They may also include corrections of Arabic names and political terminology. Comments are in parentheses.
Islamophobia in the US:
TN Anti-Muslim Mob Heckles Federal Officials, Bias Motive for MN Mosque Vandalism

CAIR

Seeks Probe of Bias Motive for Minnesota Mosque Vandalism


The Minnesota chapter of the Council on American-Islamic Relations (CAIR-MN) today called on state and national law enforcement authorities to investigate repeated vandalism targeting a mosque in that state as a possible bias-motivated crime.

(Read more)

ACLU

Joins CAIR in Call for Outside Probe of FBI Shooting (Boston Globe)


Todashev's friends and family, both in the United States and in Russia, have called for an independent investigation of the shooting, as has the Council on American-Islamic Relations, one of the nation's most prominent Muslim advocacy groups.


CAIR Applauds Feds for Standing Up to Tenn. Anti-Muslim 'Mob'

(

WASHINGTON, D.C., 6/5/13

) - The Council on American-Islamic Relations (CAIR), the nation's largest Muslim civil rights and advocacy organization, today applauded federal officials who were heckled last night in Tennessee by an anti-Muslim "mob."<![if !vml]>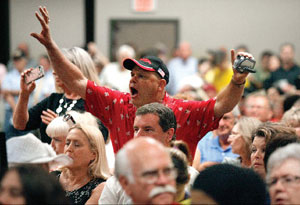 <![endif]>

At an event sponsored by the American Muslim Advisory Council, a large group of protesters heckled and interrupted speeches by Bill Killian, U.S. Attorney of the Eastern District of Tennessee, and by Kenneth Moore, FBI special agent in charge of the Eastern Tennessee District.



SEE:

Muslim Group's TN Forum with Feds Disrupted by Heckling

(Video)

Despite interruptions, Killian's presentation covered the First and 14th amendments and what constitutes a hate crime. One attendee told the Tennessean newspaper she was afraid of other audience members because of their bigoted actions.Anti-Muslim slurs heard before or during the event included "Islam is evil." The U.S. attorney was called a "traitor" and "serpent" for speaking out against hate crimes targeting Muslims. Other hecklers shouted "communist," "socialist" and "Muslim" at the officials and promoted the manufactured claim that "sharia," or Islamic principles, is being imposed in America.



TN: Anti-Muslim Crowd Lashes Out at U.S. Attorney

Video: Anti-Muslim Crowd Heckles Federal Officials in Tenn.



CAIR-St. Louis:

Missouri Governor Vetoes Anti-Shariah Bill

(RNS)

"We applaud the federal officials who, while defending First Amendment freedoms, stood up for the right of American Muslims to be free from bias-motivated attacks and intimidation," said

CAIR National Communications Director Ibrahim Hooper

. "The mob mentality demonstrated at last night's event should be a wake-up call to all Americans who value religious tolerance."Hooper said last night's hate protest was organized by Pamela Geller, regarded by many as the nation's most notorious Islamophobe. She is head of the hate groups Stop Islamization of America (SIOA) and American Freedom Defense Initiative (AFDI).

ADL:

Stop Islamization of America (SIOA)



Southern Poverty Law Center

Profile of Pamela Geller She is also the subject of a CAIR "Islamophobe profile" documenting the individuals and organizations involved in spreading anti-Muslim bias in the United States.Earlier this week, a Texas man who threatened to blow up the Islamic Center of Murfreesboro in Tennessee pleaded guilty to a federal charge

.

Just today, CAIR called for a hate crime probe of repeated vandalism at a Minnesota mosque.CAIR recently urged similar probes of vandalism targeting mosques in Georgia and Texas

.



Video: CAIR Says Ga. Mosque Vandalism May Be Tied to London Incident

Video: CAIR Asks FBI to Probe Georgia Mosque Vandalism

CAIR also began distributing new safety and security guidelines to mosques and other Islamic institutions nationwide. The new CAIR publication, "Best Practices for Mosque and Community Safety," was produced in response to recent bias attacks, including a series of incidents last year targeting American Muslim institutions.Community leaders may request a free copy of CAIR's "Best Practices for Mosque and Community Safety," by going to:

http://www.cair.com/mosque-safety-guide.html





CAIR is America's largest Muslim civil liberties and advocacy organization. Its mission is to enhance the understanding of Islam, encourage dialogue, protect civil liberties, empower American Muslims, and build coalitions that promote justice and mutual understanding.





CONTACT:

CAIR National Communications Director Ibrahim Hooper, 202-744-7726, ihooper@cair.com; CAIR Communications Manager Amina Rubin, 202-488-8787, 202-341-4171, arubin@cair.com
---
Fair Use Notice
This site contains copyrighted material the use of which has not always been specifically authorized by the copyright owner. We are making such material available in our efforts to advance understanding of environmental, political, human rights, economic, democracy, scientific, and social justice issues, etc. We believe this constitutes a 'fair use' of any such copyrighted material as provided for in section 107 of the US Copyright Law. In accordance with Title 17 U.S.C. Section 107, the material on this site is distributed without profit to those who have expressed a prior interest in receiving the included information for research and educational purposes. For more information go to: http://www.law.cornell.edu/uscode/17/107.shtml. If you wish to use copyrighted material from this site for purposes of your own that go beyond 'fair use', you must obtain permission from the copyright owner.