Al-Jazeerah History

Archives

Mission & Name

Conflict Terminology

Editorials

Gaza Holocaust

Gulf War

Isdood

Islam

News

News Photos

Opinion Editorials

US Foreign Policy (Dr. El-Najjar's Articles)

www.aljazeerah.info
Editorial Note: The following news reports are summaries from original sources. They may also include corrections of Arabic names and political terminology. Comments are in parentheses.
Islamophobia in the US:
Michigan Hearing Scheduled in Suit Over Border Questioning of Muslims, CAIR-MN Asks DOE to Investigate Video of Altercation Between Teacher, Student




On Wednesday, May 29, CAIR-Michigan will hold a news conference in Detroit prior to a hearing on a federal lawsuit against U.S. Customs and Border Protection (CBP) and the FBI over the repeated detention and questioning of Muslims about their religious beliefs and practices by federal agents at and inside the United States-Canada border and other ports of entry.




American Muslims are on the frontlines of helping ensure our nation does not take a wrong turn and become an unjust, unequal society.

American Muslim Woman

Faces Stereotypes

Islamophobia Watch:

Female-Only Swims Take Heat


Critics charge the concept, geared to cultures and religions that forbid mixed-gender pool outings, is everything from sexist to an attempt by Muslims to bring in Sharia law via the back door.
CAIR-MN Asks DOE to Investigate Video of Altercation Between Teacher, Student
(MINNEAPOLIS, MN, 5/28/13) --

The Minnesota chapter of the Council on American-Islamic Relations (CAIR-MN) today called on the U.S. Department of Education to investigate a violent altercation in a classroom between a teacher and Somali student.


SEE:
Anoka-Hennepin Investigating Classroom Altercation (MPR)


CAIR-MN:
Champlin Park Teacher Accused of Assaulting Student
<![if !vml]>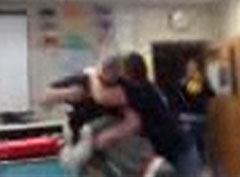 <![endif]>


Concerned Somali community members reported the incident to CAIR-MN after two videos were posted online. In the first video, a student is seen approaching the Somali student and violently attacking him after a verbal altercation. In the second video, a teacher appears to grab the Somali student by the throat, choke him, and twist his limbs. In that video, a student watching the ordeal is heard saying to the teacher, "Thatís enough, Mr. Hall" in an attempt to stop him.Video I and Video II"Due to the egregious nature of this incident, we are asking the U.S. Department of Education to conduct a swift, open and independent investigation," said
CAIR-MN Executive Director Lori Saroya
. "A determination must be made as to whether the teacher followed protocol and if he used excessive force during this violent altercation."Saroya said that Minnesota law states that any "unreasonable interference with a childís breathing" cannot be considered reasonable force.


SEE:
Minn. Stat 626.556 Sub. 2 (g) (5)

Last year, the U.S. Department of Education (DOE) reached a federal agreement with Owatonna and St. Cloud Public Schools after CAIR-MN asked for an investigation into the harassment of Somali Muslim students.


SEE:
CAIR-MN Asks DOE to Address Racial Tensions in Minn. Schools

In 2012, the Anoka-Hennepin School District settled two lawsuits and a U.S. Department of Justice investigation into the bullying of students after six district students committed suicide in less than two years.


SEE:
Anoka-Hennepin School District Settles Lawsuits Over Gay Bullying, Gender Neutral Policy
In February 2013, CAIR-MN called on Minneapolis South High School to utilize mediation and multi-cultural competency training to help remedy race-related issues at the school after a brawl reportedly between Somali and African-American students erupted at the school.




SEE:
Food Fight Erupts Into Melee
(Star Trib)
In January 2013, African-American students reported feeling unsafe at Washburn High School after a hate incident involving a dark-skinned doll that was hung by a string at the school.


SEE:
Activists want disclosure in Mpls. Washburn High doll incident

CAIR is America's largest Muslim civil liberties and advocacy organization. Its mission is to enhance the understanding of Islam, encourage dialogue, protect civil liberties, empower American Muslims, and build coalitions that promote justice and mutual understanding.


CONTACT:


CAIR-MN Executive Director Lori Saroya, 612-327-6700, lsaroya@cair.com; CAIR National Communications Director Ibrahim Hooper, 202-744-7726, ihooper@cair.com
---
Fair Use Notice
This site contains copyrighted material the use of which has not always been specifically authorized by the copyright owner. We are making such material available in our efforts to advance understanding of environmental, political, human rights, economic, democracy, scientific, and social justice issues, etc. We believe this constitutes a 'fair use' of any such copyrighted material as provided for in section 107 of the US Copyright Law. In accordance with Title 17 U.S.C. Section 107, the material on this site is distributed without profit to those who have expressed a prior interest in receiving the included information for research and educational purposes. For more information go to: http://www.law.cornell.edu/uscode/17/107.shtml. If you wish to use copyrighted material from this site for purposes of your own that go beyond 'fair use', you must obtain permission from the copyright owner.