Syrian Regime Army Rockets Damascus Jabor Rebel District, Saudi Arabia and Egypt Call for Peaceful Transition
Syrian army rockets Damascus rebel district
By Peter Graff
Sat Jan 5, 2013, 2:28pm EST
BEIRUT (Reuters) -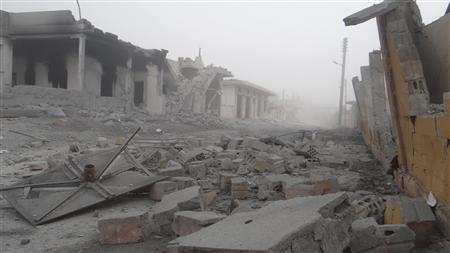 The Syrian army fired rockets at a district of Damascus on Saturday to try to drive out insurgents fighting their way closer to the seat of President Bashar al-Assad's power.
As a conflict that has killed 60,000 people in 21 months shows no sign of abating, Syria's deputy foreign minister visited Iran, seeking to maintain the support of Assad's main ally in the region.
Iran's Fars news agency said Faisal al-Makdad would meet President Mahmoud Ahmadinejad and other Iranian officials.
Syrian state media said Assad would give a speech on Sunday morning about "developments in Syria and the region", his first major public comments on the uprising since he told Russian television in November that foreign intervention would be a disaster for the Middle East, and vowed never to flee into exile.
Since then, rebels have brought the fight closer to the capital. On Saturday government forces fired rockets at Jobar, a Sunni enclave close to the center of Damascus, said Housam, an activist in the city. On Friday they had bombarded Daraya, a suburb in the east that is part of a crescent of rebel-held areas on the outskirts of the city.
"The shelling began in the early hours of the morning, it has intensified since 11 a.m., and now it has become really heavy. Yesterday it was Daraya and today Jobar is the hottest spot in Damascus," Housam said by Skype.
Western countries have so far shown no appetite for military engagement in Syria of the sort that helped oust Libya's Muammar Gaddafi in 2011, but NATO is sending U.S. and European Patriot surface-to-air missile batteries to the Turkish-Syrian border.
The United States military said U.S. troops and equipment had begun arriving in Turkey on Friday for the deployment. Germany and the Netherlands are also sending Patriot batteries, which will take weeks to deploy fully.
60,000 DEAD
Turkey and NATO say the missiles are a safeguard to protect southern Turkey from possible Syrian missile strikes. Syria and its allies Russia and Iran say they could presage eventual military action by the Western alliance.
Syria's war, the longest and deadliest of the conflicts that arose out of popular uprisings in Arab countries over the past two years, has killed at least 60,000 people, according to a United Nations tally released in recent days.
The war pits rebels mainly drawn from the Sunni Muslim majority against Assad, a member of the Shi'ite-derived Alawite minority sect, whose family has ruled Syria since his father seized power in a coup 42 years ago.
Syria's SANA state news agency said a journalist, Suheil al-Ali from the pro-government Addouniya TV, had died of wounds sustained in an attack by terrorists, the term government media use to refer to rebels. Syria was by far the most dangerous country for journalists last year, with 28 killed.
The opposition-linked Syrian Observatory for Human Rights, which monitors the conflict from Britain through a network of activists on the ground, reported fighting and shelling on Saturday in the eastern Euphrates River town of Deir al-Zor and near the central city of Hama, as well as near Damascus.
The rebels have made big advances in the past six months, seizing swathes of rural territory in the north and east. However, their control over areas they hold is limited by Assad's air power.
Assad's forces still control most of the densely populated southwest around the capital, the Mediterranean coast, the main north-south highway, and military bases across the country from which aircraft are able to strike at rebel-held areas.
The rebels appear to have failed so far to seize an air base at Taftanaz in the north after an assault in recent days; the base is still in government hands and Observatory chief Rami Abdelrahman said it had been quiet since Friday.
(Additional reporting by Mariam Karouny in Beirut and Marcus George in Dubai; Editing by Kevin Liffey)
Saudi, Egypt calls for peaceful transition in Syria
Editor: Mu Xuequan
RIYADH, Jan. 5, 2013, (Xinhua)--
Saudi Arabia and Egypt affirmed on Saturday the importance of peaceful transition of power in Syria, Saudi News Agency reported.
After a meeting in the Saudi capital of Riyadh, Saudi Foreign Minister Prince Saud Al Faisal and his Egyptian counterpart Mohammed Kamel Amr called for the peaceful transition of power to spare the Syrian people of tragedies and sufferings.
The foreign ministers said in a press conference that the situation in Syria was the top topic of their talks.
"We also discussed in this framework the results of the on- going efforts and international communications and the need to push them to achieve the aspirations of the Syrian people towards ending bloodshed and maintaining the security and stability and the unity, sovereignty and independence of the Syrian territory," the Saudi foreign minister said.
Amr said the meeting also discussed enhancing bilateral ties between the two countries, especially commercial relations.
This site contains copyrighted material the use of which has not always been specifically authorized by the copyright owner. We are making such material available in our efforts to advance understanding of environmental, political, human rights, economic, democracy, scientific, and social justice issues, etc. We believe this constitutes a 'fair use' of any such copyrighted material as provided for in section 107 of the US Copyright Law. In accordance with Title 17 U.S.C. Section 107, the material on this site is distributed without profit to those who have expressed a prior interest in receiving the included information for research and educational purposes. For more information go to: http://www.law.cornell.edu/uscode/17/107.shtml. If you wish to use copyrighted material from this site for purposes of your own that go beyond 'fair use', you must obtain permission from the copyright owner.