73 Iraqis Killed, Hundreds Injured in Attacks,
December 8-9, 2013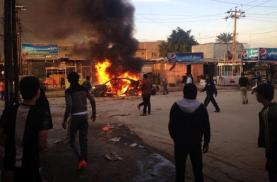 Site of an explosion at Al-Amin district, Baghdad, December 9, 2013
Attacks including car bombs kill 22 in Iraq
By W.G. Dunlop (AFP) – December 9, 2013
Baghdad —
Attacks including a car bomb near a cafe and another at a police station killed 22 people in Iraq on Monday, as the country struggles to curb rampant violence.
Unrest has reached a level this year not seen since 2008, when Iraq was just emerging from a period of brutal sectarian killings, and the surge in violence has raised fears the country is falling back into all-out conflict.
In the deadliest attack on Monday, a car bomb exploded near a cafe in Buhruz, a Sunni-majority town in the religiously and ethnically mixed Diyala province northeast of Baghdad, killing 11 people and wounded 22, police and a doctor said.
Militants have attacked dozens of cafes in Iraq in recent months and have repeatedly targeted other crowded areas, such as markets and mosques, despite the near-ubiquitous presence of security forces.
Another car bomb exploded near a police station in the Tarmiyah area north of Baghdad, killing three police and wounding nine others.
In the Suwaib area of the capital itself, a roadside bomb killed two Sahwa anti-Al-Qaeda fighters and wounded at least two others, and gunmen armed with silenced weapons killed a shop owner in the Bayaa area.
South of Baghdad, another roadside bomb killed at least two people and wounded at least eight near a market in the Besmaya area, while a blast in Madain killed at least one soldier and wounded two.
And in northern Iraq, a roadside bomb killed a taxi driver in the town of Tuz Khurmatu, while gunmen shot dead a policeman in the city of Mosul.
The attacks came a day after a series of bombings across Iraq, including 14 blasts in and around Baghdad, killed 39 people and wounded more than 130.
It took just eight days for this month's death toll to surpass that for the entire month of December last year, according to AFP figures based on security and medical sources.
Officials have blamed the violence on Al-Qaeda-linked militants emboldened by the civil war in neighbouring Syria, but analysts and diplomats also say the government has not done enough to address underlying domestic grievances fuelling the violence.
Members of the country's Sunni minority, who complain of discrimination at the hands of the Shiite-led government, have held demonstrations for almost a year.
Unrest spiked after security forces stormed a Sunni Arab protest camp north of Baghdad in April, sparking clashes that killed dozens of people.
The government has made some concessions aimed at placating Sunni Arabs, including freeing prisoners and raising the salaries of anti-Al-Qaeda fighters. It has also trumpeted security operations against militants.
But the daily attacks have shown no sign of abating, and violence has killed more than 6,300 people since the beginning of the year, according to AFP figures.
51 killed, 191 wounded in violent attacks in Iraq
BAGHDAD, Dec. 8, 2013 (Xinhua) --
A total of 51 people were killed and 191 others wounded in violent attacks across Iraq on Sunday, mostly in the capital Baghdad, police said.
Five people were killed and 18 others injured when a car bomb exploded Sunday evening in the Aalam neighborhood of southwestern Baghdad, a police source told Xinhua.
Three people were killed and 16 others wounded when a car bomb went off in a popular market in the Jamela area in eastern Baghdad, the source said, adding that one civilian was killed and five others were injured when another car bomb exploded in the Talbiya area of eastern Baghdad.
Earlier in the day, a total of 13 bombing attacks predominantly ripped through Shiite districts in Baghdad, killing at least 38 people and wounding some 146 others.
In Iraq's eastern province of Diyala, a civilian was killed and six were wounded in a car bomb explosion near a restaurant in the town of Jadidat al-Shat, some 30 km northwest of the provincial capital city of Baquba, which is about 65 km northeast of Baghdad, a provincial police source said.
Near Baquba, gunmen shot dead Ahmed al-Khafaji, head of the provincial media office for the leading Shiite party of the Islamic Supreme Council of Iraq (ISCI), headed by Shiite cleric Ammar al-Hakim, the source said.
Also in Diyala, two more people were shot dead by gunmen in two incidents near Baquba during the day, the source added.
No group has so far claimed responsibility for the deadly attacks, but the al-Qaida front in Iraq, in most cases, were responsible for suicide bombings in the country.
Sunday's attacks came amid escalation of sectarian tension between the Sunni and Shiite communities, which has been at its highest level since the U.S. troops pulled out from the country at the end of 2011.
Iraq is witnessing its worst eruption of violence in recent years. According to the UN Assistance Mission for Iraq, 8,109 Iraqis were killed in the country from January to November 2013.
Editor: Liu Dan
Car bomb attacks across Iraq kill at least 39
By Kareem Raheem
Sun, Dec 8, 2013
BAGHDAD (Reuters) -
Car bombs killed at least 39 people across Iraq on Sunday and wounded more than 120, mainly targeting busy commercial streets in and around the capital, police sources said.
The deadliest attack took place in the predominantly Shi'ite Muslim district of Bayaa in Baghdad, when a bomb in a parked vehicle exploded near car workshops, killing seven and wounding 14, the sources said.
An attack on another car workshop in the Sunni district of Taji, 20 km (12 miles) north of Baghdad, killed three and wounded 10 after nightfall.
Violence in Iraq is at the highest level in at least five years and the capital has been targeted almost daily. More than 8,000 have been killed this year, the United Nations says.
Sunni insurgents, mostly with links to al Qaeda, have claimed several large bombings. The last large set of blasts was on November 21, north of the capital. Since then, there has been a steady flow of smaller attacks, mainly targeting Shi'ite communities but also some Sunnis.
No group immediately claimed responsibility for Sunday's bombings but al Qaeda has increased its grip on parts of the country since the escalation of the crisis in neighbouring Syria and the withdrawal of U.S. troops from Iraq in 2011.
At least 123 people were wounded in Sunday's attacks. In one, a car bomb exploded in a busy square in central Baghdad, killing at least five people and wounding 15, police said.
In Radhwaniya, a predominantly Sunni area in the capital, a roadside bomb killed two people and wounded eight, police said.
There were other attacks in Baghdad's mainly Shi'ite districts of Amel, Ghadir, Sadr City, Ameen and Hussainiya.
In Baquba, 65 km northeast of Baghdad, a bomb in a parked car blew up inside a market killing two people and wounding seven, police said.
(Reporting by Kareem Raheem; Writing by Sylvia Westall; Editing by Mark Trevelyan)
This site contains copyrighted material the use of which has not always been specifically authorized by the copyright owner. We are making such material available in our efforts to advance understanding of environmental, political, human rights, economic, democracy, scientific, and social justice issues, etc. We believe this constitutes a 'fair use' of any such copyrighted material as provided for in section 107 of the US Copyright Law. In accordance with Title 17 U.S.C. Section 107, the material on this site is distributed without profit to those who have expressed a prior interest in receiving the included information for research and educational purposes. For more information go to: http://www.law.cornell.edu/uscode/17/107.shtml. If you wish to use copyrighted material from this site for purposes of your own that go beyond 'fair use', you must obtain permission from the copyright owner.