Thai Protest Leader Explains Demand for "People's Council"


December 4, 2013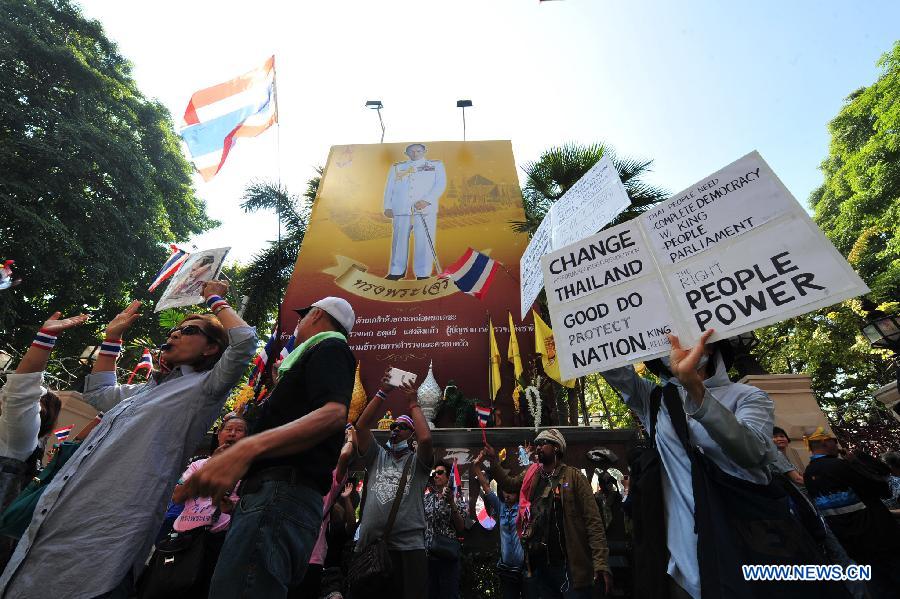 Thai anti-government protesters, December 4, 2013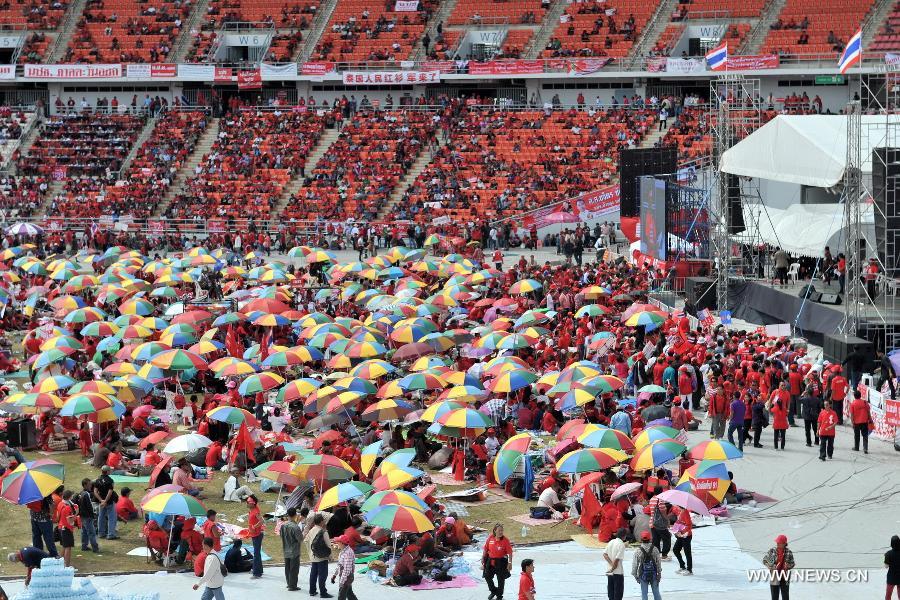 Pro-government supporters, Nov 30, 2013


Thai protest leader explains demand for "people's council"

BANGKOK, Dec. 4, 2013 (Xinhua) --

Thailand's anti-government protest leader has explained for the first time what he meant by establishing a "people's council" to replace the incumbent government, the Bangkok Post reported Wednesday.

Addressing protestors on Tuesday night, Suthep Thaugsuban said he would like to invoke Section 7 of the Constitution and have a prime minister appointed by the king.

The sovereign power, which the constitution vests in Thai people, will return to people once the so-called "Thaksin regime" is uprooted, Suthep was quoted as saying.

People from all walks of life will choose representatives from all professions to form a "people's council", he said.

Acting as a legislative body, the council will amend laws and regulations, as well as carry out a reform plan in the country, he added.

"Decent people" with no political party affiliations will be selected by the council to be an interim prime minister and form an interim government, according to Suthep.

The interim government will implement the council's reform plan, including restructuring the police force to subject it to people's supervision, and decentralizing power to provincial governors, Suthep said.

The council's mission will be ended once the reform is successfully completed and a general election held, he added.

Prime Minister Yingluck Shinawatra has rejected the demand for a "people's council," saying she did not know how to make that happen under the Constitution.

Protest leader meets Yingluck, delivers two-day ultimatum

BEIJING, Dec. 2 (Xinhuanet) --

The leader of Thailandís anti-government protests, Suthep Thaugsuban, says he has had face-to-face talks with Prime Minister Yingluck Shinawatra. He says he issued a two-day ultimatum that her administration step down in favor of an appointed council.

In a speech to supporters at one of the protest encampments, Suthep said the meeting was held under the protection of the military, which says it is neutral in the conflict. He did not immediately specify what action would follow if his demands were not met. There has been no announcement from the government about the claimed talks.

The prime minister did not appear in public Sunday, but her aides said she is in a safe place. The protesters had dubbed Sunday "victory day" but they failed to attain their main stated goal of taking over the prime ministerís offices, despite engaging in pitched street battles with police.

(Source: CNTV.cn)

Thai police use tear gas against protesters

BANGKOK, Dec. 1 (Xinhua) --

Thai police on Sunday hurled tear gas canisters at anti-government protesters at Chamai Maruchet Bridge as they were trying to reach the nearby Government House.

Tear gas was also fired at protesters trying to march through the barriers to get to the Metropolitan Police Bureau. At least two protesters were injured, the Bangkok Posted reported.

About 600 troops were reportedly deployed to keep security inside the Government House compound.

On Sunday, which Suthep Thaugsuban, former Democrat MP and protest leader, claimed to be the day of victory, protesters have marched in multiple processions to destinations such as Interior Ministry, Labor Ministry and a couple of TV stations.

A group of protesters have taken control of the Thai PBS television station.

Meanwhile, the rally of pro-government Red Shirts in the Rajamangala Sports Stadium has been called off and nearly all Red Shirts members have left.

Violence erupted Saturday night between supporters and opponents of the government, leaving at least two dead and dozens injured.