18 Syrians Killed in Aleppo Rocket Attack,
20 Killed in Helicopter Barrel Bomb Attack on Al-Bab,
UN Falls Short of Feeding Syria's Hungry as Winter Bites

December 4, 2013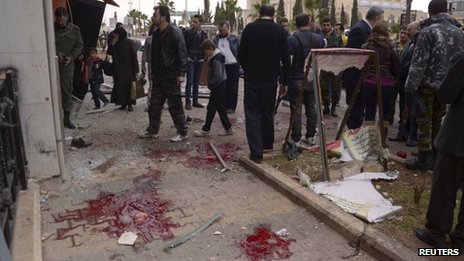 Aleppo rocket attack 'kills at least 18'
BBC, December 4, 2013
A rocket attack on regime-held areas of the Syrian city of Aleppo has killed at least 18 people, activists have said.
Aleppo is split between government and opposition-held districts and has seen some of worst fighting of the conflict.
Meanwhile, the Syrian government has said President Bashar al-Assad should lead any transitional government agreed at peace talks due in January.
Such a government is envisaged as a result of the talks, but the opposition has rejected any role for Mr Assad.
The Syrian Observatory for Human Rights (SOHR), a UK-based activist group with links to the opposition, said 18 people had been killed in the Aleppo attack, including 10 government soldiers.
The attack on the Furqan and Meridian neighbourhoods also wounded at least 30 people, the SOHR said.
The organisation said at least five government soldiers were among the dead.
More than two million Syrians have fled the country, according to the UN.
Since the start of unrest in March 2011, more than 100,000 people are estimated to have been killed in the conflict.
In the early months of the uprising Aleppo, Syria's commercial capital, was largely spared the violence.
But the northern city became an battleground in summer 2012, and has since suffered extensive bloodshed.
Two weeks ago activists reported that at least 40 people had died in government air strikes in the city.
Prayers for nuns
Meanwhile, Syrian Information Minister Omran al-Zoubi said any transitional government agreed at the talks would be led by Mr Assad.
"He is the leader of the transitional phase, if reached, as he is the leader of Syria and the resistance in the region," he told Syrian television.
He went on to describe the Arab Spring as a "US project" that had failed.
Peace talks are scheduled to take place in Geneva on 22 January. Syria's main opposition coalition has said it will attend but has said it will not accept any outcome that leaves Mr Assad in power.
Earlier this week the UN's human rights chief said an inquiry has produced evidence that responsibility for war crimes in Syria extends to the "highest level", including President Bashar al-Assad.
Also on Wednesday, Pope Francis led prayers for 12 nuns from the St Tekla convent in the historic town of Maaloula.
"Two days ago they were taken away by force by armed men. We pray for these nuns,... and for all people who have been detained because of the conflict," he said.
Reports indicate that the nuns came under the custody of rebel fighters when they seized the town on Monday, although what exactly has happened to them or whether they have been removed from Maaloula is unclear.
At least 20 killed by helicopter barrel bomb attack in Syria
Telegraph, December 3, 2013
Syrian army helicopters are reported to have bombarded the northern rebel-held town of Al-Bab for a second day.
Footage posted online shows the aftermath of attacks with civilians trying to flee fires while others carry the wounded to waiting ambulances.
Twenty people including four women were killed when the improvised barrel bombs were dropped on the market district of the town. The Syrian Observatory for Human Rights said the death toll could rise as many people were seriously wounded in the attack.
It comes just a day after 26 people were killed in a similar assault on the same town by president's forces.
Barrel bombs are oil drums filled with explosives. They are usually rolled out of the back of helicopters and as such are rarely delivered with any accuracy. The bombardment comes at a time of heavy fighting in the country, particularly around Aleppo. More than 100,000 people have been killed in the two-and-a-half year conflict.
U.N. falls short of feeding Syria's hungry as winter bites
GENEVA Tue Dec 3, 2013, 7:54am EST
U.N. falls short of feeding Syria's hungry as winter bites | Reuters
(Reuters) -
The United Nations said on Tuesday it had delivered food to 3.4 million people in Syria in November, falling short again of its monthly target of 4 million as heavy fighting kept it from reaching hungry people in contested areas.
As winter bites, the number of children in Syria deemed vulnerable and in need of assistance has nearly quadrupled from a year ago to 4.3 million, the U.N. Children's Fund (UNICEF) said.
"The scale of the humanitarian response needed for the looming winter is unprecedented," it said in a statement.
U.N. aid chief Valerie Amos was to brief the Security Council on the humanitarian situation in Syria later on Tuesday amid deep concerns about lack of access to besieged civilians.
A U.N. document obtained by Reuters last week said around 250,000 people were beyond the reach of its aid convoys, in areas besieged by Syrian government forces or rebels.
The World Food Programme (WFP) said it had reached eight communities in November that had been cut off for months, mainly in rural Homs and Deraa, but that it was gravely concerned about many others.
It said some areas in Damascus and in the northeasterly Hassakeh province, scene of heavy fighting, had seen no food deliveries for six months. Residents report severe food shortages in parts of the Damascus countryside and Homs, and say people are dying from lack of medical care.
$40 MILLION EACH WEEK
"Our objective remains to reach 4 million people in December," WFP spokeswoman Elisabeth Byrs told a news briefing in Geneva.
"Financial needs are increasing. We used to talk about WFP needing $30 million every week, now we need $40 million each week to cover operations inside Syria but also aid to Syrian refugees," she said.
Human Rights Watch, based in New York, urged the Security Council to adopt a resolution threatening sanctions against parties that denied aid workers access to deliver supplies, a step up from a non-binding presidential statement urging cooperation issued on October 2.
"A second winter in the midst of conflict is bearing down on Syrian children," UNICEF spokeswoman Marixie Mercado told reporters in Geneva.
"With the freezing cold and driving rain come particular risks to the very young, the displaced inside Syria and children living in informal settlements across the region."
In addition to the 4.3 million children who need help inside Syria, another 1.2 million living as refugees in neighboring countries also require aid, she said.
"That is nearly 5.5 million children in need of assistance out of a pre-conflict population of about 9 million children."
(Reporting by Stephanie Nebehay; editing by Ralph Boulton)