American Studies Association Boycotts Israel Academically
[ 17/12/2013 - 03:58 PM ]
WASHINGTON, (PIC)--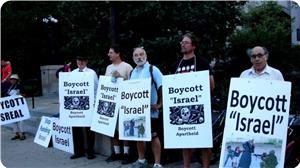 Members of the American studies association (ASA) have voted in favor of endorsing the academic boycott of Israel in response to its racist policies against the Palestinian academics and students and their institutions.
The boycott step made the ASA the second major US scholarly association, after the association for Asian American studies, to do so.
Of the 1,252 votes cast, 66.1 percent of members endorsed the boycott, 30.5 percent rejected it and 3.4 percent abstained.
Members of the ASA who voted in favor of the boycott say they are seeking to increase the academic freedom of Palestinians.
The boycott resolution approved by a plurality of ASA members cites as a rationale the lack of "effective or substantive academic freedom for Palestinian students and scholars under conditions of Israeli occupation", and calls on the association to boycott Israeli higher education institutions, which are described as being "a party to Israeli state policies that violate human rights and negatively impact the working conditions of Palestinian scholars and students."
"I think what the vote indicates is that people recognize the illegal occupation of Palestine as one of the major civil rights issues of our time globally," said Bill Mullen, a professor of English and American studies at Purdue university and a member of the ASAís caucus on academic and community activism.
"American scholars now understand the physical violence that is part of the Israeli occupation; they understand the massive restrictions on academic freedom for Palestinian scholars that is part of living under an illegal occupation. These facts are now irrefutable to so many people that the vote indicates a kind of coming to consensus around the illegitimacy of Israelís occupation of Palestine," Mullen added.
Khudari praises US and Dutch institutionsí decision to boycott Israel
[ 18/12/2013 - 12:19 PM ]
GAZA, (PIC)--
MP Jamal Khudari, head of the Popular Committee Against the Siege, praised the decision of American Studies Association (ASA) to boycott Israel academically due to its violations of international laws and UN resolutions.
Khudari stressed on Tuesday the need to activate international boycott of Israel for its settlement construction, unfair siege on Gaza, Apartheid Wall, Judaization policy, and continued aggression on Palestinian people and properties.
He expressed his appreciation and respect to the ASA and the Dutch trade union Abvakabo's decision to boycott Israel.
Khudari called for activating international boycott of Israel and isolating it at all international forums in response to its crimes against humanity.
American studies association (ASA), which has 5,000 members, is one of the main American academic associations, while Abvakabo is a Dutch a trade union with 350,000 members.
This site contains copyrighted material the use of which has not always been specifically authorized by the copyright owner. We are making such material available in our efforts to advance understanding of environmental, political, human rights, economic, democracy, scientific, and social justice issues, etc. We believe this constitutes a 'fair use' of any such copyrighted material as provided for in section 107 of the US Copyright Law. In accordance with Title 17 U.S.C. Section 107, the material on this site is distributed without profit to those who have expressed a prior interest in receiving the included information for research and educational purposes. For more information go to: http://www.law.cornell.edu/uscode/17/107.shtml. If you wish to use copyrighted material from this site for purposes of your own that go beyond 'fair use', you must obtain permission from the copyright owner.