Tens of Thousands of Workers Join Strike in South Africa
August 27, 2013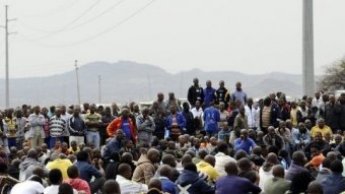 France 24, AFP, August 27, 2013
By News Wires (text)
Tens of thousands of South African construction workers and airport staff went on strike Monday amid fears of fresh violence. Some 90,000 construction workers in the mining industry launched an indefinite strike to demand a 13% pay rise.
South African construction and airport workers went on strike for higher wages on Monday, extending a series of industrial action threatening to slow growth in Africa's largest economy.
The labour unrest poses a risk for President Jacob Zuma's African National Congress as it heads into elections next year facing increasing criticism that it has not done enough to help the millions of unemployed and working poor almost 20 years after the end of white-minority apartheid rule.
The rand last week tumbled to a four-year low after gold miners last week threatened to strike and 30,000 workers in the car manufacturing sector, responsible for 6 percent of gross domestic product, walked off the job.
The National Union of Mineworkers (NUM) said about 90,000 of its members in the construction sector planned to down tools on Monday. More than 50 percent of employers were affected by the labour action, industry group SAFCEC said in a statement.
Employment in the construction industry was at just over 1 million people at the end of June, according to government data.
The strike has grazed construction shares, with an index of top companies in the sector down about 0.7 percent since news broke last week of the walk-out, compared with a 1.2 percent rise in the broad All-Share index.
Firms affected by the strikes include Wilson Bayly Holmes Ovcon, Aveng Ltd and Group Five Ltd.
Police reported clashes at a building project in Johannesburg's financial district of Sandton, where NUM members in the union's red T-shirts arrived at the site and forced workers to down tools.
"I am going to support the strike because I need more money," said Luvo Joti who stopped work after NUM arrived.
The government called for speedy and peaceful resolutions to the various labour disputes.
More than 60 people have been killed in mining sector labour strife since last year, including 34 striking workers shot dead by police a year ago at Lonmin's Marikana platinum mine.
Threat to economy
The NUM is demanding up to a 40 percent increase in pay and benefits for some workers while employers are offering a 7.5 percent rise, according to the industry group called the South African Federation of Civil Engineering Contractors (SAFCEC).
South Africa's central bank has said that inflation is projected to run at 5.9 percent in 2013 and wage settlements well above inflation could further threaten the fragile economy.
Some members of the SATAWU transport union also went on strike on Monday, staging a small picket at Johannesburg's main international airport in pursuit of a 12 percent wage increase.
The firm that runs all the country's major airports, Airports Company South Africa, said the strike had not affected any flights and it had contingency plans in place to ensure smooth operations.
Autoworkers with the NUMSA union met on Monday to consider a revised offer from employers of a 10 percent raise. NUMSA wants 14 percent and expects to reach a decision on Wednesday on whether to accept the new offer.
The car strike that started a week ago is costing the economy an estimated $60 million a day and hitting global producers including Toyota, Ford and BMW.
In the gold sector, NUM gave gold mining companies seven days on Saturday to meet its demand for pay increases of up to 60 percent or face strikes.
Major firms vulnerable to walkouts included AngloGold Ashanti, Gold Fields and Harmony.
NUM, the main mining union, walked out of deadlocked wage talks with the companies last Wednesday, setting the scene for a gold industry shutdown that could cost over $35 million a day in lost output, based on current spot prices of the metal.
This site contains copyrighted material the use of which has not always been specifically authorized by the copyright owner. We are making such material available in our efforts to advance understanding of environmental, political, human rights, economic, democracy, scientific, and social justice issues, etc. We believe this constitutes a 'fair use' of any such copyrighted material as provided for in section 107 of the US Copyright Law. In accordance with Title 17 U.S.C. Section 107, the material on this site is distributed without profit to those who have expressed a prior interest in receiving the included information for research and educational purposes. For more information go to: http://www.law.cornell.edu/uscode/17/107.shtml. If you wish to use copyrighted material from this site for purposes of your own that go beyond 'fair use', you must obtain permission from the copyright owner.