Argentina Rejects US Court Order to Pay 'Vulture' Hedge Funds


August 26, 2013


Argentina rejects court order to pay 'vulture fund'
France 24, AFP, August 26, 2013
By Joseph BAMAT (text)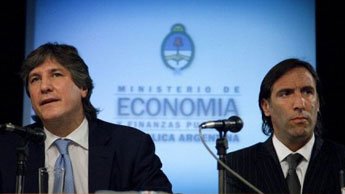 Economy Minister Hernan Lorenzino (pictured right) said on Sunday that Argentina did not accept a New York court's order to pay $1.47 billion to two hedge funds holding defaulted bonds, saying the case could go to the US Supreme Court.
Argentina has said it will continue to pay back debt on its own terms, after a US appeals court ordered the South American country to hand $1.47 billion (1.1 billion euros) to two hedge funds holding its defaulted bonds.
"We will continue to pay (the debt) as we have been until now, under the same terms," Economy Minister Hernan Lorenzino told state news agency Telam on Sunday.
Buenos Aires' defiant stance is just the latest chapter in an ongoing dispute over the repayment of government bonds it was forced to default on in 2001.
Facing bankruptcy at the time, the country struck a deal with almost all of its creditors to restructure its debt at a discount of nearly 70 percent in two phases, in 2005 and 2010.
However, two funds, NML Capital and Aurelius, refused to take part in the arrangement.
Argentina has claimed that the court's decision would spur the other 93% of creditors who previously agreed to a deal to also demand full repayment, thus forcing the country back to the 2001 bankruptcy scenario.
The New York court endorsed an original 2012 judgement in favour of the hedge funds, but Lorenzino repeated on Monday that Argentina would continue fighting in the courts.
"Everyone agrees that the default was over. Ninety-thee percent is a large enough majority to consider that the debt restructuring plan was completed," he told the left-leaning Pagina/12 newspaper. " However, because of an improbable legal interpretation... the question is now open again. The past returns."
From seized ship to Supreme Court
The row between Argentina and its creditors has already made international headlines.
In October 2012, a ship belonging to the Argentinian Navy was detained in a port in Ghana, after NML Capital convinced a judge to hold the vessel as collateral in the unsettled dispute.
The Libertad ship eventually sailed home, with the episode further souring relations between embarrassed Argentinians and their unhappy creditors.
President Cristina Fernandez often refers to NML as a speculative "vulture fund", which bought most of the debt at a discount after the Argentinian default, a controversial practice in as much as it profited from the country's painful economic crisis.
She has been forced to charter a foreign-owned jet to avoid having her own plane seized in a repeat of the navy ship incident.
Lorenzino told Pagina/12 that President Fernandez was reviewing "all the options on the table," but that Argentina had requested that the US Supreme Court review and make a ruling in the case.
He said that the Supreme Court would make a decision on whether to take on the case in early 2014, and if the request was accepted, the open dispute could "go on for much longer".
This site contains copyrighted material the use of which has not always been specifically authorized by the copyright owner. We are making such material available in our efforts to advance understanding of environmental, political, human rights, economic, democracy, scientific, and social justice issues, etc. We believe this constitutes a 'fair use' of any such copyrighted material as provided for in section 107 of the US Copyright Law. In accordance with Title 17 U.S.C. Section 107, the material on this site is distributed without profit to those who have expressed a prior interest in receiving the included information for research and educational purposes. For more information go to: http://www.law.cornell.edu/uscode/17/107.shtml. If you wish to use copyrighted material from this site for purposes of your own that go beyond 'fair use', you must obtain permission from the copyright owner.