Israeli Settlers, Intelligence Storm Al-Aqsa Mosque, Officers Torture Detained Palestinian Children
Settlers and intelligence elements storm the Al-Aqsa Mosque
[ 23/08/2013 - 01:49 PM ]
OCCUPIED JERUSALEM, NAZARETH, (PIC)--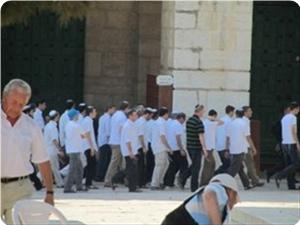 Nearly 40 extremist settlers and Israeli intelligence elements on Thursday morning stormed the Al-Aqsa Mosque from the Mughrabi Gate under heavy police protection.
Media Coordinator for Al-Aqsa Foundation for Waqf and Heritage Mahmoud Abu Atta said in a press statement that extremist settler groups, led by Yehuda Glick, stormed since the morning hours the Al-Aqsa Mosque in form of groups.
He added that Glick provided to the settlers explanations about the building of the alleged Temple, and they toured in different parts of the Mosque.
Abu Atta noted that this intrusion followed a call by Israeli Gen. Uzi Dayan for Jewish students to intensify the raids into the Al-Aqsa Mosque.
Meanwhile, Haaretz newspaper said on its website that the Israeli government and the Jerusalem municipality decided to transfer 16 million shekels ($4.5 million) to Elad association, in order to establish biblical gardens in the Silwan neighborhood south of the Al-Aqsa Mosque in occupied Jerusalem.
According to the paper; the project includes new excavations in the region, the establishment of a "historical trail", developing a new street, and a tunnel.
It added that the cost of the project reaches twenty million shekels, noting that half of the amount will be transferred from the Office of the Prime Minister, while the rest from the Ministry of Tourism and the municipality.
Israeli officers torture detained Palestinian children
[ 23/08/2013 - 10:31 AM ]
NAZARETH, (PIC)--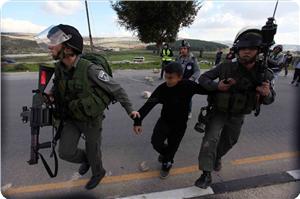 B'Tselem organization published on Thursday a report that includes testimonies from children detained in Israeli jails, on charges of throwing stones at soldiers, saying they were subjected to torture during their interrogation.
B'Tselem said that since November 2009, it has received testimonies from dozens of Palestinian residents of the Bethlehem and al-Khalil, most of them minors, saying that they were subjected to threats and violence, sometimes amounting to torture, during their interrogation at the police station at Gush Etzion.
The testimonies describe interrogations in which the minors were forced to confess to alleged offenses, mostly stone-throwing.
The report included the testimony of a minor, aged 14 from Husan in Bethlehem. He said "The interrogator made me go into a room. He grabbed my head and started banging it against the wall. Then he punched me, slapped me and kicked my legs. The pain was immense, and I felt like I couldn't stand any longer."
"Then he started swearing at me. He said filthy things about me and about my mother. He threatened to rape me, or perform sexual acts on me, if I didn't confess to throwing stones," the child added.
He said: "His threats really scared me, because he was very cruel and it was just the two of us in the room. I remembered what I'd seen on the news, when British and American soldiers raped and took photos of naked Iraqis."
B'Tselem reported that until July 2013 its field researchers collected 64 testimonies from residents of eight communities in the southern West Bank who reported such incidents. "Fifty-six of them were minors at the time of their interrogation."
Health conditions of captives Jerboni and Hassanat deteriorate
[ 23/08/2013 - 01:40 PM ]
NABLUS, (PIC)--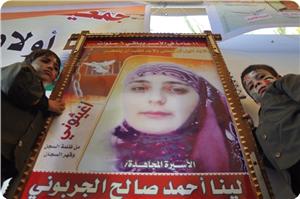 Tadhamun Foundation for Human Rights reported that 2 Palestinian female captives in the Israeli Hasharon prison suffer difficult health conditions as a result of medical negligence by the prison administration.
Researcher at the Foundation Ahmed Betawi said that captive Lena Ahmed Jerboni, aged 40, suffers from swelling and severe pain in the stomach, after cholecystectomy she underwent two months ago.
He noted that an Arab doctor visited Jerboni in Hasharon and confirmed that the cause of swelling is the presence of bacteria in the stomach caused by the surgery and gave her medication for 10 days.
He explained that Jerboni's surgery came late.
For his part; the lawyer at Tadhamun foundation Mohammed Abed confirmed that Jerboni is not able to go out for visits due to her inability to walk because of the pain in her feet.
Abid added that the captive Anaam Hassanat, 30, suffers from migraine and severe pain, pointing out that she also could not go out for visits because of her inability to move.
Captive Jerboni, from the town of Araba al-Buttof in Akka, was arrested on April 18 2002 and was sentenced to 17 years, while captive Anaam Hassanat, from Dheisheh refugee camp in Bethlehem, was arrested a year ago and sentenced to two years imprisonment.
There are 13 Palestinian female prisoners held in the Israeli occupation jails.
This site contains copyrighted material the use of which has not always been specifically authorized by the copyright owner. We are making such material available in our efforts to advance understanding of environmental, political, human rights, economic, democracy, scientific, and social justice issues, etc. We believe this constitutes a 'fair use' of any such copyrighted material as provided for in section 107 of the US Copyright Law. In accordance with Title 17 U.S.C. Section 107, the material on this site is distributed without profit to those who have expressed a prior interest in receiving the included information for research and educational purposes. For more information go to: http://www.law.cornell.edu/uscode/17/107.shtml. If you wish to use copyrighted material from this site for purposes of your own that go beyond 'fair use', you must obtain permission from the copyright owner.