3 NATO (ISAF) Soldiers Killed in Afghanistan Attacks


August 23, 2013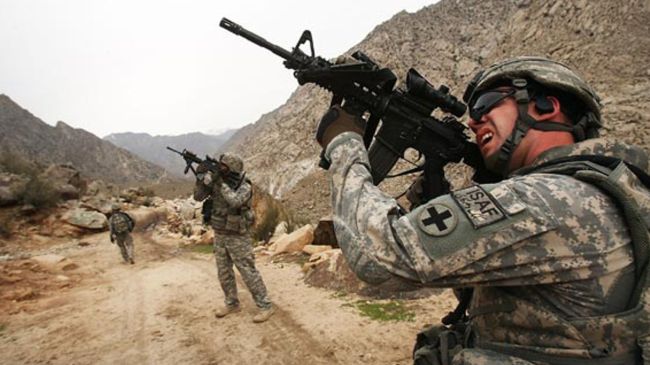 Two foreign soldiers killed in Afghan explosion
KABUL, Aug. 23, 2013 (Xinhua) --
Two foreign soldiers killed in an explosion in Afghanistan on Friday.
"Two International Security Assistance Force (ISAF) service members died following an improvised explosive device attack in eastern Afghanistan today," the NATO-led ISAF confirmed in a statement.
It did not disclose the nationalities of the victims under ISAF, but majority ISAF troops in eastern central Asian state are Americans.
More than 110 foreign soldiers have been killed in Afghanistan this year.
Editor: yan
One More ISAF Soldier Killed in Afghanistan
Press TV, Sat Aug 24, 2013 4:14AM GMT
Another soldier enlisted with the NATO-led International Security Assistance Force (ISAF) has died in Afghanistan, raising the number of foreign soldiers killed in the Asian country in the last 24 hours to three, Press TV reports.

According to the US-led military alliance, the soldier was killed in an improvised explosive device (IED) attack in the country's east.

Meanwhile, the ISAF did not elaborate on the exact location of the incident or the nationality of the dead soldier.

Explosion killed another two US-led foreign soldiers also in eastern Afghanistan earlier on Friday.

According to the latest figures released by the website icasualties.org, 3,364 foreign soldiers have been killed in Afghanistan since the US-led war began more than a decade ago.

A total of 402 US-led soldiers lost their lives in Afghanistan in 2012. However, 2010 remains the deadliest year for US-led military casualties, with a death toll of 711.

The increasing number of military casualties in Afghanistan has caused widespread anger in the US and other NATO member states, undermining public support for the Afghan war.

The US and its allies invaded Afghanistan in 2001 as part of Washington's so-called war on terror. The offensive removed the Taliban from power, but the country is still gripped by insecurity.

FKO/MR/HN
This site contains copyrighted material the use of which has not always been specifically authorized by the copyright owner. We are making such material available in our efforts to advance understanding of environmental, political, human rights, economic, democracy, scientific, and social justice issues, etc. We believe this constitutes a 'fair use' of any such copyrighted material as provided for in section 107 of the US Copyright Law. In accordance with Title 17 U.S.C. Section 107, the material on this site is distributed without profit to those who have expressed a prior interest in receiving the included information for research and educational purposes. For more information go to: http://www.law.cornell.edu/uscode/17/107.shtml. If you wish to use copyrighted material from this site for purposes of your own that go beyond 'fair use', you must obtain permission from the copyright owner.