Egyptian One-Sided Media Coverage Incites Against Protesters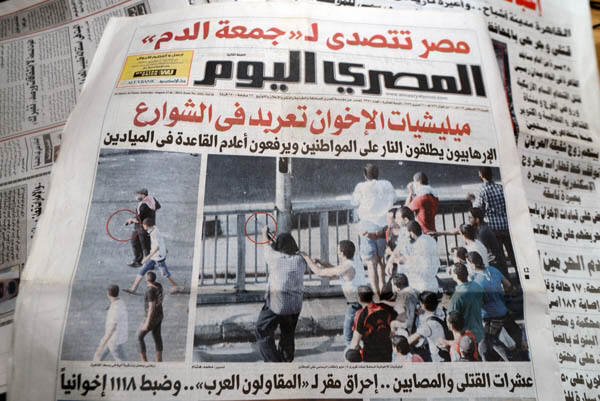 The front page of daily Al-Masry al-Youm shows pictures of armed men presented as supporters of ousted president Mohammed Morsi. The headline reads: "The Muslim Brotherhood's militia cause chaos in the streets".Photo credit: FRANCE 24's Mehdi Chebil
Egypt's one-sided media coverage of the 'Day of Rage'
France 24, August 19, 2013
By Mehdi Chebil (text)
Egyptians were given a broadly one-sided view of the week's bloody events on their television screens Saturday.
The vast majority of Egypt's media are portraying supporters of ousted president and prominent member of the Muslim Brotherhood Mohammed Morsi as terrorists wholly lacking in political legitimacy.
Private TV channel Al-Nahar showed images of the stand-off between supporters of ousted president Mohammed Morsi and security forces at the al-Fath mosque under the banner, "Egypt Fights Terrorism".
"Why are they letting them out?" asked a Cairo restaurant owner as the TV showed protesters loyal to the deposed Islamist leader being ushered past a mob of angry locals. "The Muslim Brotherhood's people are now free to cause chaos and smash shops somewhere else."
The day after the Brotherhood's call for a "Day of Rage" protest, that saw 173 people killed in clashes with the police and army, most of the country's newspapers reported events as a battle against the "terrorist" Islamist movement.
"Most Egyptian journalists feel that they have to take a side," said Ehab el-Zelaky, head of digital media at privately-owned daily newspaper Al-Masry al-Youm.
"Journalists here would under any other circumstance try to be balanced, to tell both sides of the story. But considering what is happening to this country, many of them see it as their duty to support the state in its war against the Muslim Brotherhood."
This position is plain to see in the majority of the country's newspapers (see slideshow below).
"Egypt suffers the fire of the Muslim Brotherhood," blares daily Al-Akhbar, above pictures of burning buildings, masked gunmen and a bearded (implying Islamist) man holding a foreign passport.
'Friday of Terrorism'
The tone is the same in weekly pro-military Al-Youm al-Sabeh paper, which slams "the crimes of the Muslim Brotherhood on the 'Friday of Terrorism'", above images glorifying the head of Egypt's military General Abdel Fattah al-Sisi.
Absent was any comment on the 20,000 – largely peaceful – protesters who turned out on Friday to voice their anger at the massacre of hundreds of pro-Morsi campaigners killed when security forces moved to clear their sit-in protest two days earlier.
EU to review Egypt ties over violent crackdown on Morsi supporters
There was also little mention of the devastating scenes from within the al-Fath mosque that were picked up and relayed by the world's media.
All these newspapers place the blame for the week's violence on the pro-Morsi camp. And none of them report the death toll.
Many of these titles have also taken liberties with the facts.
For example, prominent daily Al-Shorouk states that Egyptian security forces outside the al-Fath mosque in Ramses Square held their fire until 7:30pm. However, FRANCE 24 can confirm that there were numerous dead and injured victims of gunshot wounds much earlier in the afternoon.
Locals, and the authorities, are vocal in their annoyance with the foreign media's coverage of the al-Fath mosque stand-off.
In a statement, the interim government said Saturday that there was "severe bitterness towards some Western media coverage" of events.
And in the streets, this bitterness often turns to anger towards foreigners who, according to them, are not faithfully reporting the "war on terror" being waged by the Egyptian security forces.
This site contains copyrighted material the use of which has not always been specifically authorized by the copyright owner. We are making such material available in our efforts to advance understanding of environmental, political, human rights, economic, democracy, scientific, and social justice issues, etc. We believe this constitutes a 'fair use' of any such copyrighted material as provided for in section 107 of the US Copyright Law. In accordance with Title 17 U.S.C. Section 107, the material on this site is distributed without profit to those who have expressed a prior interest in receiving the included information for research and educational purposes. For more information go to: http://www.law.cornell.edu/uscode/17/107.shtml. If you wish to use copyrighted material from this site for purposes of your own that go beyond 'fair use', you must obtain permission from the copyright owner.