Palestinians Fleeing Syrian Civil War Prevented from Entering Lebanon !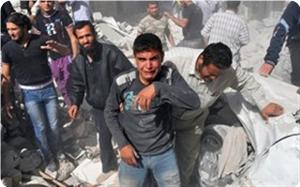 Rasd condemns banning Palestinian refugees' entry to Lebanon
[ 10/08/2013 - 11:02 AM ]
BEIRUT, (PIC)--
A Palestinian human rights organization, concerned with the Palestinian refugees' affairs in Lebanon, condemned the Lebanese authorities' decision to ban the Palestinian refugees' entry from Syria to Lebanon.
The Palestinian human rights foundation "Rasd" said in a statement that the Lebanese authorities have banned on August 6, 2013 the entry of Palestinian refugees, fleeing from Syria due to the ongoing bloody conflict, to Lebanon.
The foundation considered the Lebanese decision a violation of the Lebanese international commitments, pointing out that dozens of families are stuck on the Lebanese borders including children and elderly.
The human rights foundation called on the Lebanese authorities to cancel its decision to prevent the Palestinian refugees' entry to Lebanon on humanitarian grounds.
International law places obligations on Lebanon when deporting individuals who may face the risk of death, the foundation said.
Rasd called on Lebanese President Michel Suleiman and all Lebanese decision-makers to intervene immediately to end the plight of the Palestinian refugees fleeing from Syria.
The foundation expressed its surprise towards the Palestinian Authority and embassy's silence towards the suffering of the Palestinian refugees on the Lebanese borders, calling for urgent and effective moves to end their plight.
This site contains copyrighted material the use of which has not always been specifically authorized by the copyright owner. We are making such material available in our efforts to advance understanding of environmental, political, human rights, economic, democracy, scientific, and social justice issues, etc. We believe this constitutes a 'fair use' of any such copyrighted material as provided for in section 107 of the US Copyright Law. In accordance with Title 17 U.S.C. Section 107, the material on this site is distributed without profit to those who have expressed a prior interest in receiving the included information for research and educational purposes. For more information go to: http://www.law.cornell.edu/uscode/17/107.shtml. If you wish to use copyrighted material from this site for purposes of your own that go beyond 'fair use', you must obtain permission from the copyright owner.