NATO to Site Patriot Missiles Along Turkish-Syrian Border, Rebels Seize Army Bases Near Damascus and on Iraqi Border


November 25, 2012
Syrian rebels report capture of air base near Damascus
Reporting by Khaled Yacoub Oweis; Editing by Louise, Ireland
Sunday, November 25, 2012, 9:06am EST
AMMAN (Reuters) -
Syrian rebels said on Sunday they had captured a helicopter base 15 km (10 miles) east of Damascus after an overnight battle, the second military facility on the outskirts of the capital to fall to President Bashar al-Assad's opponents this month.
An Internet video which activists said was filmed at the Marj al-Sultan base showed rebel fighters carrying AK-47 rifles touring the facility. An anti-aircraft gun could be seen positioned on top of an empty bunker and a rebel commander was shown next to a helicopter.
"With God's help, the Marj al-Sultan airbase in eastern Ghouta has been liberated," the commander said in the video. Eastern Ghouta, a mix of agricultural land and built-up urban areas, has been a rebel stronghold for months.
Activists said two helicopters were destroyed in the attack as well as a radar station, and that 15 personnel were taken prisoner.
With severe restrictions by Syrian authorities on non-state media, independent verification was not possible.
Footage from Saturday evening showed rebels firing rocket-propelled grenades at the base, and what appeared to be a helicopter engulfed in flames.
Last week rebels briefly captured an air defense base near the southern Damascus district of Hajar al-Aswad, seizing weapons and equipment before pulling out to avoid retaliation from Assad's air force.
Turkey missile plan 'new act of provocation' Syria says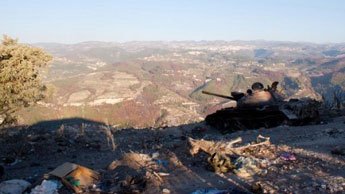 Syria described plans by Turkey to site Patriot missiles along its border as "a new act of provocation", while Russia and Iran warned the move could spark a regional crisis. In response, NATO said the missiles were only for defensive purposes.
Syria said on Friday plans by Turkey to site Patriot missiles along its border was "a new act of provocation," while allies Iran and Russia warned the move would complicate the situation and could spark a regional conflagration.
NATO chief Anders Fogh Rasmussen reacted by reassuring Moscow that any such deployment would be a "defensive only" measure.
Turkey turned to its NATO partners earlier this week to request the deployment of the surface-to-air Patriot missiles to protect its troubled border with Syria, which is engulfed in a war that has cost some 40,000 lives.
Syria's foreign ministry accused Ankara of causing "tension and destruction," with state television quoted an official as calling it "a new act of provocation."
"Syria holds (Turkish Prime Minister Recep Tayyip) Erdogan responsible for the militarisation of the situation at the border between Syria and Turkey, and the increase of tension," the unidentified official said.
Syria has long accused Turkey of harbouring, financing and arming rebels fighting to topple President Bashar al-Assad.
In Moscow, Russian Foreign Minister Sergei Lavrov warned that any deployment of Patriots by Turkey may create a temptation to use the weapons and spark a "very serious armed conflict" involving NATO.
"I understand that no one has any intention to see NATO get sucked into the Syrian crisis," Lavrov said. But "the more arms are being accumulated, the greater the risk that they will be used."
NATO spokesman Carmen Romero later said Rasmussen had told Lavrov by telephone that such a deployment "would in no way support a no-fly zone or any offensive operations."
"Such a deployment would augment Turkey's air defence capabilities to defend the population and territory of Turkey," Rasmussen told Lavrov.
But Iran's foreign ministry accused Turkey of aggravating the situation.
"Not only does it not help resolve the situation in Syria but it will also aggravate and complicate the situation," spokesman Ramin Mehmanparast said, quoted on state television.
"The insistence (of certain countries) to resolve the Syrian crisis through military means is the main cause of tensions and threats in the region," he said.
Syrian rebels seize army base on Iraqi border
By FRANCE 24 (text), November 24, 2012
Opponents of Bashar al-Assad's regime seized a military base in eastern Syria on Thursday, adding another district to their growing territory along the oil-rich Iraqi border, which the rebels now say is the largest region under their control.
Syrian rebels captured an army artillery base in the eastern oil producing province of Deir al-Zor on Thursday, weakening President Bashar al-Assad's control of the strategic region bordering Iraq.
"After 20 days and 44 martyrs, the Mayadeen military base fell at 8.30 am (06.30 GMT), Abu Laila, an official in the Military Revolutionary Council in the province, said. "The whole countryside, from the Iraqi border and along the Euphrates to the city of Deir al-Zor, is now under rebel control," he told Reuters news agency.
Another opposition source in contact with fighters confirmed that the base, which lies 42 south-east of the city of Deir al-Zor, had fallen to rebel hands. "The area east of the city of Deir al-Zor on the Iraqi border, is now the largest area in the whole country that is out of army control," said Syrian Observatory for Human Rights (SOHR) director Rami Abdel Rahman. "In that area of Syria, there are deep tribal loyalties, and fighters in western Iraq help the rebels fight the regime," he told AFP news agency.
The oil and gas-rich area of Deir al-Zor is home to Sunni Muslim tribes whose ties extend across the border into Iraq.
Troops expelled by rebels from Mayadeen were forced to withdraw to a military airport east of the city of Deir al-Zor, AFP reported.
Meanwhile, most oil and gas fields in the large desert province are still under regime control, said the UK-based SOHR, which relies on a network of activists, lawyers and medics on the ground.
The Syrian National Council, one of the country's main opposition groups, declared Deir al-Zor a "disaster area" last month.
This site contains copyrighted material the use of which has not always been specifically authorized by the copyright owner. We are making such material available in our efforts to advance understanding of environmental, political, human rights, economic, democracy, scientific, and social justice issues, etc. We believe this constitutes a 'fair use' of any such copyrighted material as provided for in section 107 of the US Copyright Law. In accordance with Title 17 U.S.C. Section 107, the material on this site is distributed without profit to those who have expressed a prior interest in receiving the included information for research and educational purposes. For more information go to: http://www.law.cornell.edu/uscode/17/107.shtml. If you wish to use copyrighted material from this site for purposes of your own that go beyond 'fair use', you must obtain permission from the copyright owner.