Israeli Occupation Forces Attack Palestinian Villagers in Nabi Saleh, Hebron, Kidnap 15 Civilians, Destroy Water Well in Beit Qad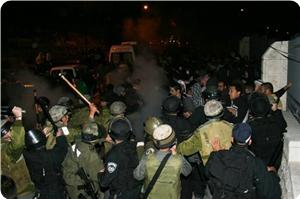 Violent clashes at dawn between Nabi Saleh villagers and Israeli Occupation Forces
[ 07/06/2012 - 10:16 AM ]
RAMALLAH, (PIC)--
Violent clashes broke out at dawn Thursday between Palestinian young men and Israeli occupation soldiers in Nabi Saleh village near Ramallah city during raids on homes.
The confrontations took place when the invading troops stormed a number of homes in the village including the house of a noted popular resistance figure called Bashir Al-Tamimi.
The Israeli troops violently broke into the house of Al-Tamimi, physically assaulted his son Tareq and took him to an unknown destination.
The Israeli occupation forces have been tightening its stranglehold on the village since last Friday and closing its main entrance in the morning and evening as a king of collective punishment against its natives to force them to stop their weekly marches and events against the occupation and settlement activities.
In a separate incident, an Israeli special unit kidnapped on Wednesday evening a young man named Mohamed Nayef in an ambush at the entrance of Araba town south of Jenin city.
The unit troops removed the barriers they set up for the ambush and took the young man to an unknown destination, according to eyewitnesses.
The IOF escalated its kidnapping of Palestinians throughout the West Bank areas and the number of military checkpoints and barriers increased lately.
Water Well Destroyed by Israeli Occupation Forces
Thursday June 07, 2012 10:18 by Sarah Snobar - IMEMC & agencies
A water well north of Jenin was bulldozed by Israeli occupation forces on Thursday morning.
Local security forces said that the bulldozers destroyed the well near Beit Qad village, north of Jenin. The well belonged to a Palestinian resident of Tubas and provided water for tens of acres in Beit Qad plain.

Sources added that a handful of military machinery, supported by two bulldozers were in the area during the destruction of the well.

The governor of Jenin, Talal Duwaikat, denounced the destruction of the well which he described as "designed to fight the rights of Palestinians."

Dweikat also said that this issue has come to shape an important worry for all districts in Palestine, especially Jenin which has been suffering continuously from similar attacks.
15 Palestinians kidnapped from Gaza Strip and West Bank
Wednesday June 06, 2012 13:00 by Sarah Snobar - IMEMC & agencies
Israeli occupation forces kidnapped 15 Palestinians from both the West Bank and Gaza strip on Wednesday, the Wafa News Agency has reported.

Sources said that a resident of Jenin, Tariq 'Aweis, was arrested after Israeli forces raided his home.

Three fishermen were arrested in Gaza after Israeli navy boats intercepted their fishing boat. The men were moved to an unknown location.

Five Palestinians were arrested from Khirbet Tana, an area east of Nablus, after the area was besieged by armed settlers for hours, according to Ghassan Daghlas, who is in charge of settlement files at the PLO in the northern part of the West Bank.

Residents of the village al-Fandaqumiya in Jenin were interrogated and their houses raided by Israeli forces.

Two Palestinians were arrested from east of Tulkarem where Israeli forces stormed Nour Shams refugee camp and the neighborhood of Thinnaba. Forces also raided the two Palestinian's homes and confiscated a number of computers. Another Palestinian was attacked and left injured by Israeli forces.

No details were given regarding the arrest of another four Palestinians from the West Bank.
Israeli Occupation Forces Invade Various Towns in Hebron
Wednesday June 06, 2012 11:40 by Sarah Snobar - IMEMC & agencies
Several towns in Hebron were invade by Israeli occupation forces on Wednesday morning. Check points were also set up at town entrances and houses were searched.
Wafa News Agency reported that Israeli forces stormed into Wad al-Herya as well as the area south of Hebron city. Israeli forces then searched many houses in those areas.

The Israeli forces also set up barriers at the entrance of Fawar Refugee Camp as well as a town south of Hebron called al-Thayereya. Vehicles were stopped and searched.
Israeli Occupation Soldiers Break Into Ramon Prison, Attack Detainees
Wednesday June 06, 2012 09:29 by Saed Bannoura - IMEMC & Agencies
Israeli occupation soldiers stormed into, on Tuesday at night, the Ramon Prison and attacked Palestinian political prisoners; several injuries were reported.

The Wattan TV reported that clashes took place between the detainees and soldiers of the "Nachshon" brigade after dozens of them invaded section 4 of the prison and attacked a number of detainees; several injuries among the detainees were reported.

Fires also broke out in section 4 leading to damage and several injuries.

The army claimed that the soldiers wanted to search the rooms where 120 Palestinian political prisoners are held.

Palestinian Minister of Detainees, Issa Qaraqe', stated that several detainees suffocated due to smoke inhalation while others suffered concussions and bruises after being attacked by the soldiers.

Qaraqe' added that the Prison Administration shut the facility down, adding that the attack against the detainees is still ongoing.

He said that the Israeli Prison Administration is conducting these illegal attacks to punish the detainees for holding their most recent hunger strike.

This site contains copyrighted material the use of which has not always been specifically authorized by the copyright owner. We are making such material available in our efforts to advance understanding of environmental, political, human rights, economic, democracy, scientific, and social justice issues, etc. We believe this constitutes a 'fair use' of any such copyrighted material as provided for in section 107 of the US Copyright Law. In accordance with Title 17 U.S.C. Section 107, the material on this site is distributed without profit to those who have expressed a prior interest in receiving the included information for research and educational purposes. For more information go to: http://www.law.cornell.edu/uscode/17/107.shtml. If you wish to use copyrighted material from this site for purposes of your own that go beyond 'fair use', you must obtain permission from the copyright owner.