Turkish Officials:
No More "Israeli Bullying" In Eastern Mediterranean
Monday September 05, 2011 11:05 by Saed Bannoura - IMEMC News
According to a report by Turkish media agency Hurriyet, Turkish officials have pledged to accompany any future civilian aid missions to Gaza, saying, " The eastern Mediterranean will no longer be a place where Israeli naval forces can freely exercise their bullying practices against civilian vessels".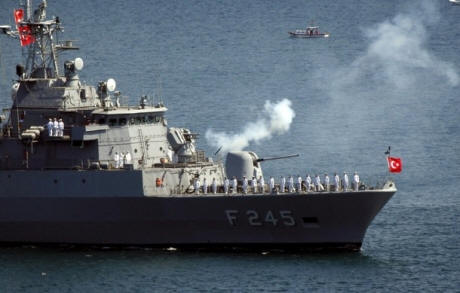 Turkish naval ship (image from PopJolly)

The announcement came just after the release of the Palmer Report of the United Nations, which both condemns the excessive use of force by Israeli forces in an attack on a Turkish aid ship in 2010, in which Israeli troops killed nine aid workers, and justifies the Israeli siege on the Gaza Strip. The Palmer Report says that the Israeli siege of Gaza is lawful, a claim that has been challenged by international law experts, including the Center for Constitutional Rights.

Turkish President Recep Erdogan was reportedly angered by the report, which he felt downplayed the Israeli aggressive action in international waters, which would normally be considered an act of piracy.

Erdogan also announced that he plans to visit the Gaza Strip in the near future, adding, "Our primary purpose is to draw the world's attention to what is going on in Gaza and to push the international community to end the unfair embargo imposed by Israel."

According to Sunday's report, the Turkish navy will increase its presence in the eastern Mediterranean Sea to counter Israeli naval forces stationed in international waters to enforce the naval blockade preventing any goods or passengers from entering the Israeli-occupied Gaza Strip.
Turkey gives Israel diplomats deadline
Press TV, Tue Sep 6, 2011 2:48AM
Ella Aphek, the Israeli embassy's deputy head of mission and other top Israeli diplomats have been given two-days' notices to leave Turkey. Turkey has issued a deadline to members of Israel's diplomatic mission to leave the country, in line with Ankara's decision nation to downgrade ties with Tel Aviv.

On Monday, Turkey said it has issued two days' notices to Ella Aphek, the Israeli embassy's deputy head of mission, and other top Israeli diplomats, the Associated Press reported.

Turkish Foreign Minister Ahmet Davutoglu said on Friday that the country had suspended all its military ties with Tel Aviv and expelled Israel's envoy from Ankara.

The measures came in response to Israel's refusal to apologize for its attack on THYE Freedom Flotilla, which had set sail for the Tel Aviv-blockaded Gaza Strip in May 2010. Israeli soldiers attacked the convoy, killing nine Turkish activists and injuring around 50 others.

Davutoglu has also said the country plans to take action at the International Court of Justice in The Hague to challenge Tel Aviv's four-year siege of Gaza. The blockade has been preventing the flow of food, medicine, and other supplies into the impoverished coastal Palestinian territory.

HN/HGL

---
Fair Use Notice
This site contains copyrighted material the use of which has not always been specifically authorized by the copyright owner. We are making such material available in our efforts to advance understanding of environmental, political, human rights, economic, democracy, scientific, and social justice issues, etc. We believe this constitutes a 'fair use' of any such copyrighted material as provided for in section 107 of the US Copyright Law. In accordance with Title 17 U.S.C. Section 107, the material on this site is distributed without profit to those who have expressed a prior interest in receiving the included information for research and educational purposes. For more information go to: http://www.law.cornell.edu/uscode/17/107.shtml. If you wish to use copyrighted material from this site for purposes of your own that go beyond 'fair use', you must obtain permission from the copyright owner.