Protests Resume in Greece Over Austerity Measures, as Default Expectations Loom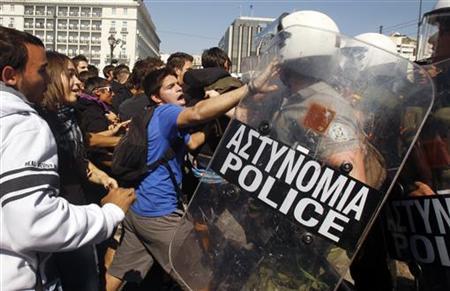 Michael Lewis sees messy end for Greece
By Mark Egan
NEW YORK | Tue Oct 4, 2011 4:19pm EDT
NEW YORK (Reuters) -
Greece will default on its debts, Ireland could too and Greek Prime Minister George Papandreou and German Chancellor Angela Merkel will be forced out as Europe's financial crisis plays out, author Michael Lewis predicted on Tuesday.
The writer who began his career exposing the culture of excess at Salomon Brothers in "Liar's Poker" is promoting his latest book "Boomerang: Travels in the New Third World," published this week by W.W. Norton.
The book details three years of research and reporting on Iceland, Ireland, Greece, Germany and California, revealing aspects of the global economy's woes and the national characteristics behind them. It follows his bestseller "The Big Short" about the U.S. subprime mortgage meltdown.
"Greece is defaulting, right? They are restructuring. Whatever you want to call it, Greece is defaulting," Lewis told Reuters in an interview. "The only question is how."
"I don't think Merkel is going to survive in Germany and I don't think Papandreou is going to survive in Greece -- they have so alienated their populations," he said.
Lewis believes efforts by European leaders to bail out Greece again and stave off contagion in Ireland, Portugal, Italy and even Spain only put off the inevitable.
While Lewis cautions that no one knows exactly how matters will play out, his predictions are closely watched given his position as one of America's best selling and most respected business journalists.
Keen to temper his forecasts, he added, "Nobody can tell you what is going to happen because it is too complicated."
With global markets in turmoil in recent days on fears Greece may default on its debts even amid a second expected bailout, Lewis expects "it will be very messy" and "Greece will leave the euro" with "creditors taking huge losses."
Following on, "I can't believe the Irish are not going to join that party" and default on its debts, letting its banks fail. "These sort of things could happen and it might even be healthy for them to happen rather than have this huge overhang," he said.
On the difference between Ireland and Greece, Lewis said: "The Irish just have a greater talent for suffering. If you imposed on the Greeks what the Irish have imposed on the Irish population, people would be getting shot."
SCHWARZENEGGER'S WHIM
Each chapter in "Boomerang," neatly meshing business and economic reporting with travel writing, appeared in slightly shorter form in Vanity Fair. The final chapter, on California, appears in the magazine's latest issue.
That chapter finds Lewis on an early-morning bike ride with former California Governor Arnold Schwarzenegger seeking to explain why the state's finances are in such distress.
Lewis admits staging the scene after interviewing the Austrian-American for a day in his office. "It was so static. He seemed to be a man in motion, so I put him in motion."
"At first I thought, 'I will go and lift weights with him. But I thought that will be so embarrassing,'" said Lewis, who next to the former body builder would look stick thin.
Lewis paints the former action movie star famed for "The Terminator" movies as a fantasy politician thrust into the impossible situation of having to grapple with California's almost intractable problems. He describes him as a person who sees what is ahead, paying little heed to what is behind him.
In perhaps the most revealing moment, Schwarzenegger tells Lewis he made his mind up to run for governor while heading to an appearance on Jay Leno's "The Tonight Show."
"He thought, 'This will freak them out if I go on TV and say I am going to do it,'" Lewis recalled Schwarzenegger telling him. "It was a whim."
Lewis has also enjoyed critical and commercial success at the movies -- his book "The Blind Side" about football was made into an Oscar-winning movie with Sandra Bullock and his book "Moneyball" about baseball is a hit movie starring Brad Pitt.
Next up for the prolific Lewis is writing a script for "Liar's Poker," which he said will be directed by Glenn Ficara and John Requa, who directed "Crazy, Stupid, Love."
He has also written a pilot for HBO called "Strays," a fictionalized account of a baseball agent who smuggled players from Cuba to America. "That is life-changing, if they make it," he said of the prospect of having his own television drama.
(Editing by Christine Kearney and Cynthia Osterman)
Greece resumes talks with auditors amid fresh protests
By Lefteris Papadimas
ATHENS | Thu Sep 29, 2011 5:07pm EDT
ATHENS (Reuters) -
Civil servants blockaded several ministries on Thursday to protest against austerity measures as Greece resumed talks with EU and IMF inspectors on an 8 billion euro aid tranche it needs to avoid bankruptcy next month.
The Socialist government decided on unpopular pension cuts, lay-offs and taxes last week to lure back the so-called troika of European Commission, European Central Bank and International Monetary Fund officials, who suspended talks earlier this month after disagreements on the steps needed to plug fiscal gaps.
Dozens of employees gathered in front of the finance ministry on Thursday in protest against the measures, shouting: "Take your bailout and leave."
They stopped some troika officials from entering the building, and the mission chiefs met Finance Minister Evangelos Venizelos in another government office.
"The climate was positive and creative after the tough measures that were decided," the finance ministry said in a statement after the talks resumed.
Civil servants also blocked the entrances of other public buildings including the interior, justice, health and agriculture ministries, a police spokesman said.
"These measures will not get us out of the crisis. I don't have enough money to pay for the extra taxes and levies," said taxi-driver George Kouris, 48, a father of two.
Before returning to the table, the EU/IMF mission demanded written assurances from Greece that its new pledges will be met, highlighting a lack of trust after repeated failures to meet targets and foot-dragging on privatizations.
Prime Minister George Papandreou, who urged his cabinet on Thursday to step up efforts to meet EU/IMF targets, will hold talks on Greece's debt situation with French President Nicolas Sarkozy in Paris on Friday.
"We are moving as fast as we can to finish pending issues and you should not allow issues in your area to linger," Papandreou admonished ministers.
In a sign of difficulties in implementing reforms, the cabinet postponed a decision on a measure announced last week to put 30,000 public sector workers on the road to redundancy.
"We must discuss the details with the troika," government spokesman Ilias Mosialos said.
Other officials said the government had drafted three alternative scenarios that would be discussed with inspectors before being finalized at a cabinet meeting on Sunday.
Athens has promised its EU and IMF lenders that it would put thousands of public sector workers in a so-called labor reserve this year, lifting a taboo on the sacking of civil servants to meet a condition for continued bailout aid.
But officials say enforcing the measure is very complicated in a country where the constitution protects civil servant jobs.
BAILOUT AID
The EU, IMF and ECB inspectors are set to comb through new austerity plans for at least a week. Most analysts expect they will approve the next tranche of aid, although many expect Greece to have to default in the coming months.
Germany's parliament approved a strengthening of the euro zone's rescue fund in a key vote on Thursday despite growing doubts about Greece's solvency. German Finance Minister Wolfgang Schaeuble said euro zone finance ministers would decide on the aid payment on October 13.
"I think euro zone finance ministers will in the end release the next tranche of bailout payments for Greece," said Joerg Kraemer, economist at Commmerzbank. "They will not dare turn off the tap on Greece right now, it's a political decision."
Without new funds, Greece could run out of cash to pay state wage and pension bills as soon as October. A default on debt repayments could wreck the balance sheets of banks across Europe and unleash a crisis in the global financial system.
Bailing out Greece has become a tough political proposition for other euro zone leaders to sell to their own voters.
Papandreou's PASOK party trails the conservatives by 5.8 points, according to the latest opinion poll. The conservatives want a renegotiation of the bailout deal to allow lower taxes and less austerity, something the troika has rejected.
Labor unions have called new anti-austerity walkouts and protests that may shake the lawmakers' resolve to approve the rest of the measures, expected to come to a vote next month, after the property tax was backed by parliament on Tuesday, while police fired teargas at protesters outside..
Taxi owners who oppose the liberalization of their trade continued a 48-hour strike on Thursday. Hospital workers protesting at cuts walked off the job for three hours. Trade union ADEDY, which represents the country's 730,000 civil servants, called a rally and said it would march on parliament.
($1 = 0.735 Euros)
(Additional reporting by Angeliki Koutantou, Renee Maltezou and Deborah Kyvrikosaios; Writing by Ingrid Melander and George Georgiopoulos; Editing by Paul Taylor)
Greek government urges unity, protesters defiant
Tue Oct 4, 2011 10:11am EDT
By Harry Papachristou and Renee Maltezou
ATHENS Oct 4 (Reuters) -
Angry protesters blockaded Greek ministries on Tuesday despite appeals from the finance minister for the public to rally around the tough measures the Athens government needs to achieve fiscal targets and avert default on its colossal debt.
World financial markets have been reeling since Athens said on Sunday that a deeper than expected recession means it will miss its 2011 deficit target, despite austerity steps meant to solve Europe's worst debt crisis.
Fears of a debt default drove the Athens stock exchange to an 18-year low on Tuesday. Greek bank stocks fell as much as 9.5 percent. The euro hit a nine-month low against the dollar and a 10-year low against the yen.
"There is very big turmoil and very deep anger in society," the secretary general of public sector union ADEDY, Ilias Iliopoulos, told Reuters as he took part in Tuesday's protest.
The Socialist government, which came to power exactly two years ago on a pledge to help the poor and tax the rich, is facing growing anger from voters hit hard by a series of tax hikes, wage cuts and job losses.
Greece's Finance Minister Evangelos Venizelos said on Tuesday that even his new 2011 deficit target of 8.5 percent of gross domestic product could slip by another half percentage point unless the public unites behind his unpopular plans.
"If state mechanisms do not work and if we do not have the national cohesion and solidarity that is required, obviously we may have problems with our 8.5 percent target," he told a news conference.
National cohesion and solidarity, however, are in short supply. Many of the measures still must be approved by parliament, and Greek labour unions vehemently opposed to them are hoping to weaken the government's resolve with demonstrations and strikes over the next few weeks.
A major national strike, led by the public sector union which represents 500,000 workers, is planned for Wednesday.
Tuesday's blockade of government buildings, including the finance, labour, agriculture and development ministries, follows similar protests last week, when state workers tried to disrupt talks between the government and EU and IMF inspectors.
Police said there was disruption at the ministries on Tuesday but work was not halted inside. Police were on hand, especially at the finance ministry, but there were no reports of serious clashes. There were bloody battles between riot police and protesters in central Athens in June.
Venizelos's news conference had to be moved from the finance ministry to another building because of the protests.
About 20 protesters from communist-affiliated labour union PAME briefly occupied the office of the labour minister.
Planes and trains will be halted on Wednesday, schools will be shut and hospitals will have only limited staff as workers walk off the job to protest against austerity.
TENSE TALKS WITH TROIKA
Tense negotiations with IMF, EU and European Central Bank inspectors, known as the troika, are still under way, with the inspectors focusing on forecasts for 2013 and 2014, seen as crucial to assess whether Greece's debt is sustainable.
First, the troika must agree to free up an 8-billion-euro loan tranche to cover the Greek government's running expenses.
Greece had said it needed the tranche this month or it would run out of cash, but euro zone finance ministers said on Monday the decision could be put off until mid-November, giving the inspectors more time to press Greece to enact its reforms.
Venizelos confirmed that Greece had enough cash to wait until next month for the loan tranche. He did not explain the discrepancy with earlier assessments.
The euro zone ministers are also reviewing the size of the private sector's involvement in a second international bailout package, a move that could undermine the aid programme and hasten the threat of a default.
In a meeting with Labour Minister George Koutroumanis, troika officials raised the issue of lowering the minimum wage of about 740 euros a month, to boost firms' competitiveness, further angering unions.
"They operate like the crusaders of a neo-liberal obsession," Yannis Panagopoulos, president of private sector union GSEE, said on NET radio. "They will have cheap labour, but with this ... the country will sink into a deeper recession."
The government said on Monday that Greece will remain in recession for a fourth year in 2012, threatening its efforts to put its finances back on track and claw its way out of debt.
The economy will shrink by 2.5 percent in 2012, according to the budget draft, which also sees the creation of a primary surplus for the first time in years, thanks to severe state spending cuts and tax hikes. (Additional reporting by Angeliki Koutantou; Writing by Ingrid Melander and Peter Graff, editing by Peter Millership)
---
Fair Use Notice
This site contains copyrighted material the use of which has not always been specifically authorized by the copyright owner. We are making such material available in our efforts to advance understanding of environmental, political, human rights, economic, democracy, scientific, and social justice issues, etc. We believe this constitutes a 'fair use' of any such copyrighted material as provided for in section 107 of the US Copyright Law. In accordance with Title 17 U.S.C. Section 107, the material on this site is distributed without profit to those who have expressed a prior interest in receiving the included information for research and educational purposes. For more information go to: http://www.law.cornell.edu/uscode/17/107.shtml. If you wish to use copyrighted material from this site for purposes of your own that go beyond 'fair use', you must obtain permission from the copyright owner.