May 14, 2011


Armed civilians fire on protesters in Taez, second largest city

By News Wires (text)

France 24, May 14, 2011

AFP -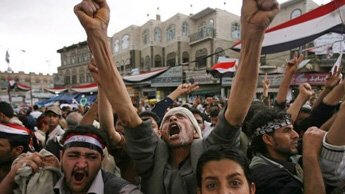 Yemenis continue protests demanding departure of dictator Saleh, May 14, 2011 f24
Armed civilians fired on protesters, wounding 15, on Saturday at a march in Taiz, after the regime said on Friday it would act "in the face of lawbreakers". The parliamentary opposition said the statement amounted to a "declaration of war".
Armed civilians opened fire on anti-government demonstrators in Yemen's second-largest city Taez on Saturday, wounding 15 of them, medics and witnesses said.
Tension simmered in Yemen as Gulf Cooperation Council chief Abdullatif al-Zayani is expected to arrive in Sanaa, in a new attempt to convince rivals there to sign a Gulf-brokered plan that would see President Ali Abdullah Saleh out of office within 30 days, informed sources told AFP.
The GCC plan, from which Qatar pulled out from on Thursday, proposes the formation of a government of national unity, Saleh transferring power to his vice president and an end to the deadly protests.
The president would submit his resignation to parliament within 30 days, to be followed two months later by a presidential election. He and his top aides would be granted immunity from prosecution.
Tens of thousands had joined the protest march along the city's main thoroughfare which came a day after a defiant Saleh rebuffed a call from his longtime US ally to agree to step down "now," the witnesses said.
Saleh loyalists opened fire on the protesters wounding 15 with live rounds, medics and witnesses said.
One of the wounded was clinically dead, a medical official told AFP.
Meanwhile, the protesters seized three of the assailants whom they described as the regime's "armed thugs," the organisers told AFP.
A general strike called by the opposition was widely observed in Taez, the witnesses added.
There was also a widespread shutdown in the formerly independent south, residents said, although the strike was less well observed in Sanaa.
On Friday, the capital saw huge rival demonstrations by supporters and opponents of the embattled president.
Saleh told the loyalist rally: "We will not remain passive in the face of law-breakers," and warned the opposition to "stop playing with fire."
The spokesman of the parliamentary opposition, Mohammed Qahtan, told Al-Arabiya television the president's remarks amounted to a "declaration of war."
Elite Republican Guards killed at least three anti-government demonstrators in the southern city of Ibb on Friday, opposition sources and witnesses told AFP.
The deaths brought to 179 the number killed in three months of protests against Saleh's regime, according to a toll compiled from activists and medics.
YEMEN Bloodshed escalates as Yemeni president refuses to step down
YEMEN Yemeni forces fire on anti-government protesters
YEMEN Yemeni opposition accuses Saleh of refusing to sign transition deal
This site contains copyrighted material the use of which has not always been specifically authorized by the copyright owner. We are making such material available in our efforts to advance understanding of environmental, political, human rights, economic, democracy, scientific, and social justice issues, etc. We believe this constitutes a 'fair use' of any such copyrighted material as provided for in section 107 of the US Copyright Law. In accordance with Title 17 U.S.C. Section 107, the material on this site is distributed without profit to those who have expressed a prior interest in receiving the included information for research and educational purposes. For more information go to: http://www.law.cornell.edu/uscode/17/107.shtml. If you wish to use copyrighted material from this site for purposes of your own that go beyond 'fair use', you must obtain permission from the copyright owner.