Yemeni Protesters Reject Dictator's Initiatives, Express Determination for Regime Change, Not Reform


March 10, 2011
Editor's Note:
The spirit of Arab revolution has spread from Tunisia, to Egypt, to Libya, to Yemen, and the rest of the Arab states. Despite the delay in achieving the ultimate goal of the Libyan revolution (dislodging the dictator), the success of Arab revolutions in Tunisia and Egypt has encouraged Arabs everywhere to start their protests aiming for regime change.
Yemenis have insisted on launching the fourth successful revolution for regime change no matter how much the dictator tried to dissuade them. His most recent desperate attempts included accepting all initial demands of protesters, concerning the constitution and elections. However, Yemenis have insisted that it is too late for him. He has to go, just like his likes in Tunisia, Egypt, and soon in Libya.
======================
Yemen president vows reform as protests continue
By Mohamed Sudam And Mohammed Ghobari –
Thu Mar 10, 2011, 6:17 am ET
SANAA (Reuters) –
Yemen President Ali Abdullah Saleh, hoping to defuse increasingly violent protests against his 32-year rule, said Thursday he would draw up a new constitution to create a parliamentary system of government.
An opposition spokesman swiftly rejected the proposal, and called for the continuation of anti-government rallies, which kicked off in January and have claimed almost 30 lives.
Impoverished Yemen, a neighbor of oil giant Saudi Arabia, is one of several Arab states that have seen mass protests this year, with Saleh looking increasingly weakened by the unrest.
Speaking to thousands of cheering supporters gathered in a soccer stadium, the autocratic Saleh said he wanted to form a unity government to help put in place a new political system.
"Firstly we will form a new constitution based on the separation of powers. A referendum on this new constitution will be held before the end of this year," he said, speaking beneath a large portrait of himself.
"I'm already sure that this initiative won't be accepted by the opposition, but in order to do the right thing, I am offering this to the people and they will decide," he added.
Yemen is a presidential republic, where the head of state wields significant powers. But as water and oil resources dry up, it has become increasingly difficult to fuel the patronage system that kept his tribal and political backers loyal.
The rotating president of Yemen's umbrella opposition coalition, Yassin Noman, said his plan was too little, too late, and would not put an end to calls for Saleh's resignation.
"These proposals have been overtaken by realities on the ground," he said. "Had the ruling party offered this six months ago, it would have been different. It's too late now."
LACK OF TRUST
Saleh has already made several concessions to protesters, but has refused to bow to their central demand that he relinquish power immediately, saying he wanted to see out his term which expires in 2013.
"What president Saleh doesn't realize is that in the past 32 years he's really racked up a trust deficit and people just don't believe him anymore," said Gregory Johnsen, a Yemen scholar from Princeton University.
Tens of thousands of anti-Saleh protesters took to the streets of Sanaa, Taiz and Ibb as Saleh pitched his initiative to his own supporters. South of the capital in Dhamar, one of the 68-year old leader's political strongholds, thousands rallied against the government Thursday.
"This initiative doesn't satisfy our ambitions now. Our demand is clear, the regime must go," said Bushra al-Maqtari, a youth activist in Taiz.
Saleh also offered to regroup Yemen's 22 provinces into larger regional blocs. An official told Reuters this would allow wealthier provinces to support poorer ones, and said the plan would ensure there was an airport and a seaport in every region.
"Where exactly would Yemen be getting money to develop or build those? It seems like a speech that in many ways is divorced from the economic reality of the situation in Yemen," said Princeton scholar Johnsen.
A string of allies have recently defected to the protesters, who are frustrated by rampant corruption and soaring unemployment in Yemen, where 40 percent of the population live on $2 a day or less and a third face chronic hunger.
"We want the regime to go, then we can solve our other problems," said Samia al Aghbari, a leading Sanaa activist.
(Additional reporting by Erika Solomon in Dubai; Writing by Crispian Balmer and Erika Solomon; Editing by Sophie Hares)
Yemen president vows new constitution within year, opposition rejects
SANAA, March 10, 2011 (Xinhua) --
Yemeni President Ali Abdullah Saleh launched Thursday a fresh conciliation initiative, promising to hold a referendum on the constitution this year, including a new election law, to prepare to transfer power to parliament.
The reform initiative came a day after the security forces stormed a protest sit-in outside Sanaa University, firing live ammunition and tear gas, killing one protester and wounding scores of others.
"I offer a new initiative to avoid sedition," Saleh announced in a speech to a national-dialogue conference aired by the state television channel.
Meanwhile, Yemen's opposition on Thursday rejected the new reform initiative of Saleh, a few minutes after the latter launched his offer.
"We do not have response to all offers of the president, but we told him to seek a reply from street protesters. Mr. President, your offer is too late," opposition rotating President Mohamed Qahtan said.
So far Saleh and his opposition rivals avoided the all-out confrontations, but small skirmishes left dozens dead, mostly in southern provinces.
The President's new initiative aimed to end a deadlock with the opposition which escalated protest rallies demanding the end to his longtime rule, according to an official of the state-run Saba news agency.
The agency reported earlier this week that President Saleh was preparing to unify political views for preserving the integrity, security and unity of Yemen by launching a national-dialogue conference.
In front of thousands of his supporters in a soccer stadium in the capital Sanaa, Saleh said "this is my five-point new conciliation initiative to the Yemeni people."
"My new initiative includes forming a committee from the parliament and Shura Council to prepare for a new constitution, including creating a new parliamentary system, which will be put into a referendum by the end of this year, 2011," he announced.
"The whole power will be moved to the new elected parliament by the end of 2011 and the beginning of 2012," Saleh declared.
"The initiative also includes preparing for a new election law in accordance with the approved electoral roll, as well as developing a full-power local government system on the basis of financial and administrative decentralization," he added.
The president then called for protesters to end their rallies for the sake of the country and directed his government to meet their demands.
Month-long protests against Saleh have been escalating across the country since he rejected an opposition's peaceful road-map initiative earlier this week, which offered him a smooth transition for power within this year.
Protesters watched and listened to Saleh's speech and initiative in major provinces, including Sanaa, kept shouting " Leave, Leave, Leave," according to local sources.
Yemeni army wounds 98 students in efforts to end university protest
Yemen's President moves against protesters seeking to unseat him as students and prisoners call for him to quit
Associated Press The Guardian,
Wednesday 9 March 2011 Article history
An elderly protester holds up his dagger during a demonstration in Sana'a, Yemen's capital; 98 were wounded, many critically, when the army tried to break up a sit-in at Sana'a University. Photograph: Muhammed Muheisen/AP
The Yemeni government escalated its efforts to stop mass protests yesterday calling for the president's removal, with soldiers firing rubber bullets and tear gas at students camped at a university in the capital during a raid that left at least 98 people wounded, officials said.
The army stormed the Sana'a University campus hours after thousands of inmates rioted at the central prison in the capital, taking a dozen guards hostage and calling for President Ali Abdullah Saleh to step down. At least one prisoner was killed and 80 people were wounded as the guards fought to control the situation, police said.
There have been weeks of protests against against Saleh, inspired by recent uprisings in Egypt and Tunisia that drove out those nations' leaders. Saleh, a key ally of the US in the campaign against al-Qaida, has been in power 32 years. In a sign that the protests are gaining traction, graffiti calling for Saleh to step down surfaced yesterday in his birthplace, the village of Sanhan, for the first time since the protests began.
Students at Sana'a University have been sleeping on campus since mid-February, shortly after the start of the protests against the president.
Health workers, who did not want to be named, said many of the 98 people wounded were in serious condition. Armored vehicles and personnel carriers were seen heading to the area of the university.
"It's a massacre," said the opposition spokesman, Muhammad Qahtan. "It is a crime by security troops against students engaged in a peaceful sit-in."
In the southern port city of Aden, a crowd of women joined a demonstration after a young protester was shot in the head and critically wounded during a rally there the previous day.
Tens of thousands took to the streets in the Ibb province, calling on the government to bring to justice those responsible for a deadly attack there on Sunday. Opposition activists blamed "government thugs" who descended on protesters camped out in a central square: one person was killed in that violence and 53 people were hurt.
Even before Yemen was engulfed by protests, the country was growing increasingly chaotic with a resurgent al-Qaida, a separatist movement in the south and a Shia rebellion occasionally flaring in the north.
Seeking to head off the protests, Saleh called for national dialogue after meetings on Monday with the country's senior political and security chiefs. The state-run news agency said the conference would be held tomorrow and would include thousands of representatives from across Yemen's political spectrum.
But opposition leader Yassin Said Numan said there would be no dialogue unless Saleh agreed to step down by the end of the year.
Saleh's recent pledge not to run for re-election in 2013 has failed to quell the protests.
YEMEN: Timeline of 2011 protests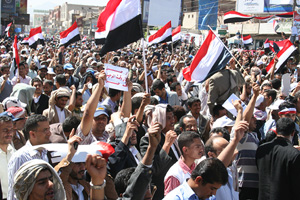 Anti-government protesters in Sana'a
SANAA, 10 March 2011 (IRIN) - Nationwide protests demanding an end to the 32-year rule of President Ali Abdullah Saleh have entered their sixth week, but the Yemeni leader is refusing to step down until 2013. About 30 protesters have been killed and hundreds injured in clashes with government troops or Saleh supporters. Below is a timeline highlighting key events since the protests began:
2 February 2011:
Thousands of Yemeni opposition supporters take to the streets of Sana'a, Aden and Taiz on the "First Day of Rage", protesting against the government's constitutional amendment allowing Saleh to run for another term. In a speech, Saleh promises not to run for president again or hand power to his son Ahmad, the Republican Guards' commander. Saleh urges dialogue and engagement in "a national unity government".
3 February:
Tens of thousands of protesters in Sana'a on "Second Day of Rage" decry government corruption, and Saleh's control of power and resources. Saleh again calls for dialogue with the opposition.
10 February:
Thousands of Southern Movement (SM) supporters march in several parts of the south in protest at a military siege imposed by the government. They demand the release of all political prisoners detained for their involvement in SM, which is accused by the government of promoting secession.
11 February:
Thousands of SM supporters staged protests in the southern cities of Aden, Abyan, Dhalea and Shabwa demanding Saleh leave power. Local NGO Yemen Human Rights Observatory (
YHRO
) says the government arrested at least 10 protesters. Egyptian President Hosni Mubarak resigns.
12 February:
Thousands in Sana'a celebrate Mubarak's downfall, call for Saleh's ouster, but are confronted by pro-Saleh demonstrators in al-Tahrir Square. Thousands of university students head towards Egyptian embassy calling for an end to Saleh's rule; two are injured after being attacked by Saleh supporters with daggers and sticks.
13 February:
Tens of thousands rally in front of Sana'a University as well as in Liberty Square in Taiz. They are confronted by pro-government demonstrators in both cities. Government security forces arrest 120 protesters in Taiz, according to Yasser al-Maqtari, a human rights activist from Taiz.
15 February:
Around 2,000 Saleh supporters, backed by undercover police, attack over 3,000 student protesters in front of Sana'a University, using sticks and electric batons, Khalid al-Ansi, executive director of the National Organization for Defending Human Rights and Freedoms (a local NGO know as
HOOD
), tells IRIN.
16 February:
Around 500 protesters in Aden demand
Saleh's ouster
. Two protesters killed in Sana'a.
17 February:
At least 25 injured in clashes between pro- and anti-government protesters in front of Sana'a University.
18 February:
Four killed, 11 injured when the authorities attempt to disperse thousands of protesters in Aden in a demonstration called "Friday of Start". A local council building, police station and several police vehicles are set ablaze, Mohammed Salim, a riot police officer, tells IRIN from Aden. At least three killed and another 87 injured when a grenade is thrown at tens of thousands of protesters in Taiz's Liberty Square. Ten injured in another protest staged in the southern city of Mukalla.
19 February:
One protester killed and another 15 injured in clashes between police and anti-government demonstrators in front of Sana'a University. Another protester killed in
Aden
.
21 February:
The Joint Meeting Parties (JMP), an opposition coalition, and Houthi followers in the north declare their support for the young protesters demanding Saleh's ouster. Tens of thousands take to streets of Sa'dah, demanding same.
22 February:
At least five students injured in clashes with Saleh supporters in front of Sana'a University.
23 February:
Ten MPs resign from ruling General People's Congress in protest at the government's crackdown on protesters. Two protesters killed and 23 injured in Sana'a.
25 February:
Hundreds of thousands of protesters stream onto the streets of Sana'a, Taiz, Ibb, Amran, Sa'dah, Aden, Dhalea, Mukalla, Lahj, Shabwa, Abyan, Dhamar, Marib, al-Jauf and Hodeida on the "Friday of Immovability". At least 7 killed and dozens of others injured in Aden, according to HOOD.
26 February:
Senior sheikhs from Yemen's main tribes (Hashid and Bakil) declare their support for the protesters. "Saleh and his regime must leave now," said Sheikh Fasail al-Dheli from the Hashid tribe. "How is it possible for a regime to reform things in two years after it failed to do so in more than three decades?" he asked.
27 February:
Eight killed, 36 injured in Aden protests, raising death toll since 2 February to 26, according to YHRO.
1 March:
Hundreds of thousands rally in most main cities to express solidarity with the families of protesters killed in Aden in a day named "Tuesday of Rage". "Ending Saleh's rule is the only option for us. We will not leave this place until Saleh steps down," former MP Fuad Dihaba tells IRIN.
4 March:
Two killed, six injured when army attacks anti-government protest in war-torn Harf Sufyan District,
Amran Governorate
.
6 March:
Some 25 protesters injured in Ibb after being attacked by ruling party supporters.
8 March:
Some 70-80 students injured and one killed after government troops fire at protesters in front of Sana'a University. "The troops used a toxic gas against the protesters," said Hussein al-Shawjali, a volunteer neurologist at a mobile clinic providing medical services to protesters at the university. "Dozens are comatose or suffering spasms… Their lives are at high risk as we don't have information about this toxic gas to prescribe the right serum for the victims," al-Shawjali tells IRIN the following day. Sixty injured (20 of them police) in clashes between prison inmates and police in Sana'a central prison.
10 March:
Saleh goes on TV to announce plans to change the constitution to move to a parliamentary system.
ay/cb
---
Fair Use Notice
This site contains copyrighted material the use of which has not always been specifically authorized by the copyright owner. We are making such material available in our efforts to advance understanding of environmental, political, human rights, economic, democracy, scientific, and social justice issues, etc. We believe this constitutes a 'fair use' of any such copyrighted material as provided for in section 107 of the US Copyright Law. In accordance with Title 17 U.S.C. Section 107, the material on this site is distributed without profit to those who have expressed a prior interest in receiving the included information for research and educational purposes. For more information go to: http://www.law.cornell.edu/uscode/17/107.shtml. If you wish to use copyrighted material from this site for purposes of your own that go beyond 'fair use', you must obtain permission from the copyright owner.