Rebel Faction Suspected in Death of Commander Younis,
3 Killed in Bani Ghazi Clashes


July 31, 2011
Islamist allies suspected in death of rebel commander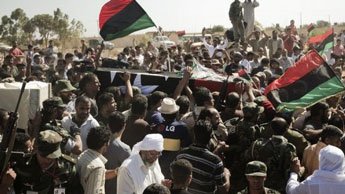 Libyan rebels say they suspect the gunmen who shot dead their military chief were members of an Islamist militia who joined the uprising against Colonel Muammar Gaddafi. The killing has raised concern among Western backers of the rebellion.
REUTERS -
Libyan rebels say the gunmen who shot dead their military chief were members of an Islamist-linked militia that is allied to their struggle to overthrow veteran leader Muammar Gaddafi.
The assassination of Abdel Fattah Younes, apparently by his own side, has hurt the opposition just as it was winning broader international recognition and launching an offensive against Gaddafi's forces in the west of the country.
It will deepen concerns among the rebels' Western backers including the United States, keen to see them prevail in a five-month-old civil war but frustrated by their lack of unity and nervous about the influence of Islamists.
After 24 hours of confusion, rebel minister Ali Tarhouni said Younes had been killed by members of the Obaida Ibn Jarrah Brigade, a militia allied to the rebels and named after one of the companions of the Prophet Mohammad, suggesting that Islamist elements were involved.
Tarhouni told reporters in Benghazi on Friday that a militia leader who had gone to fetch Younes from the front line had been arrested and had confessed that his subordinates had carried out the killing.
"It was not him. His lieutenants did it," Tarhouni said, adding that the killers were still at large.
Rebel leader Mustafa Abdel Jalil said on Thursday Younes had been recalled for questioning to Benghazi but was killed before he arrived. Relatives said they retrieved a burned and bullet-riddled body.
Younes took part in the coup that brought Gaddafi to power in 1969 and served him for four decades. He quit as interior minister in February and defected to the side of the rebels, becoming their military chief.
Parts of the opposition distrusted him because of his long and close ties to Gaddafi.
One rebel commander, who asked not to be named, said Islamists whom Younes had targeted in his job as interior minister may have killed him in retaliation.
"Some of those Islamists are now fighting with the rebels and they have always refused to fight under Younes's command and have always viewed him with suspicion," he said.
"Abdel Jalil could not directly accuse the Islamists because he fears them. And I don't think the investigation will lead anywhere. They don't dare to touch the Islamists."
The government in Tripoli said al Qaeda was to blame.
Rebels who rose up against Gaddafi's 41-year rule in February have seized swathes of the country but remain poorly equipped and are still far from ousting him, despite support from NATO airstrikes.
The United States, which like some 30 other nations has formally recognised the opposition, said Younes's death was a blow but called for solidarity among the rebels.
"What's important is that they work both diligently and transparently to ensure the unity of the Libyan opposition," State Department spokesman Mark Toner said in Washington.
On Friday, weeping relatives and supporters brought Younes's coffin into the main square of Benghazi to mourn him, as fighters fired guns in the air.
Later in the evening, several explosions rocked Tripoli, and Libyan state television said airstrikes had hit civilian targets, though the claims were impossible to verify.
Libya's government said that pro-Gaddafi forces had killed 190 rebels in the Western Mountains since Wednesday but did not respond to rebel claims that three towns had been taken.
Portugal's envoy to the United Nations said on Friday a Security Council panel was prepared to end months of deadlock and release Libyan assets frozen under U.N. sanctions, in order to buy humanitarian aid.

3 rebels killed, 5 wounded in deadly clashes with pro- Gaddafi group in Benghazi
BENGHAZI, Libya, July 31, 2011 (Xinhua) --
Three rebels were killed and five others wounded in bloody clashes with a pro-Gaddafi group in Benghazi overnight, a spokesman of the interior ministry of Libya's rebel movement said.
Rebels attack last Qadhafi Western Mountain stronghold
Jordan Times, 31 July 2011
HAWAMID, Libya (Reuters) -
Rebels have encircled Muammar Qadhafi's last stronghold in Libya's Western Mountains region and hope to seize it soon, a commander said on Saturday.
Rebel tanks fired at Tiji, where an estimated 500 government troops are stationed, and the blasts could be heard from nearby Hawamid, a town 200km southwest of Tripoli. Hawamid was captured on Thursday in a new anti-Qadhafi offensive.
"We have Tiji surrounded and we hope to take it by the end of the day," rebel commander Nasir Al Hamdi, a former colonel in Qadhafi's police force, told Reuters as gunfire crackled in the distance and he surveyed a battleground scattered with tank shell casings and anti-aircraft bullets.
Despite inferior firepower and little experience, rebels this week took several towns and villages where government forces had been dug in along plains below the Western Mountains.
Soldiers captured in the offensive told Reuters the army had lost the will to fight and predicted that Qadhafi, who is also facing insurgents in the east of the oil-producing North African state, could fall in coming months, or even weeks.
Control of Tiji would give the rebels a strategic and psychological boost. It could make it easier for the insurgents, who hold a chain of towns stretching more than 200km across a bleak mountain plateau from the Tunisian border, to gain access to an important highway leading to Tripoli.
Insurgents in the Western Mountains, who have been bitterly divided along ethnic lines, seemed to have improved coordination enough to work together in large numbers.
In the assault on Hawamid, for instance, hundreds of rebels in pickup trucks backed by three tanks sped down mountain roads towards the town and cut it off from government troops in other areas.
"It was very quick," explained Hamdi, standing on a dirt fortification where he said hundreds of government soldiers and militiamen had taken up positions.
Morale
After rebel tanks fired on Tiji on Saturday morning, Qadhafi's forces launched missiles towards a road winding down from a mountain, in an apparent attempt to prevent rebels attacking from a different direction.
Fighting eased during the stifling afternoon heat but resumed in the early evening. Qadhafi's forces fired Grad missiles and plumes of smoke could be seen about 5km from the front line.
Poor army morale may also have helped Qadhafi's opponents, who come from all walks of life - from pharmacists to plumbers - to try to end his rule.
At a hospital in the town of Nalut, near Hawamid, about 20 wounded government soldiers lay in beds with mostly bullet wounds. Several predicted the veteran Libyan leader's demise.
"Qadhafi is not going to last for more than a few months and he may go sooner," Omar Mukhtar, 20, told Reuters. "Qadhafi told us we would be fighting foreigners who belong to Al Qaeda. But we came here and discovered they are just Libyans like us."
A few feet away, a brigadier from Qadhafi's army with a bullet hole in his face pointed to his wound and groaned.
Tiji resident Abdel Jalil Omar said Qadhafi's militiamen had offered people in the town money to fight and gave them AK-47 assault rifles every time the insurgents made gains in the Western Mountain region.
"I was unemployed. They gave me money so I agreed to fight the rebels," said Jalil, who was shot in the shoulder. A rebel who overheard him started yelling and accused him of ransacking houses and helping soldiers steal televisions.
Many government troops fled Hawamid when the rebels advanced, ignoring graffiti scribbled by a soldier which said: "Capture the rats. Don't be afraid of them".
Qadhafi has said that the rebels fighting to end his four decades of rule were inspired by Al Qaeda and has described them as rats in speeches.
The soldiers who were in Hawamid left behind boots, uniforms, food rations, blankets and underwear when they escaped in pick-up trucks to Tiji.
"We questioned them. Qadhafi is forcing them to fight. Their heart isn't in this," a rebel officer said.
Six months into the uprising the war remains essentially deadlocked. With the fasting month of Ramadan due to begin shortly, fighting may subside, so no major changes can be expected.
But rebel successes in the Western Mountain plains, where the rough desert terrain offers few hiding places from Qadhafi's missiles, seem to have raised their spirits.
"We are not going to let up now even during Ramadan when we fast," said rebel Youssef Ali, standing beside tin foil plates filled with couscous and potatoes, the standard meal that he and his comrades live on.
Libyan rebels confirm Younes arrest warrant
BEIJING, July 31, 2011 (Xinhuanet) --

The Libyan National Transitional Council has confirmed that it had issued a warrant for the arrest of its top general.
Abdel Fattah Younes was killed by gunmen on Thursday after he had been held and questioned by an NTC investigator regarding a military matter.
Mustafa Abdel Jalil, the head of the NTC, said two attackers killed the general and two of his aides following their release. He stressed that the throats of the men had not been cut, apparently suggesting that the killing was not the work of rebels.
Jalil inferred that this was the work of pro-Gaddafi agents seeking to create divisions within the opposition. He also announced that there would be a clampdown on informal armed groups who have not been fighting under the banner of the opposition forces.
The killing of the general has created a power vacuum at the top of the opposition.
(Source: CNTV.cn)
Editor: Zhang Xiang
Commander Yunis summoned before death: Libyan rebels' chief
BENGHAZI, Libya, July 31, 2011 (Xinhua) --
The Libyan opposition's chief said Saturday that rebel commander Abdul Fattah Younis had been summoned by the Executive Board of the National Transitional Council (NTC) of Libya before his death.
Mustafa Abdul Jalil, chief of the NTC, told a news conference that the board set up a committee to summon Younis after it received a report which pointed out problems in communications, weapons and food supplies on the frontline.
The military officer who had orders to detain Younis and escort him back to Benghazi had been arrested and he claimed gunmen attacked them and killed Younis, Jalil said.
Jalil said the NTC had obtained the gunmen's names and would capture them shortly.
Jalil also said the NTC will handle the incident with fairness and transparency, stressing there were no organizations in Libya which have links with al-Qaida.
However, the rebels' military spokesman Colonel Ahmed Omar Bani said Saturday the committee which ordered the recall of Younis was "illegal" and that Jalal al-Dugheli, who is in charge of defense affairs at the NTC, had already ordered a halt to all actions to summon Younis.
On July 28, Jalil announced the death of Younis, Gaddafi's former interior minister who defected to the rebels during the unrest. The body of Younis was found in the early hours of July 29 on the outskirts of Benghazi. Two fatal wounds were found in his head and chest.
Libyan government spokesman Moussa Ibrahim claimed earlier that it was al-Qaida who assassinated Yunis.
Libyan State TV continues despite NATO bombing

BEIJING, July 31, 2011 (Xinhuanet) --
NATO says it has bombed three satellite dishes in Tripoli to stop what it calls terror broadcasts by Libyan leader Muammar Gaddafi. But the country's state TV remains on air and has condemned NATO's operation it says was targeting its journalists.
Libyan Broadcasting Corporation issued a statement, saying three employees were killed and 15 wounded in the strike, but NATO has not immediately confirmed the casualties.
NATO spokesman Colonel Roland Lavoie says NATO had disabled the ground-based satellites in a precision air strike, in line with its mission.
Rabea Mukhtar, picture editor of Libyan TV, said, "We will continue in our struggle. We will not be frightened or run away. They bombed us before and this is the second time they do so. Even if they bomb us again four or five times, we will continue doing our duties and Libyan Television will remain channel number one in the world whether they like it or not."
(Source: CNTV.cn)
---
Fair Use Notice
This site contains copyrighted material the use of which has not always been specifically authorized by the copyright owner. We are making such material available in our efforts to advance understanding of environmental, political, human rights, economic, democracy, scientific, and social justice issues, etc. We believe this constitutes a 'fair use' of any such copyrighted material as provided for in section 107 of the US Copyright Law. In accordance with Title 17 U.S.C. Section 107, the material on this site is distributed without profit to those who have expressed a prior interest in receiving the included information for research and educational purposes. For more information go to: http://www.law.cornell.edu/uscode/17/107.shtml. If you wish to use copyrighted material from this site for purposes of your own that go beyond 'fair use', you must obtain permission from the copyright owner.