Israeli Rabbis Call for Extermination Camps to Kill Palestinian Arabs
Monday January 17, 2011 15:38 by IMEMC News - 1 of International Middle East Media Center Editorial Group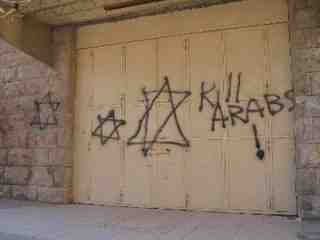 Israeli Rabbis Call for Extermination Camps to Kill Palestinian Arabs
An article in the Israeli Jewish Orthodox publication "Fountains of Salvation", which purports to be a 'family magazine', suggests that Israel will create death camps for Palestinians in order to wipe them out like Amalek.

The terms Amalek or Amalekites is code for the Palestinians (and other perceived enemies of the Jewish people) and originates in the Old Testament. It amounts to a call for genocide

Rabbis throughout the ages have allegorized the reference to Amalek to connote any sworn enemy of the Jewish people from Hitler to Barack Obama (some prominent American Orthodox Jews wrote in such terms before the last US election). But this is perhaps the first time any Orthodox publication in Israel has called for the genocide of the Palestinians.

The article attacks Israeli rabbis who dispute the letter recently circulated by pro-settler extremist rabbis which urged that no Israeli Jew should rent apartments or houses to Israeli Palestinians. It chided them for being 'politically correct' and refusing to do their jobs and educate the populace in the true path of Torah.

In the last paragraph of the piece, the attack continues with the following remark, "It will be interesting to see whether they (the politically correct rabbis) leave the assembly of the Amalekites (Palestinians) in extermination camps to others, or whether they will declare that wiping out Amalek is no longer (historically ) relevant. Only time will tell……."
Those behind this publication belong to the radical right-wing Israeli Orthodox rabbinate. The grouping was founded by the former chief rabbi of Safed, whose son currently holds that position and who circulated the letter referred to above. Another is the chief rabbi of Ramat Gan, as is Rabbi Avinar, suspected of sexually abusing a troubled woman who approached him for spiritual advice. Each of them holds paid government sinecures.


---
Fair Use Notice
This site contains copyrighted material the use of which has not always been specifically authorized by the copyright owner. We are making such material available in our efforts to advance understanding of environmental, political, human rights, economic, democracy, scientific, and social justice issues, etc. We believe this constitutes a 'fair use' of any such copyrighted material as provided for in section 107 of the US Copyright Law. In accordance with Title 17 U.S.C. Section 107, the material on this site is distributed without profit to those who have expressed a prior interest in receiving the included information for research and educational purposes. For more information go to: http://www.law.cornell.edu/uscode/17/107.shtml. If you wish to use copyrighted material from this site for purposes of your own that go beyond 'fair use', you must obtain permission from the copyright owner.